Silent Explosion - An Interview With Ani Glass

2017-04-06
By: AmeriCymru
Posted in: Music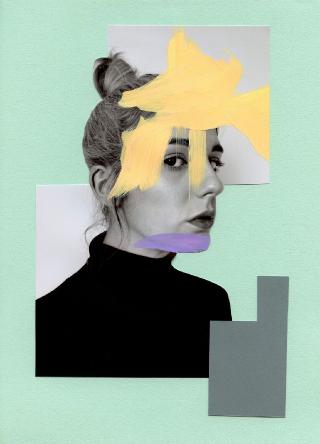 AmeriCymru: Hi Ani and many thanks for agreeing to this interview. I think many people will be excited by the impending release of your EP. Care to introduce "Ffrwydrad Tawel" for our readers?
Ani: 'Ffrwydrad Tawel' is named after one of Wales' leading contemporary artists Ivor Davies' major exhibition Silent Explosion/Ffrwydrad Tawel held at National Museum Cardiff in 2016. Ivor's use of colours and the Welsh language to express international dilemmas and frustrations really resonated with me and his work, not only visually, really inspired me. I had spent a few lost years in London and eventually returned home to Wales – the songs are about this journey and of the time spent reconnecting with my language and culture.
AmeriCymru: I wanted to ask you about some of the tracks on the E.P. starting with the first 'Y Newid'. This includes the lyric line:- "change happens underground when you're digging in the dark" and features a vocal sample from Ray Davies' 2014 speech at the Yes Cymru rally. What, for you are the political and personal dimensions of this track?
Ani: I wrote this song as a tribute to Ray who was a peace campaigner, activist and a devoted member of Côr Cochion Caerdydd (Cardiff's socialist street choir which my Mum is also a member of). The lyric you referenced refers to Ray's experiences of working down the mines as a boy, of his introduction to the unions and subsequent lifelong fight for workers rights. Having known Ray my entire life and learning of his past, it demonstrated to me how it's possible for the worst in life to shape you in a positive way. For me, the boundary between personal and political is blurry, that is, if it exists at all.
AmeriCymru: 'Dal i Droi' (Another Day) Clearly an intensely personal track. I guess everyone who leaves Wales experiences hiraeth at some point. Is that the driving force behind this song?
Ani: This song is about the loss of a loved one, but also symbolises loss in every sense of the word; a yearning for a time gone by. The concept of time is a reoccurring theme in my work - that notion of knowing and eventually accepting that it's something we can't control.
AmeriCymru: What does 'Cariad Cudd' (A City Sleeps) suggest about modern day Cardiff and its past?
Ani: When I moved back to Cardiff I became very interested in its past. Like many post-industrial cities, it represents a place and a people neglected by the powers that be. Cardiff's Tiger Bay was often described as a cultural melting pot and although this area was demolished in the 60s to make way for redevelopment, you can still just about hear the echoes of her colourful past rattling around between the walls of the last few remaining old buildings.
Cardiff has changed a lot over the past few years - it certainly seems more vibrant and exciting and, dare I say, more cosmopolitan. There does appear to be an increasing amount of inward investment, a lot of positive developments but some questionable ones too. For example, the musical heart of the city is Womanby Street, one of the oldest streets in Cardiff which houses most of our small venues. It has recently come under threat due to noise complaints and new development proposals for hotels and residential dwellings and, if pushed through, will more than likely mean these venues will eventually have to close. Having lost most of the pubs and clubs in the Bay, we don't want this to happen to Womanby Street as it would be a loss for the whole city. So we're up for the fight!
AmeriCymru: I know this question has probably been asked many times before but how responsive are largely English speaking audiences to Welsh songs and lyrics in the UK today?
Ani: Strangely enough, I've played far fewer gigs with only Welsh language bands on the bill. I suppose there's an added element of curiosity with English speaking audiences but generally speaking and from my experience there isn't much difference. I often think that audiences are underestimated, we're far more open to new or different things than we give ourselves credit.
AmeriCymru: Where can our readers go to purchase "Ffrwydrad Tawel" online?

Ani: It will be available to buy on 21 April from www.recordiauneb.com
AmeriCymru: Care to tell us more about the release party at the Clwb Ifor Bach?

Ani: For homegrown bands, Clwb Ifor is the place you want to play. It's seen as a milestone - our very own Wembley (albeit much much smaller!) so I'm looking forward to playing there again. Dyl Goch, who directed my video for Y Ddawns, will be providing live visuals, electronic artists Twinfield will be supporting so all in all it's promising to be an exciting night. I'm really looking forward to it!
AmeriCymru: Any plans to visit/perform in the USA?

Ani: I was fortunate enough to spend some time in New York last year and it was so fantastic. It really was a one of those life-altering experiences; the scale of the place, the wealth of culture and mix of people was just mind blowing. I would love nothing more than to go back! We've just started looking at our ancestry and it appears that some of our family moved to America towards the end of the 19th century so I'm really looking forward to finding out more about that! The last time I played in America was during The Pipettes' North American tour in 2011 so it would be fantastic to return. Soon I hope.
AmeriCymru: What's next for Ani Glass? Any new recordings/gigs/projects in the pipeline?

Ani: I have a lot of gigs coming up of the next few months which will keep me busy. I have a few ideas in mind of what I'd like to do next but I might just wait to see where the wind takes me.
AmeriCymru: Any final message for the members and readers of AmeriCymru?

Ani: Keep an eye out for new releases on Recordiau Neb!
---
....
PLEASE RETWEET
....



Silent Explosion - An Interview With Ani Glass https://t.co/YeNQNhwrNY pic.twitter.com/ozPCNkxErN

— americymru (

@americymru

) April 6, 2017