...
---
PART I

---
Scene One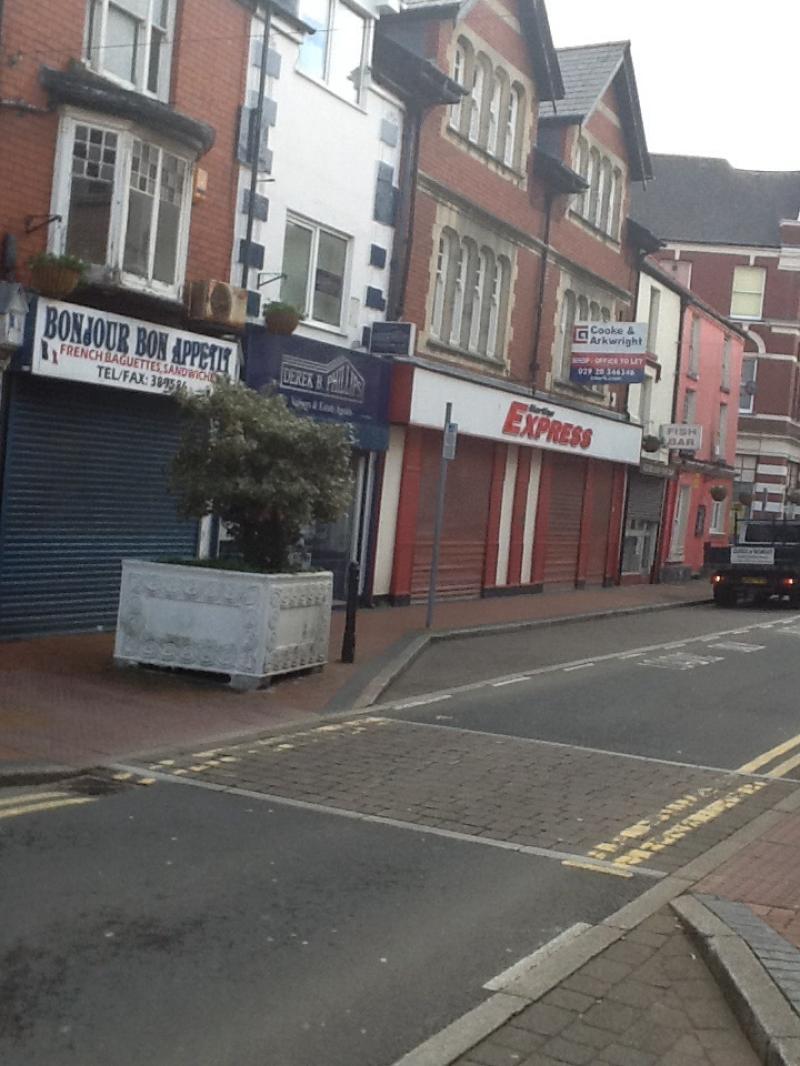 It is 5.30 pm ...it is already dark...it is a cold late February night in Glebeland Street, Merthyr Tydfil.
The French baguette shop owner is closing up his cafe for the night.
Perrier is dressed in a fake blue  French beret , striped tee-shirt and red neckerchief with black trousers- he takes in his metal advertising sign Cafe De Glebeland written in Welsh, English, Polish and French.
He greets his work neighbour
Perrier: 'Bon Soir Des Res, everything organised for our Tour De France yet?'.
He startles the Estate Agent who is dressed in fake designer gear, who soon recovers and winds him up in response.
DES RES : ' 'Ello, Ello....I will say zis only once...11am Tomorrow Viazzani Station Cafe and don't be late!"
After he has locked the door of his shop and shuttered it- he strolls up the street to check that his business neighbours are all still planning on going to Italy with him tomorrow on a weekend killer trip to Rome for the Wooden Spoon decider rugby match.
The offices of Des Res are already closed, so he peers into the Merthyr Depress Newspaper Office to seek out his friend Pat O'Lee.
He is supposed to be working but he is hiding his 'Racing Post' selections from the Editor in a current edition of the Newspaper.
He is holding the phone in his double chin , whilst trying to sell advertising space by cold calling some old dear at teatime interrupting her Meals on Wheels visit.
Perrier taps the window and mouths the words- "11am in the Station Cafe." for a big breakfast before setting off on their journey.
Confident that Pat has already got the message , he continues on to the Italian fish shop of Mario whose chip shop window is steamed up with condensation but he has written a message in the steam...11am at my cousins cafe TMZ and signed it with a flourish ...the Codfather.
---
Scene 2
The Viazzani Station Cafe
It is 11am on a Thursday Morning and four of the businessmen are sat in the cafe- eating a full English breakfast of pasta, spaghetti and meatballs.
All around the cafe are photographs of Merthyr's finest boxing legends.
Howard Winstone, Eddie Thomas and other local celebrities like Owen Money.
His photograph has a stuck used chewing gum on the glass where his nose should be...under the words BBC Radio Wales( Free Plug).
Luigi, the cafe owner (played by Michael Bubbins) is unintentionally dressed like Mario the plumber from the Nintendo series. All around him are memorabilia of happier times.
The four characters, Pat, Perrier, Des & Mario look at their watches nervously awaiting the arrival of their transport for the weekend.
Pat O'Lee  moans that the missing tourist is late.
Pat O'Lee:  ''We should be under starter's orders by now !''
He always speaks in betting parlance.
Mario replies...'Don't worry ..he is always late...I micro de wave his cheeps all the time in my shop!'
They are shocked when the fifth member of the posse turns up in a Union Jack clad mini car doing a handbrake turn in the 'unloading goods only ' space.
They expect to see Jeremy Clarkson driving it but instead it is a Midge Ure lookalike still wearing his Hoovers overalls- he says in a Michael Caine voice- Titch Hatchey here- and not a lot of people know that and the Des-ignated driver (looking at the Estate Agent) for the English stage of the Tour!'
All four are expecting a much larger vehicle- given the size of the men in the Tour party.
The taller characters Pat (Greg Davies) and Des Res are horrified at the thought of spending five days cooped up in the coupe.
The only way Pat can fit in it given his height is to have his head out of the sunroof in the front.
Titch has bought him a mini umbrella mortar board hat ( Greg was an ex-teacher in real life and the In-betweeners) for him to wear in the event of rain on the journey.
Pat : ' '20-1 that we don't make it to Rome in that tin can!' he says opening his black book and marking it with a mini blue free bookie pen.
Titch rips off his overalls in Superman style to reveal his cheap imported red rugby shirt from Rheola Market.
All five characters are now dressed identically with Red Cotton traders, Welsh rugby jerseys and obligation 'Wheres Wally (Wales) ' red and white scarf and bobble hats .
Mario:' Where are we gonna put these giant yellow inflatable daffodil and leeks?'  opening the boot.
The mini boot is crammed full of prototype Brains Beer called 'Valleys Gold' not yet tested on humans.
The minis boot is the ultimate 'mini-bar'.
Luigi:' ' Finally, someone you bother with that has real brains!'  to his cousin Mario , as he closes the boot and begins to tie the inflatable vegetables to the roof rack.
Perrier :'' A mini-cooper -pour cinque home- incredible!' (gasps in fake French).
Pat: 'But you have to admit it has a great boot...big enough for our beer storage and a spare pair of pants each too I will wager!' .
Mario: 'Why do I get the impression you had a hand in this somehow?' rubbing his Valleys essential moustache suspiciously.
Looking at Luigi and Mario side by side Pat replied mockingly:
Pat:'' It's a lovely car- Super… Mario- it will get us to the Game Boy in plenty of time I'll bet you!'
Perrier butted in.
Perrier: ''Well I can't see us driving passed the Vatican in this O'Lee City vehicle man, we wouldn't even be able to pass the Pope Mobile in that!'
Titch : 'Merthyr Tydfil folk have great traditions of 'Roman runs' ...I am confident that in my mini, me, and even you shower, can pull the Italian girls that Hall & Oates sang about in this Austin powered Shaguar!'
They squeeze in with the seating arrangements as follows: Titch driving on right hand side, the massive Pat with his head stuck out of the sunroof with a daffodil tickling his ear.
Perrier, Mario and Des Res are squeezed like sardines in the back, taking it in turns to breathe.
---
Scene 3
The mini is shown driving down the A470 towards Cardiff, different signs are passed on the way suchas Pontypridd - beware as the Hills have Dai's , Taff's Well- I didn't know he was ill etc.
The conversation in the car is about beer, rugby and money.
Mario: Why are we taking these continental style bottles then?....surely cans would be better for the South of France?
Titch: 'See this isn't only a junket Mario...Perrier and I have a business plan worked out , my accountant assures me that we can write these bottles off as a business expense providing I get receipts from the hypermarkets - we drink them on the way down- stop off at Lourdes and refill them and sell the Holy Water to my customers - I will also buy some cheap French loaf stocks which I will tie to the roof- then I will flog them back home in the Farmers Market- and make some real bread from the deal!'
'Do you think I could get some fresh fish on the way back for my shop too over there?' Asked Mario
'Wot...loaves AND fishes at Lourdes on one tiny roof rack- now that really be a miracle!' Said Perrier thinking of his profit margins.
The conversation turned to rugby.
The match was billed as a 'wooden spoon decider between Italy & Wales' with the home team the bookies favourites this time.
'If Italy lose do they get the wooden pasta ladle?' Laughed Titch from his Pole Position behind the Union Jack steering wheel.
'Be a bit more patriotic like me!' Said Pat.
'Anyone mentions Wales losing will get a Clarkson off me!' Said Titch raising his fist threateningly in the rear view mirror.
'I don't know about Top Gear ....said Pat ...but I know we have a bottom gear...!' He said uncomfortably sitting on the gear stick with his huge arse.
'Is this bloody car a prop from Spice World the movie?' Moaned Des Res trying to shuffle some space as they start to cross the Severn Bridge.
'Why did Ginger Spice sit here?' Asked Pat sniffing the seat.
'Well I got Victoria Beckham's seat...coz I can't chuffing move!' Protested the Estate Agent.
'Steady on Posh Spice...just cos you're used to the posh space in that castle of yours in Merthyr!' Laughed Titch looking in the rear view mirror.
'Si...I have heard that an Eeenglishman's home is his castle..but did you have to buy Crawshay's Cyfarthfa Castle for yourself?' Asked Mario.
' Look it was all legitimate...when I opened the sealed bids...I was surprised as you to discover that I was the highest bidder...!'
The conversation was stopped as all five occupants booed the 'Welcome to England sign'.
It was the catalyst for the the song 'always shit on the English side of the Bridge" sung to the tune of Monty Python's 'always look on the bright side of life.'
By the time they had reached the outskirts of London they had decided to sing the National Anthem.
Des: '" Enough talking about shop anyway  boys….lets have some rugby songs…we are on tour after all!"  changing the subject swiftly.
Des: " How about the National Anthem?...Mae Hen Gwlad…!" he sang with gusto with the car occupants all joining in until they realised like Tory MP John Redwood they didn't know the words – as it was in Welsh.
They all mumble it out to an embarrassing silence.
They finally settle on a rousing chorus of 'We are the cheeky boys!" (by the cheeky girls) which lasts for two hours and three Counties and three crates of Brains beer later.
Each chorus is met by a buttock raising Mexican wave of flatulence from the spaghetti induced breakfast.
---
Scene 4
The arrival in Dover, Kent and the ferry to France.
The drunken trio that had been helping themselves to cans via the back seat opening are awoken from their slumber and Des announces to them where they are.
Perrier: " How do you know it is Dover?" he asked with white cliffs on full view.
Mario :'" That is Vera Lynn being pushed around in that bath chair over there!" teased the darked skinned Mario waving to the old dear- who wearing a UKIP badge flicks the 'foreigner' a V on their fingers which doesn't represent a Churchillian Victory sign.
Des: " It must be ….look at those Refugee Asylum Camps over there!"  he suggested …oh that and of course the sign DOVER, KENT thereon…(sarcastically)- camera shot cuts to sign.
Titch : "Are we going over on the hovercraft then- its cheaper?" McTitch  is rediscovering his Scottish roots.
Pat: " Yes…I've got a coupon that I get to go for a £1.00 with four full paying passengers!"
DES : " You tight git …I knew you had your hand in this somewhere!"
Tickets are shown and the car is waved onto the Ferry- and the boys are called out by the Customs & Excise and Border control.
Perrier began to sweat.
Perrier: " See that one with the brown hat on?" he said pointing at the Officer with the long flowing Status Quo hair.
" I am sure he was in school with me  and is 'batting for the other team'" he whispers to Mario.
Handy Andy : " Please remove your French Hat Sir…anything to declare?" asked the Camp Customs Official.
Des Res: " Only his genius!"  slyly.
Perrier : " No- Aren't you Handy Andy from Penydre School?" enquired the nervous  man trying to avoid direct eye-contact.
Handy Andy : " Look boys…a pop star…better search him thoroughly!" he said gleefully tossing Perrier's French hat he had stuffed in his trousers towards the X-Ray machine.
Titch : " Chuck Beret!" laughing , as the ashen faced Perrier was led away by the professional shirt-lifter.
Pat: "He found HIS  calling then!"  laughing.
After half n hour hanging around waiting for the search to finish- Perrier returns to his Countrymen.
Handy Andy:" Do you want your mini-baguette back then?"
An embarrassed Perrier tries to explain the position.
Perrier: "It must have got lodged in the back of the car by those two when I was sleeping!"
" Before or after your home video on Facebook?" laughed Des Res who had uploaded the image.
It is Perrier's turn to change the subject.
Perrier: "Titch….how can you drink so much when you weigh less than Mahatma Gandi?"
Downing his fifth can of duty free Stella , Titch stands rock solid despite the pitch and roll of the Ferry.
Titch: "I will let you in on a little secret…I worked for the Japanese for years in Senior Management and they made it clear that if your own standards didn't reach their own high standards …you were out-as a high profile executive (he said scratching his high forehead) , If you didn't cut it in the Board Room and Directors Bar then you faced the sake…if you didnt want to Nip in the air then you conformed- I can now drink like 'em, think like 'em, even build bridges like 'em till they were taken over by the Italians who closed my factory- and made me redundant- I have had to adapt and have become the equivalent of James Bond in Valleys circles- I have my own line now in industrial espionage – I've just pinched the blueprint for their new vacuum cleaner for children- some would die-son to get their hands on it…I am going to sell the idea to my contacts in Italy….It's easy money like taking Baby from a Candi!"   
Pat- " How will you smuggle the blueprint out the UK?…microdot?….it is odds on you will be caught!"  
Titch-" This is the in-genius part…Perrier- you are an expert on tailpipes- (touching a raw nerve)- How many exhausts does your average Mini Cooper have?"
Perrier (wincing at his recent body invasion): "One"
Mario: " So why does our car have two?" he questioned not putting one and two together.
Titch: Precisely Mario- when it comes to blueprints on vacuum design- there is a sucker born every minute!"
---
Scene 5
Arrival at a busy Calais Ferry Terminal and Port
The Mini passes through customs without any opposition, but Perrier is stopped again.
Perrier: 'It's no good being self-employed - you are a marked man!'
Mario : ' you are definately a marked man' ...we should call you the Lord of the Rings after today's performance!'
The five boys head towards their car which is being driven off the Ferry by Titch.
They stop at the beer hypermarket and refill the golden bottles with Stella Artois- they are served by Ruth Jones who can make a crack about everyone in Wales loving 'Stella' .
As they get back in the car, Titch resumes the driving and turns to the cramped trio in the back .
Titch : 'I'd offer to swap seats Pat but I've only just recovered from my vasectomy operation and it's taken two years for the swelling to go down'
Pat: I had a feeling you lot would be jockeying for position and that I would become the back marker before the Prix de arch de triumphe...shift up Mario!'
The drinking in the car continues apace - with Mario becoming adept at reaching in through the built in easy access through the rear seats removing the golden beer bottles without disturbing the seats or their occupants.
Mario: It's a good job that I am an amateur gynaecologist!' He declares as his hand disappears between the two seats.
Des:'You missed your vocation in life, Codfather, you should have been a Customs Official!' Teased Des watching Perrier shudder once more.
Titch : 'It's good this Stella but it's not like your Welsh beer is it ....Brains is definitely best!'
Mario: 'Well you should know you have consumed more brains than the cast of the Walking Dead!'
The car starts to fill up with empty beer bottles and the bladders get stretched.
Perrier: 'Stop....there is a toilet over there!'
The camera pans to the side of the French motorway basic toilet stop. The smell of the place is awful- so much so that the boys decide to urinate on the wall outside. Inside there is a circular floor with a hole in the middle for solids to slide into.
Mario: 'Where's the toilet gone?'
Pat: 'It's my bet..it's closed for repairs...it's only a hole in the floor!'
Des: 'it's no wonder those French Rugby Players are so accurate with their drop outs...I'm going outside!'
Perrier and Des are standing side by side urinating on the wall..camera shot from the rear of them.
Perrier leaves to reveal has drawn a Welsh Rugby ball on the wall and written in urine 'Gilbert' on it.
Des: 'Rod Gilbert?'
Des is staring at it and as he leaves the camera can see he has added 'Mister' to it....( as a homage to the Inbetweeners character Mr Gilbert played by Greg Davies previously.)
Titch: 'that's the last stop we can have boys before we reach Paris....thanks to Perrier we are three hours behind schedule...!'
A committee decision was made as bladders were tested once more and the front of the car too became full of empties.
The Welsh 'pee-RS of the Realm- had to use the bottles to urinate in- and bottles were passed to Titch who drank whatever was passed to him- warm or cold.
---
Scene 6
Arrival in Paris.
The camera pans to a shot of the colourful mini containing the pride of Wales speeding through Montemarte looking up at the beautiful' City of Light' and the Eiffel Tower.
After the excitement of the landmarks there is a huge contrast when the Sat Nav with the voice of Rene from allo allo brings them to the front of 'Le Fleapit' hotel.
It is situated on the banks of the River Seine, but is strictly down market with tiles off the roof and in a state of general disrepair.
Titch : 'What's the French word for 'condemned'?'
Des: Look...I found it on Trivago...it has three stars...'
Pat : if you look up through the hole in the roof ...I bet you can see them too!...never mind I think I have a discount coupon for this place too!....
As he opens his wallet....moths fly skyward...there is an old green pound note in there...some green shield stamps and a long list of coupons which unfold and drop to the floor.
He finds the ticket.
---
Scene 7
The hotel rooms.
They are basic and very French .
Titch looks under the bed and finds some cockroaches.
Des: What are you looking for?,
Titch: Lenny Henry.
Perrier: It's not exactly a French version of a Premier Inn is it...?...I wonder who does their adverts?
Des: 'Thierry Henry probably!'
The lads unpack their bags and all change into the obligation second Welsh strip of sweater shop polo- neck sweaters, casual slacks and white Donnay socks.
As they put on their aftershave- Des admires himself in the mirror.
Des Res: 'Boys...I must say we Welsh are a good looking race!....we are like the equivalent of the Spice Girls....I wonder which one I would be?'
All remainder of the lads look at each other and say as one:
'Old Spice'
Des growls at the insult- as he is Narcissistic and considers himself to be younger looking than his real age.
---
Scene 8
The boys arrive in the seedier part of Paris- the West Bank - it contains lots of boarded up shops and dilapidated hotels making them homesick for Merthyr.
Titch : 'Look we are in our Twin Town area called Avenue De Clichy'
Des Res: 'but ours has more red lights!'
They look around to see an array of brothels but no traffic lights to control the kerb crawlers. As their accents South Wales echo into the evening mist- an ageing prostitute attempts to entice the party towards her establishment.
She is once again played by aged Ruth Jones.
'Excusez- moi mon cheri parle vous Francais?'
Titch being the most experienced linguist and all round master of the tongue- heads towards the Madame.
The Madame is 60 and has used a lot of make up.
Pat: If she was a horse I would have had money on it that they would have shot her by now...is that REAL Plaster of Paris?'
Titch reaches down the front of his trousers for his wallet- hidden there in case he was mugged so at least he would enjoy it.
He whispers something inaudible in the Madame's ear and she laughs.
Pat hands her a Leekes Department Store lighting discount coupon as he passes.
...
---
PART II

---
Scene 9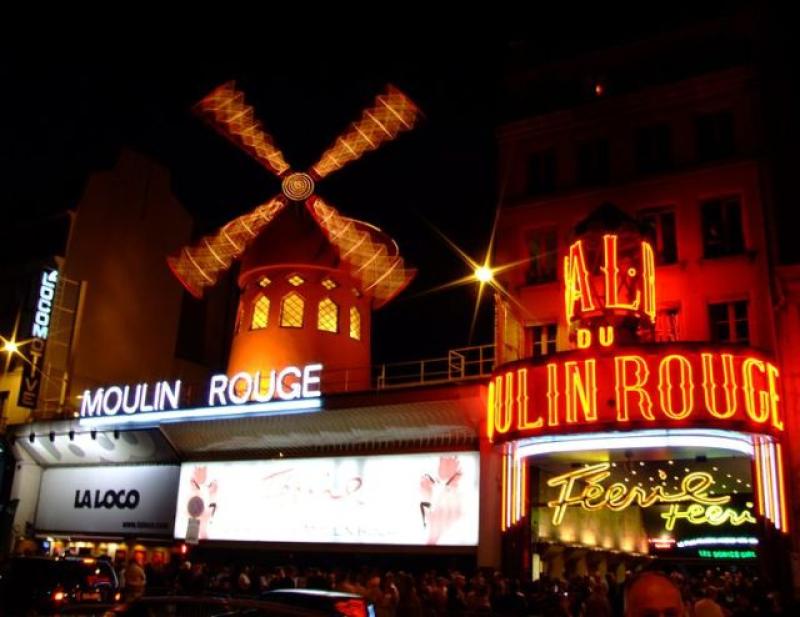 The inside of the small seedy club has a small stage and a small bar. The room is dark, smokey and is full of dry ice vapour- as a prelude to the arrival of an artiste. The music starts up- it is a striptease song. The five tourists receive a round of five Stella's and a bill for 20 Francs which is passed around the table by the tighter members of the group- Titch- Pat until it ends up in front of Des Res who always gets stuck with the bill.
Ruth Jones is once again dressed as the stripper only this time is younger and is dressed in a ginger wig.
The five excited males start clapping with Perrier so excited that gets up on his chair and does his own version of 'Pole Dancing'. It is obvious he is aroused as his Welsh Leek emblazoned underpants begin to swell.
Mario feels uneasy- being in a rough bar in a Foreign Country containing a sleazy stripper. He looks around him and notices that the ice mist is starting to lift revealing that the other men present in the bar were wearing white vest tops, leather hats and were sporting 'Freddie Mercury style moustaches'. Mario nudges Des and Titch to alert them to the fact- but they appear to somehow know already.
On the stage , stripper Ruth Jones beckons to Pat to move closer to the stage - in his excitement he doesn't notice the stage name Rusty Rocket. Pat carefully selects the lowest denomination note from his money belt and places the note with Napoleon's head on it into his mouth. He moves forward to the stage and places the note in the ginger collection box being the knicker line of the stripper.
Perrier gulps with anticipation - bringing a lump to his throat.
Pat has his own unexpected lump to contend with. He has an eyeful of a different Paris Tower.
Pat screams: 'He's a Transister!' Outing the hermaphrodite.
Pat the traumatised paper boy shrieks...'It's got a nob!'
Perrier goes limp and jumps down from the chair trying to cover his embarrassment with his Sweater shop jumper. In the background, further shapes reappear from the mist- an Indian Chief, a telephone engineer and a cowboy-
Mario screams: 'We are in the YMCA !'
Des and Titch collapse on the floor with laughter as the big joke they have played on their 'back row' has worked a treat. The Madame sidles up to Titch and demands a small service charge for her part in his friend's humiliation. This time the Madame reverts to her native thick Welsh accent.
He puts away his camera phone video for future evidence and pays the Madame.
Madame Fifi La Foo: 'For five Francs more- you can kiss me where it smells!"
Titch ( Rob Brydon) : "I am not taking you back to Port Talbot luv...besides you are no oil painting ( looking around at the entrance filed with French brothel type paintings) I don't Chagall I'd have to be in Seine to go on a two louse la trek with you!"
She doesn't take offence and chuckles like she has been in a wedding with distant relatives. The gang head off for the Moulin Rouge. Perrier keeps asking anyone around the way to a place called the Red Windmill.
---
Scene 10
The five are sat around a table watching the show at the Internationally renowned cat house. There are colourful female dancers in a line high kicking to a can- can on a stage. The boys too soon become can-can boys as the beer flows. The Estate agent becomes entranced by a dark haired caged dancer who seems to be staring at him.
Des Res: 'I am sure that's' Hollywood actress Demi Moore...she's been looking at me all night!'
Pat: 'Don't talk to me about cat houses....( sobbing in drink) I'll never be able to stroke a ginger pussy again after tonight....my pet kitty will have to go when I get home!'
Titch: 'Speaking of kitty...drink up you lot , I'm thirsty!'
The beer continued to flow - the boys were treated to some aerial entertainment. Mario was busy looking up to the heavens intrigued by his own Virgin flight of fantasy as two pensioners dressed as rodents were copulating intermittently on trapeze above their heads.
Perrier: 'I knew Disneyland Paris wasn't as good as the Florida version but surely that's taking the Mickey out of us tourists!"
Eventually, the five professional alcoholics decided to head home for a night in Le Fleapit. Back home in their hotel room after a short walk , the Welshmen were tucked up in bed.
---
Scene 11
With the sun shining through the holes in the room Titch awoke first. Des Res was snoring loudly with the tiles on the roof sliding back and fore with the vibration threatening to turn the Hotel into a five star one. He let out a belch that Barney from the Simpsons would have been proud of and the resulting alcohol cloud like an Iceland volcano woke the Estate Agent from his slumber.
Titch: 'See he is always up before me in the morning tickling me under the chin!' he boasted doing his own stand up routine.
Des Res: ' Don't remind Pat about last night!'
Pat: ''You bastards...you knew what you were doing ...I have had nightmares all night!' He said reaching into the mini-bar for a hair of the dog....knowing the room was booked on Des Res credit card....'I'll find a way of making you pay for that one!'
The ribbing of Pat was merciless .
Mario: ' Did your dream involve you nearly eating the 'lunch pack of Notre Dame?' " teased the chip shop owner.
He received a pillow missile for his comment. The Centuries old unwritten Welsh male oath of 'no tales on tour' was adopted.
Perrier : 'what did you think of the sword swallowing act last night?'
He fared worse than Mario as the French Gideon bible bounced off his coiffured bounce. Des was oblivious to events he was busy recalling a vision of a bikini clad Demi Moore dancing in a cage beckoning him towards her.
Des Res: ' I wonder if she was doing some research for Showgirls 2 ?'
Mario: 'Who?'
Pat: ' You are not going on about Demi Moore are you?...it wasn't her...why would an Hollywood A- Lister be dancing in a cage and staring at someone as ugly as you?
Des Res: ' I'll have you know that I was mistaken once for her ex-husband Bruce Willis in the Charles De Gaulle airport....it was during the Algerian crisis...!'
Pat: 'Rubbish!'
Des Res: 'It's true ....a tourist asked me to sign an autograph!'
Pat: 'Bollocks'
Titch: ' You were the only one talking bollocks last night!'
Pat reached for a shoe and threw it at Titch. He ducked and it hit Perrier square in the quiff. He dived over Titch to scrap the newspaper hound .
Perrier: 'Lets see who will die hard now!'
The pair grappled on the floor playfully until they both gave in to the exertion.
---
Scene 12
Return to the Spice Mobile. With Titch driving as usual, there was a reshuffle with Des Res being relegated to the back row and Pat and Perrier separated like two squabbling schoolchildren. Titch had donned his yellow jersey and cycle helmet for the mountain stages of the Tour De France. The mini speeds away South with Titch driving like a Playstation driver at speeds that look even faster in kilometres as he tries to make up for lost time. Here, the song motorcycle emptiness by the manics could be played. They reach the Alps and restock their own mini- bar with beer at St Berrnard in the Alpen Springs and clean water and breadsticks are taken on. The roof of the mini now is clad in breadsticks, daffodils and leeks.
Pat: 'We look like the Hovis Expeditionary ski force!'
After a further hour driving till the dark descends , they then decide to park up in a makeshift lay-by high up in the Alps. They decide to leave the car radio on over night to drown out Des Res snoring and ensure that as they are in an Avalanche zone the sound is consistent. Owen Money is busy on his BBC Wales radio show playing songs which send them gently to sleep. Titch awakes from his slumber with the first Rays of the sun on his windscreen. He comes around to an announcement on the Radio.
" Rover- the manufacturers of the Mini have decided to recall all models following a discovery that they may be technical problems with the handbrakes"
Looking down at the 1000 foot drop into Italy six inches from the mini Titch agreed. He looked at the sleeping Welsh tourists and considered saving himself.
Titch: 'It's a self- preservation society!' (cue music from film- the Italian Job- as he opens the door – which stops abruptly once he closes it again)
Titch tried to reason as to what had happened overnight. He suspected that the violent snoring of Des Res coupled with the dodgy handbrake had led to the little car becoming perched precariously with its boot hanging over the edge of the Mountain Pass. He decided to wait until the others woke naturally in the back so as not to panic the other occupants into a fatal mistake.
Pat was the next to wake and the look on Titch's face in the rear view mirror was enough for him to realise the odds on him surviving were slim. The newspaper hound saw his life passing before him in twirling Merthyr Depress newspaper headlines:-
'Downhill all the way for Rugby Fans on the Piste'
'Des-aster as Estate Agency crash hits peak'
'Perrier Springs Eternally'
The sound of a Welsh ringtone alarm nearly proved fatal, as four of the car occupants fumbled for their mobiles to the tune of 'A design for life' by the Manic Street Preachers. The fifth largest and oldest tourist , Des Res slumbered on blissfully unaware of the 'gravity' of the situation.
Titch: 'We need to lighten the load in the back!' (Whispering to the still, white Perrier).
One by one the 'refilled' beer bottles were 'passed' into the front seat to Titch who due to his dt's spilled most of them on Pat before pouring them on an unsuspecting French Shepherd in the Valley below.
French Shepherd Moutton Rouge: "Ello...Ello...it is peezing down again!' He said looking up at the golden stream of rain.
A text message appeared on Titch's phone. It was a dragon symbol ( indicating it was his wife) ....it read...'How R U ....U no answer...RU OK?'
Titch: 'I knew she would push me over the edge one day!'
---
Scene 13
Titch's wife is sat with her mobile in her hand in her curlers reading the horoscope in the paper. Her psychic nose won't stop twitching.
She has intermittent images of Sue Barker and Princess Grace - which can only be interpreted as connected with Cliffs. She has a bad feeling something is deeply wrong with her husbands trip and doesn't want her marriage to be on the rocks. As she is always on the phone , when she rings direct enquiries they recognise her voice and know her personally.
Lynne Hatchey: 'Alpen Headquarters, please send help!'
---
Scene 14
Cliffhanger
The boys are wide awake and have to try and extricate themselves from their quandary. Des Res is still snoring unaware of the predicament- the boys are too frightened to wake him as he is a bit of a drama queen.
Titch: "You're still too heavy in the back!....you must get rid of some more weight!'(whispered)
Mario: "But how?" ....you've had all p*ss bottles, the last of the food, even our shoes and Perriers box of ribbed condoms...., we've given you all the heavy items...there is nothing left in the back!"
Titch: 'It's the 'Gold' beer in the boot....it's weighing us down!'
Titch: 'Eureka!' He said moving Des feet from the head rest - with the Estate Agent slowly coming around.
Titch: 'Pat - reach in the back and see if you can reach Des' wallet ...it must weigh a tonne ...you never see a poor Estate agent do you?"
The sight of Pat taking money from his wallet really shouldn't have bothered Des after all these years of round-dodging but it was the directness of it this time. Still half- cut and the sight of a hairy hand reaching into his heart pocket in the French Alps was too 'Gaulling' even for the mild mannered Des Res. Some primeval fear was awakened in him- and he uttered one audible word:-
Des Res: Darlo...
He struck out with his fist and punched Pat so hard sending him backwards in doing so jamming his behind in the steering column. He then returned to his snoring unaware of the drama unfolding around him. The resultant wedgie that Pat received for his efforts stabilised the car but sent the 'gold' label beer in the boot further backwards and the jolt sent open the spring on the car boot mechanism. Pat was now disabled , Titch was shaking with the DT's and fear. Mario was unable to move, as he was wedged tighter than one of Titch's home made roll up fags. Titch reached inside his pocket and took out his old faithful tin of tobacco. He always felt more relaxed when he rolled his own.
He cleared his head. How would his Welsh Rugby heroes get out of this tight spot? He tried to think back to his days as a boot-boy at the Arms Park. Not as an apprentice but as a hooligan. He decided to hum internationally to raise the spirits in the car. The rugby songs did the trick, as the car rocked to the tune of Bread of Heaven. The boys were convinced that God was Welsh so they prepared to meet their maker in style.
Titch: 'Barry John- into your hands I commend my spirit!'
As the car was just about to tip over the edge- from the Alpen mists appeared a giant St Bernard dog which bounded onto the bonnet of the car stoping its descent to the Valley floor below. Reaching out of the window Titch grabbed the brandy cask from around the dogs collar and helped himself to some of the St Bruno and smoked and drank deeply.
Titch: 'I'd like to share with you boys...but this is an emergency!'
Titch: 'L'eau de chien !' He spluttered spitting out the spring water like it was Albright.
With Bread of Heaven still ringing in his ears, he was divinely inspired to grab a hardened breadstick of the roof of the car as a pool cue and potted the 'gold' pool style through the rear seat flap and gold beer out of the back of the car into the deep blue yonder - causing an avalanche in the Italian village below never before seen. The mini having lost its ballast - righted itself with a bump which woke the startled Des Res suddenly.
Des Res: 'Morning Boys!' He said trying to stretch in the confined space.
'I had a lovely dream about Wales - some girls with the voices of angels were singing 'Bread of Heaven' ( cue Charlotte Church and Katherine Jenkins) - pointing at the St Bernard drooling on the windscreen.
Des Res: 'When did we acquire the nodding dog?'
Des looked around at his companions and knew something was up.
Des Res : 'What's up ....I missed something right...I've never seen Pat sweating so much since he nearly bought a round at the Millenium Stadium!'
Titch managed to drive forward with Pat lodged in the steering wheel and a two tonne dog on the bonnet to safer ground. Only then did they tell Des Res what happened. The only way to get the hysterical Estate Agent to stop shaking was to make him drive the car.
Titch: 'But you will have to drive...my Taff-ograph....says I have used up my allowed hours....and as you are the only one who is able to drive as the others are now in continent!'
Des would only drive on one condition that he could play his Max Boyce CD 'Live at Treorchy '.
He tried to convince his fellow occupants that they were lucky to be alive- and that it was another sign that the Welsh were God's chosen people.
Des Res: ' see Dog is God backwards...you were singing Bread of Heaven....the dog was carrying Spring water....it all adds up...we are bound to win in Rome boys...we are 'divinely inspired!'
He put pedal to the metal, as he screeched around those high hairpin bends above the Mountain passes, as Max Speed met Max Boyce. The boys in the back wished they 'all had Doctors papers' to avoid the butt- clenching journey. Des Res was determined to hang onto his 'yellow jersey' as he drove with the motto of the Welsh Front Row stuck in his head as lorry drivers tried to overtake him.
Des Res: 'Thou shalt not pass!'
Des Res looked in the rear view mirror and liked what he saw- not just his bronzed tanned face, and neatly trimmed 'Pepe Di Marco' goatee but the other great love of his life- behind him was a red Porsche Carrera with a flashy female driver with a body and face to die for.
---
Scene 15
Cut to the chase.
The mini is being pursued by a red Porsche on a straight road into Northern Italy. The driver of the mini car is Des Res and the Porsche Demi Moore. The car is tailgating the mini trying to get them to pull over so it can pass. Des Res flashes a smile at the female driver- which is reciprocated by perfect Hollywood veneers.
Des Res: ' Now that is what Chris de Burgh was singing about- that really is a 'Lady in Red'
The Porsche pulls alongside the mini on the right side of the road and Des Res and Demi lock stares- like a mutual attraction of flirting- They both accelerate to 150 kph with the mini initially in front.
Des Res (gleefully) : Outstripping the stripper!'
Des then checks the rear view mirror- the Porsche is gone- it is now in front of him. He suddenly realises there is a man in the passenger seat with her. It is the real Bruce Willis. He points at Des Res as the cars race at speed and signals that it is like looking in the mirror- like he is his doppelgänger.
Mario: 'Des ...I don't want to spoil your big moment but we drive on the RIGHT in Europe!'
The two cars almost crash as they round the bend to see a road block of cars up ahead. Des Res and Demi Moore stand on the brakes to avoid a collision.
Pat : ' It's CARmaggedon!'
There are skid marks on the road and worse ones in the back seat of the mini. The red Porsche zigzags through the fleet of black sedans blocking the road and away into the sunset. Des Res is furious that the love of his life has disappeared again. He gets out of the car and rages at the dark suited Mafia men on the hillside and road.
Des Res : ' What ...do you think you own this road?'
Perrier: ' Who are those people with the dark glasses and violin cases?'
Pat: ' I think it's a safe bet that they aren't The Blues Brothers!'
Mario: ' They are the Cosa Nostra ...and the DO own this particular road!'
Titch: 'Let me out of the car...will you...they are looking for me!'
Titch gets out of the car and walks around the back and produces a long thin packet from the fake exhaust. Instinctively, the Mobsters raise their weapons and train them on Titch and the purple incandescent Des. Des is raging like Basil Fawlty.
Titch: 'Let me negotiate this deal Des....I am gonna make them an offer they can't refuse!'
He swigs the brandy cask and pretends to be Marlon Brando. Titch has a small scar on his face from a playground fight as a kid. He comes up 'spaghetti western' style face to face with their leader who has a much bigger knife scar on his cheek. After an initial Mexican stand off, Titch whispers that he is with Mario Pizza originally from Bardi. Mario on leaving the car is welcomed by his third generational countrymen as the Godfather meets the Codfather and the first of many Italian Lobs is complete. A bag of unmarked bills is handed over in exchange for the vacuum cleaner blueprint.
The mini is allowed to pass and the car moves on silently passed monasteries until it reaches a border control check point and toll booth.
---
Scene 16
Checkpoint Charlie's
Stuck in a queue is the red Porsche containing the two Hollywood A- Listers. There is only one guard on duty for two booths as his mate has gone on a toilet break. He has to cover both lanes.
The Italian official looks at the Porsche containing Bruce Willis and the Mini containing Des Res...he takes both passports in at the same time to scan them and drops them on the floor mixing them up. As they look identical he hands the wrong ones back.
Italian Border Guard: ' You are not planning on 'moonlighting with any Shepherds Mr Willis are you?'
He is talking to Des Res by mistake - who just nods at him as he is anxious to catch up with the accelerating Porsche.
...
---
PART III

---
Scene 17
Rome sweet Rome.
Try as he might Des Res couldn't keep up with the Porsche and gets lost in the Italian Countryside in doing so.
Titch: ' How can you get lost when all roads lead to Rome?'
Perrier: 'Why don't you ask for directions in that Spartacus Pizza Hut?'
They eventually arrive in the Roman capital with Mario announcing in Welsh and Italian to his Mother his arrival in her homeland.
Mario: ' Mama Mia...Mam I' m here!'
The streets are lined with beautiful dark haired girls with skimpy bra-less tee- shirts!
Titch: 'See Naples and die!'
Perrier: ' But I thought we were going to Rome!' he says dimly as they drive in congested traffic passed the Colosseum.
Pat: ' I don't know what you see in them girls....not one of them is ginger!'
The city is alive with Welsh Rugby fans - all clad in red and white and anti Anne Robinson tee- shirts.
Pat: ' Now that's more like it!'
The car passes designer shops, Gucci, Prada and Des Res ( Rome) Limited- a carbon copy of his shopfront back home as an Estate Agency - Des Res looks baffled as they have stolen his logo and name.
Pat: 'I bet it is expensive in there!'
Titch: 'La Coste of Living is greater out here!'
Des Res: 'Next stop... Vatican City...I have some business with the Pontiff!'
---
Scene 18
Is the Pope a Catholic?
The mini pulls up illegally in St Peters's Square . The boys get an ugly look from a Swiss Guard wearing a Traffic Wardens hat as they scatter the pigeons.
Des Res: ' I've got a confession to make Boys....I planned this trip to cover my own acquisition of an Old Masterpiece!'
Des Res: ' I have done a deal with the Pope to buy a priceless rare collaboration work by Renaissance Men , Michelangelo, Raphel, Leonardo and Donatello!'
To get passed the guards, he shows them his gold medallion previously hidden beneath is 1970s Bee Gee chest hair....it is of St Peter the patron Saint of Estate Agents. He is shown into a room to be granted an audience with Pope John Paul II. Des bows to the Pope and hands him a business card.
Des Res: ' We have a mutual friend- a papal knight in Merthyr- you have a palace- he has a castle!'
Pope John Paul II: ' So you have come for the Nazi War treasures Kurt Waldheim gave me ...have you?'....Do you have the Reddy Money?'
As Des opens up his wallet full of Euros - His Crookedness the Pontiff unscrews the top of his Papal Staff and pulls out a curled up masterpiece.
Pope: 'Do you want to see it?'
Des Res: ' We have a saying in the estate agency business ...in God we trust...everyone else pays cash...or goes to sealed bids...and you're the closest thing to God I will ever meet!' laughed Des taking a cylindrical protector off the Holy See's desk.
As Des leaves the room...the Pope reaches down under his white robe and pulls out a hip- flask and swigs alcohol from it.
Pope:' I've a hunch....you've been framed!'
Des RES skips back through the Square towards the car. He is beaming as he has effected the second Italian Lob.
Mario: 'Someone looks happy!'
Des places the painting unopened in the fake exhaust.
Pat: ' I haven't seen him look THAT happy since he sold that fifth floor flat with no lift to Stephen Hawking on the basis that his guests would sound like him on the intercom!'
---
Scene 19
The Place of the Martyrs Hotel.
The boys are all unpacking their gear ready for a night in Rome on the eve of the Rugby Match. Pat opens the room curtains to find they can't open the window because it backs onto the cells that the prisoners of the Coliseum were tortured in.
Pat: ' I always said I would be Christian here!'
Looking down at the floor which was alive with cockroaches he continues.
Pat: 'Caesars palace it ain't ...I reckon we got the animal quarters!'
Titch: ' It's thumbs down from me - the Coliseum stinks worse than Des' feet!'
Des Res : ' Stop moaning will you...at least the neighbours don't have pot- bellied pigs!'...pointing at Pat with his gut showing putting on his Welsh rugby tee shirt showing Howard Marks being arrested by a policeman.
Perrier who has a pot bellied pig takes exception to the comment.
Mario: ' Well boys...we made it to Rome...now we are in Rome we must do what the Romans do!'
Des Res : ' What...pinch handbags and arses?' ( as he pinches Pat's arse as he struggles to get the tiny tee- shirt over his big belly),
Titch: 'No...drinka di Vino!'
---
Scene 20
The Streets of Rome near the Trevi Fountain on Match Day. It is warm in Rome on St Davids Day and the boys have got a few pints on . They leave a side street, and join a massive throng of Welsh Rugby fans with giant daffodils, top hats and blow- up sheep everywhere. They decide to cool off by dipping into the Trevi Fountain. Titch puts his supply of beer in the front, whilst Mario and Pat argue over an ice cream cone.
Titch: 'What's this song....?'....Three cans in a fountain...
They change it to a drunken rendition of 'Volare!' ....and then 'just one Cornetto' as they fight over an ice cream. As they make their way to the Stadio Olympico, the five tourists argue and debate over the greatest Welsh Player ever. Like most Rugby fans of a certain age they harp back to the halcyon days of the 1970s when Wales ruled the Northern Hemisphere.
Titch: 'Gareth Edwards for me!z'
Mario: 'King Barry John'
Perrier : 'I think JJPR !" He said inebriatedly.
Des Res: ' You can't have two Mun you drunken bugger!...how about you Pat?'
Pat:' Jenks for me...professional, accurate and of course ginger!'
The cry of Wales...Wales ...echoed around the stadium corridors, as Pat reached for his digital camera.
Pat: ' Thank Barry John for that...I thought I had left my camera at the Hotel....I promised My Editor that I would get a few photos for the Depress!,
He split from the others and showed them his Press Badge and made his way with his Assistant Titch to the touch line behind the Italian posts.
---
Scene 21
The Italian and Welsh teams lead out and line up for their respective National Anthems. They are led out by the Band of the Royal Welsh Fusiliers and a ceremonial goat. Mario, Des and Perrier could make out the shape of Little & Large sitting on the grass relaxing behind the goals. After a circuit of the ground, the band and goat leave the stadium. The game kick offs and the Welsh team race to a 9-3 lead through the reliable boot of Neil Jenkins.
Pat:' See...he slurs ...that Jenks is magic !'
Titch looks on.
Pat: ' I will let you in on a reporters secret...I know how he is so accurate!'
' A good newshound never reveals his sources but my mate works for 'Just Mentals' and he told me his secret...watch him from behind next time!'
The whistle goes again for an infringement and Jenks steps up to take the kick.
Pat: 'See that shadow of his ears on the pitch are aligned with the goalposts....he keeps his head still and kicks through his boot....he was also taught by his mate the Maori Chief that every tackle on the pitch is a spiritual battle against an invader...a modern day ' War of Jenkins Ears' if you like!' laughed Pat falling over into the grass.
Titch: ' That's bullshit!'
Pat: ' Goat shit actually !' ( rubbing his hands).
Pat looks through the camera lens but is so drunk he has double vision.
Pat: 'Titch take some pictures for me otherwise my editors will be a head-hitter on Monday Morning when I get home!'
---
Scene 22
Potters wheel
Up in the stand the balance of power on the pitch was turning. Like his wine- Des Res was in vintage form. He was a passionate supporter.
Des Res: 'C'mon pass the bloody ball out wide!'
He was mentally tackling and scrummaging like he was on the pitch. Demi Moore appears from the crowd.
Demi: ' At last, I've been looking for you all over the stadium!"
For the third time that weekend, Des looked deeply into Demi Moore's eyes and the Welshman lost track of the game and surroundings- it was a blur - like Russell Crowe in Elysium Fields, Gladiator Maximus Boyceius- he was oblivious to pain ( Demi-god Max Boyce is shown in a field talking to him)- oblivious as the scoreboard turns over with Italian points. Des Res is motionless- his mind is elsewhere. It is a fantasy scene. He stands behind Demi with his hands turning an imaginary potter's wheel like in the scene from the film 'Ghost'. She turns around and slaps him hard across the face- he has been fondling her Silicon implant breasts like he was turning a lathe. A stadium steward has to intervene to break his grip. When he realises what has happened- he goes red and then white with embarrassment like the Welsh flag.
DES RES: 'Miss Moore, more please!" he pleads like 'Oliver' in the Dickens story with a finished potters bowl.
The stewards drag the sex attacker away towards the pitch and his 'phoney passport' falls onto the grass in the struggle. He is 'booed' by the crowd around him. He struggles to pick his passport up.
Des Res: 'But I only want to go to the touchline again!"
He is restrained further by more security stewards. The Passport is lifted off the floor by a steward who looks at the picture and hands it to the nearby Bruce Willis. He in turn gets the passport stolen by a pickpocket in a melee of the crowd. The pickpocket and Des Res both get arrested by the Police and slung in the back of a Police Van. Mario, & Perrier decide to watch the end of the game before going to the aid of their friend. There is 5 minutes left with the score Italy 6 Wales 12. Suddenly, the ball is hoisted high into the air as a change of tactics.
Perrier: 'What is a Garry Owen called in Italy?"
Mario: ' Him' said Mario pointing at a hairless Pack Leader.
The Italian Captain, Garry Baldi has ordered his fly-half to kick it high and in the direction of Welsh Forward Robert Sidoli. He knows he has divided loyalties as his Brother Peter plays for the Home side.
Garry Baldi : "99"
The third Italian Lob was on. Sidoli stands sweating. The ball takes an eternity to drop. His mouth is dry- divided loyalties- does he catch it for Wales or drop it for Italy. Out of the corner of his eye he catches sight of an Italian Mafia Hitman with a gun pointed at him. Sidoli's legs turn to jelly and his hands to ice cream. He drops it rather than be killed by a contract killer. The ball bounces free and into the hands of massive Italian forward- Hugo Bastardo. The Welsh BBC Sport commenter Jonathan Edwards takes up the microphone. John Inverdale and every single Englishman (including Eddie Butler) in the studio is willing the Italians to score and leave Wales with a first ever Wooden Spoon.
Edwards: 'Bastardo has the ball 5 metres out…all that stands between Italy and victory is Neil Jenkins…all that stands between Wales or Italy for the wooden spoon is Jenkins…it is a David and Goliath story here and my monies are on Goliath'
On the side behind the goal, the drunken Titch had strayed too close to the action…too busy looking through the camera lens. Due to his Press Badge- no steward would interfere. He tries to get a close up shot for Pat's editor…now all that stood between the rampaging forward was the squatting six stone frame of Titch. The noise in the ground is deafening as the Forward crosses the line and places the ball down tackled by Jenkins as he collides the unfortunate Titch. For a split second only Titch knew that the rugby ball hadn't been grounded by the Italian Forward. He had made the supreme sacrifice for his Country.
Titch: AAAAARGH!!!! As he is hurt and the camera obliterated in the collision.
The Referee asks the Fourth Official:-
Ref: "Can I award the try?"
He and the rest of the stadium look up at the big screen and see that the Italian has put the ball down in the 'Dead Ball Zone' but that there was a nut sack belong to Titch in the way. Merthyr's latest eunuch was rolling round in agony- while the rest of his companions (bar Des Res) are jumping around in ecstacy. The Try is disallowed. The referee blows the final whistle. Pat starts to sob. Mario races from the stands to the pair.
Mario: 'Why are you crying….we won…you are both Heroes!"
Pat: 'I bet the suitcase of money on Italy to win!"
The Italian crowd and stewards now turn nasty. They too have realised that it is Titch 'tackle bags' that have robbed them of Victory. Perrier takes matters into his own hands. He strips off to create a 'Dai-version' and streaks across the field to distract them. They race through the players tunnel and reach the Mini-Car- pursued by lots of angry officials. They then drive out of the City using the sewers and stadium roof like the film the Italian Lob. As they do…a dementia suffering Michael Caine does a double take at the Union Jack Mini. They escape (like the old Mini advert) because the Police cars cannot cross the cattle grids.
---
Final scene
Outside Viazzani's Café in John Street , Merthyr
The four friends are back in Merthyr buzzing of sweat, unshaven and bleary eyed having driven the car non-stop for two days. They 'roll in' to a look of disgust from Luigi. They are surprised to find that Des Res has beaten them home. He sits there immaculately dressed- smelling of quality aftershave, as he lowers the broadsheet Merthyr Depress newspaper.
Des Res: " What kept you?"
The others are shocked as to how he had beaten them home- in view of the last time they saw him he was on his way to an Italian jail.
Pat: " How the Hell did you get home before us?"
Des Res: 'The Orient Express of course!"
Mario: 'Was it packed?"
Des Res: 'At first it was Murder…but once I showed them this…I was upgraded!"
He shows them Bruce Willis passport that he had lifted from his pick-pocket cell mate.
Titch: ' So how the Hell did you get out the Police Jail so fast?"
Des Res:' I used the one word of Italian Perrier taught met !" he said (pretending to sneeze)
Perrier' 'What Ebola?"
Des nods.
Des Res: " Oh and Pat…your Editor is outside the window…I think he has a message for you!"
The Editor is outside the half window of the café waving a sack.
Pat: ' I have something that belongs to you- !"
He hands Des the rolled up painting still in the cylinder removed from the Mini fake exhaust. Pat turns his back on the group and starts to smile- he is waiting for a cry of desperation from Des RES. The camera pans out with Pat smirking even if he is about to lose his job. DES Res unfurls the painting for the first time. It is a work of Leonardo, Donatello, Michelangelo & Raphel as promised by the Pontiff- but they have green faces. It is of the Teenage Mutant Nina Turtles- which he has paid £40K for. He has been conned.
Des Res: (like the Terminator) ….There's going be a new Pope in Rome soon…I'll be back John Paul!" (angily)
Luigi: ' What's the matter with him?"
Pat: 'I think he is having 'Turtle Recoil!"