Category: Welsh Magazines
By AmeriCymru, 2018-06-06

...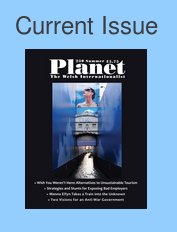 ..
Planet: The Welsh Internationalist is a quarterly cultural and political magazine published in Aberystwyth, Wales. It looks at Wales from an international perspective, and at the world from the standpoint of Wales. The magazine enjoys a vibrant and diverse international readership, and is read by key figures in the Welsh political cultural scene.



...
It was a great pleasure to receive the latest issue of Planet in my mailbox recently. For any of our readers who are unfamiliar with the magazine, it was originally published by Ned Thomas in 1970 and has been in continuous publication since 1979. There is much more to learn about its' history and current mission on the magazine's website, here:- History of Planet .
The theme of the current edition (Summer 2018) is explored in an editorial by Emily Trahair. How does a small nation like Wales cope with the "....ruinous effects of unregulated tourism"?
With the coming of summer millions around the globe are planning vacations in far away places and in many cases, the further away the better. Our natural desire to visit exotic and isolated locations puts these communities under stress and over time transforms them into the very same kind of tourist 'honeypot' that we were concerned to avoid in the first place. This is particularly the case in Wales where locals are priced out of the housing market and Welsh speaking communities are disappearing altogether in the face of the second home, Airbnb onslaught.
In the course of her article Emily offers an extremely interesting idea which must surely be of interest to some budding web entrepreneur?
"It would be brilliant if a radical alternative to TripAdvisor could be developed: an online database of hotels, restaurants, bars and attractions in Wales.....which were owned and run by local people, employed local people at a living wage.....and reached a standard of cultural and linguistic respect for the neighbouring inhabitants."


Expanding on this theme Helen Sandler recounts her recent vacation experiences in Venice and Kreuzberg (Berlin), two continental destinations which are under siege by international tourists. Whilst noting that the local communities are fighting back against the pernicious effects of unregulated tourism in these two cities she goes on to quote some disturbing statistics from closer to home.
"According to the Daily Post, Gwynedd has the highest number of second homes in the U.K. They constitute a whopping 27% of recent sales, against a 2% national average. Local people are priced out of buying in the county and there is insufficient rental stock."


But there is much more between the covers of the current issue. In a series entitled 'Reading Between The Lines: Responses to Wales's Rail Network', Menna Elfyn offers a fascinating, impressionistic account of a recent trip from Carmarthen to Pembroke Dock.
She roundly excoriates Dr Beeching in the following terms:-


"Ah Beeching. Was there ever one who made more of a black mark on the landscape of Wales? I wonder sometimes whether Beeching had a child's railway set in his London office to play with before he decided to shatter the railways of Wales into pieces? Did he know how difficult it would be for the Welsh of the north to come and visit their fellow compatriots in the south? Or was it a perverted joke that one had to go through England and be reminded of the Greatness of Britain to arrive at such a destination? Or was it simply another act of colonisation?"


The review section (which covers art, music and literature) is another highlight of Planet Magazine. In this edition there are reviews of Leonora Brito, Mike Jenkins, Kyffin Williams, Gwenno and the Manic Street Preachers.
As the eagle-eyed amongst you will have noticed, there is a banner ad at the top of this post. It offers  a 50% reduction in subscription rates for AmeriCymru readers. We strongly urge all our readers to consider taking up this offer, either for themselves or as a gift to a friend. Independent Welsh publications need all the support they can get AND there are few magazines which offer a more insightful  commentary on contemporary Welsh cultural. social and artistic issues than Planet.