By AmeriCymru, 2017-04-17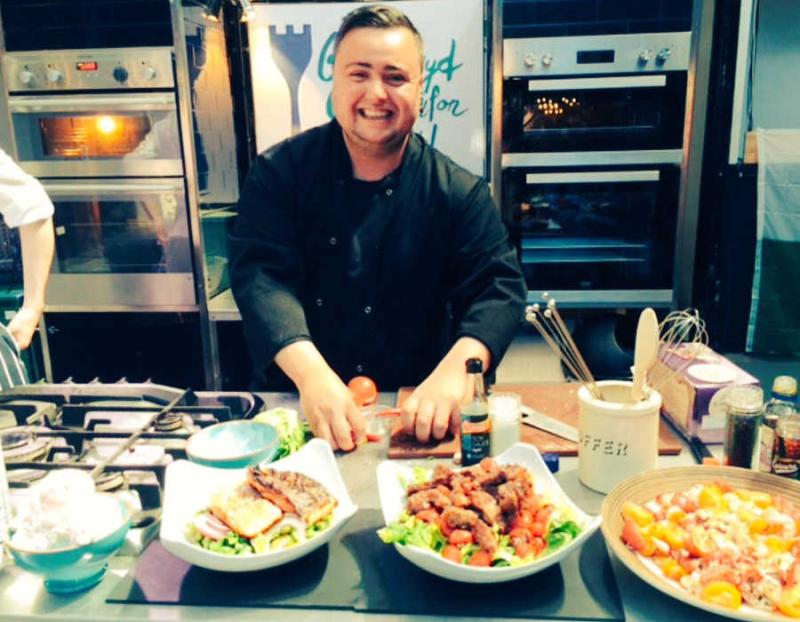 ---
AmeriCymru: Hi Matt, care to tell us a little about your Welsh background and when you decided to become a chef?
Matt: My father Phil guy is from llanberis the foot of snowdon and works in the electric mountain my mother is from Deiniolen and a office administrator... they both moved in together in Deiniolen where they had me and two other sons, Justin also a chef and Simon who is a camera man for BBC Wales. I always wanted to be a chef from a very young age and I managed to get an apprenticeship at a hotel down the road from my village I was 15 and I was filmed for a Welsh television programme called pentre ni it was a programme about my village from where I came from and followed a few characters from the village. They followed me leaving school into the world of hospitality I loved it. I was junior chef of Wales in 2004 and was tipped by a north Wales news paper to be the next big thing in the industry.
I then left the hotel and went on my travels around the uk and France learning different skills from different chefs. As a fluent Welsh speaker from a small little village in Wales it was quiet daunting going out to the bigger areas but loved every moment of it and made sure that everyone heard how much I loved being Welsh.
AmeriCymru: In 2015 you became Head Chef at the Miners Arms? What can you tell us about the circumstances surrounding your appointment?
Matt: I became the head chef through a lengthy process, I was one of thousands to appear on the show called chefs on trial. During the week I was one of nine contestants trying to win the job. We were put through challenging challenges from skill test to working a full service and even an interview from the well respected Alex polizzi the hotel inspector. The programme was watched by millions aired on the BBC.
The experience of the competition was incredible and using some brilliant local produce from the area was amazing. Unfortunately things did not go to plan and was a whirl wind of a year. I am thankful for the experience and I learnt some valuable life lessons
AmeriCymru: Where and when can people catch you on television (s4c)?
Matt: I'm normally on prynhawn da in the afternoons at 2pm on s4c, on here I am part of a team who creates day time entertainment including cooking some great dishes that family's can do together and also easy and reasonable price for them.
AmeriCymru: Do you have any recipes on YouTube you would like to mention?
Matt: I have a few recipes on YouTube through the Welsh tv show with more yet to come, most of them are on Facebook and my business Facebook page here are some links
https://m.facebook.com/ foodmattguy/
https://www.facebook.com/ PrynhawnDaS4C/videos/ 1317405858326584/
Even though I cook lovely wholesome dishes on my television clips I am known for my fine dining skills
AmeriCymru: Does your culinary repertoire include traditional Welsh cuisine/dishes?
Matt: I do have a range of Welsh dishes that I use but I have to say my favourite Welsh ingredient is laverbread I used this in a few competitions as well.
Hay smoked loin of lamb served with laverbread risotto , baby carrots and a red wine.
---
Laverbread risotto



2 tbsp olive oil

5 rashers streaky bacon (rindless), diced

1 leek (white only), finely sliced

1 garlic clove, crushed

500g risotto rice

1 litre chicken stock

100g fresh or canned laverbread

3100g butter

Juice of 1/2 lemon

salt and freshly ground black pepper
Place a large saucepan with the olive oil over a moderate heat, add the bacon and cook for 1 minute until just cooked, remove from the pan and set aside. Add the leek and garlic to the pan, sauté for a couple of minutes. Add the rice to the pan and mix it so that it is coated by the oil, cook for 1 minute.stir in a couple of ladles of boiling stock, stir with a wooden spoon until the stock is absorbed. Keep on adding ladles of stock until all the stock is absorbed into the rice. The rice should be moist and tender, with a little bite (not mush). Stir in the laverbread and allow to cook for 1 minute. Add the cooked bacon. Cook the risotto for a few minutes.Gradually mix in the parmesan then butter until melted and well combined. Stir in the lemon zest and juice. Season to taste. Serve at once.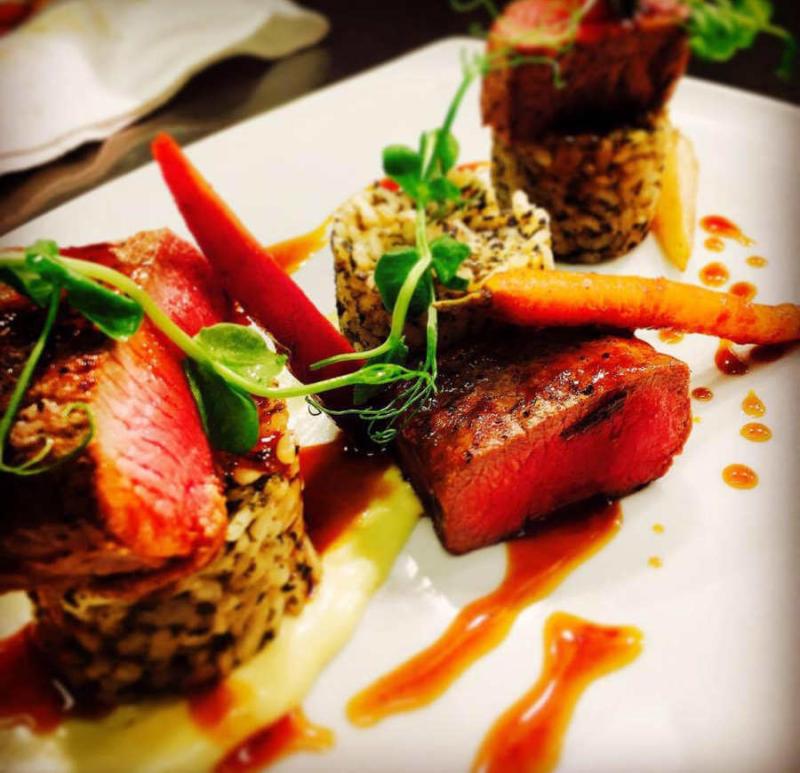 ---
AmeriCymru: Do you think that traditional Welsh cuisine is sufficiently recognized or promoted worldwide?
Matt: I would love for our cuisine to be highlighted a little more as we have great produce and producers who care about what they do.
On my travels I have found that there is a lot of people who think we are a lot like England but when I introduce them to flavours and ingredients of Wales they are blown away.
We might be small but we are a great country and we are getting more known with thanks to our sporting heroes helping us along the way
AmeriCymru: You have an event coming up in June. Care to tell us a little more about that?
Matt: I have a few events on this year but the one I am more excited about will be the kegworth food festival which I am helping to organise. This is going to be a great day held on the third of June, we will have food producers from the area including some great local talent competing and demonstrating, majority of the funds raised will be going to the local air ambulance charity.
http://www.nwleics.gov.uk/ pages/whats_on/2017/06/03/one_ kegworth_family_fun_day_and_ food_festival
https://www.facebook.com/ events/232427777167292??ti=ia
AmeriCymru: Any final message for the readers and members of AmeriCymru ?
Matt: My message to anyone I speak to is live your life don't hold back and aim for your dreams you might get knocked down a few times but get back on and one day you will get there, and where ever I will be in the world I will always have Wales and the Welsh language in my heart.
I have been knocked down over and over again but still got myself back up there I have had some great experiences from schools, colleges, people's houses, the Eisteddfod and many more festivals. I will never stop enjoying what I do.
I really enjoyed doing this interview I hope you enjoy reading it
Matt guy
---