Keys New Single 'Black And White' Out May 3rd on Libertino Records

2019-05-02
By: AmeriCymru
Posted in: Music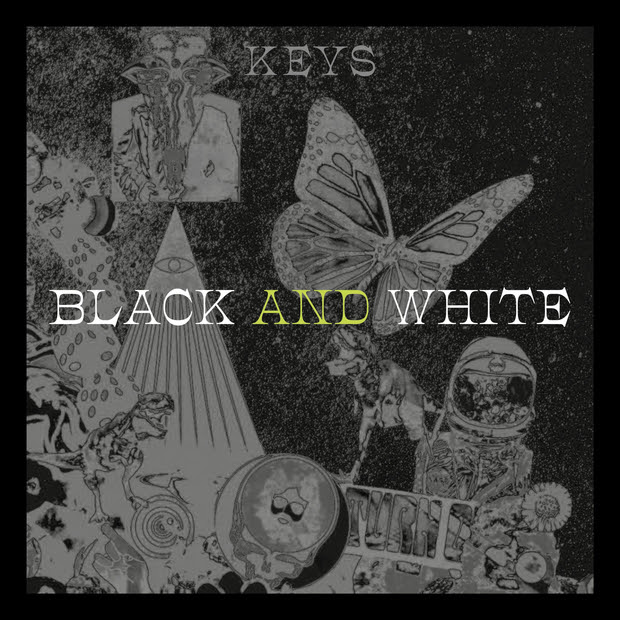 'There you will find them, tucked away in between The Stooges 'Fun House' and John Lennon / Plastic Ono Band the KEYS, the band you never knew you needed until they changed your life.
Over four Albums, Eps and countless Singles during this millennium the KEYS have become a mythical presence on the Welsh musical landscape. The timeless quality of the band's music, touches on the wide eyed wonder and boundless possibilities of the sixties pop song, West Coast harmonies, Motown backbeat and the aggression of post 1968 proto-punk, sets them apart as true believers in the communion of Rock and Roll. KEYS are very much a band for the here and now, shaping music from the moon dust of the past into a re-imagined future that is all theirs for the taking.' – Libertino Records 'Black and White' is the confident and bold return of the KEYS. The single was recorded during the productive two days session for the band's new album in Miner's Welfare club, lost in the Neath Valley.
Matt Evens, the band's singer and songwriter, explains the background and the writing process of 'Black and White': "I wrote it while playing the drums on my own one morning. I was trying to write a modern-day nursery rhyme so it's kept really simple. Then it went through the KEYS machine and came out all reverb guitars and maracas. It starts off Scout Niblett and ends up all Stooges with some Ron Asheton-style wah-wah thrown into the mix. It's still a very sparse arrangement though which is the point. The lyric comes from something a photographer said to us once "Don't worry, they'll look alright in Black and White"; Gwion (Lead Guitar) used to quote it all the time in a jokey way so it ended up finding a melody."
---
Fe wnewch chi ffeindio'r KEYS, rhwng The Stooges 'Fun House' a John Lennon/ Plastic Ono Band - KEYS, y band sydd ei angen ar bawb.
Ers rhyddhau pedair albym, sawl EP a sawl sengl yn ystod y mileniwm diwetha, mae'r KEYS wedi bod yn bresenoldeb chwedlonol yn nhirwedd cerddorol Cymru. Mae ansawdd bytholwyrdd cerddoriaeth y band yn cyffwrdd â rhyfeddod diderfyn caneuon pop y chwedegau, harmonïau West Coast a Motown backbeat gydag ymosodiad porto-pync 1968, sy'n eu gosod arwahan fel credinwyr cryf Rock n Roll. Mae'r KEYS yn fand cyfoes, yn siapio cerddoriaeth o lwch lleuad y gorffennol i ddyfodol dychmygus, disglair.
Mae'r KEYS yn ôl gyda'r sengl hyderus a chadarn 'Black and White'. Recordiwyd y sengl yn Miner's Welfare Club, Cwm Nêdd yn ystod sesiwn dau ddiwrnod o recordio eu halbym newydd. Esbonia Matt Evans, canwr a chyfansoddwr y band, y stori sy'n perthyn i 'Black and White':
"Ysgrifennais y gân wrth chwarae'r drymiau ar ben fy hun un bore. Fe driais i ysgrifennu hwiangerdd fodern, felly cadwyd y gân yn syml. Yna, aeth y gân trwy beiriant KEYS ac allan daeth reverb gitars a maracas.
Scout Niblett yw'r dechrau a'r Stooges yw'r diwedd gyda ychydig o steil Ron Asheton-wah-wah-aidd wedi'i daflu i'r gymysgedd. Mae'r geiriau yn dod o rhywbeth ddywedodd ffotograffydd wrthon ni unwaith "Peidiwch â phoeni, bydd e'n edrych yn iawn mewn du a gwyn"; Roedd Gwion (gitar flaen) yn arfer dyfynnu'r linell drwy'r amser mewn ffordd bryfoclyd, felly roedd rhaid rhoi'r dyfyniad hwn i mewn i'r gân."