Trenchfoot - An Interview With Andy Edwards

2018-11-11
By: AmeriCymru
Posted in: Music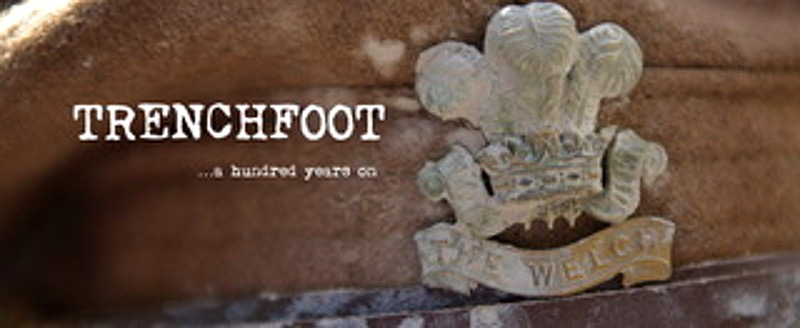 ..


Trenchfoot have established an enviable reputation as one of the fastest emerging folk rock acts in Wales. Steeped in stories real and imagined, it's not a sad sound though, with emotionally, powerful lyrics, foot-tapping rhythms, driving bass lines, rousing sing-a-long choruses and an Americana folk style with their vocals and harmonies. AmeriCymru spoke to Andy Edwards about the band's history and future plans.
...
AmeriCymru: Hi Andy and many thanks for agreeing to this interview. How did Trenchfoot come to be formed? What can you tell us about the band's history?
Andy:   In 2013 I had an urge to build a trench system and with a small grant from the local council went ahead in readiness for the start of the commemoration of the The Great War. My workplace, Morfa Bay Adventure, Pendine supported my proposals and in the four years since it has been built has seen over 10,000 visitors.  It was to be an educational resource for schools in England and Wales, open to all but mostly for Primary Schools.
When researching my own family I found subject matter for songs and was inspired to pick up my guitar. During visits to the trench I realised nearly everybody had a story to tell.
Getting together with a fellow musician we got a small set of songs together as a duo and the band just grew. 
Trenchfoot's first studio album was released in the summer of 2015 inspired by the stories of men and women of a hundred years ago and life in the trenches. 'Flatiron Brothers' takes people on a journey. It's not about war. War is the canvas, not the detail. These twelve folk-rock songs are based on family and local history. The group sings of the humour, joy, love and tragedy around everyday people struggling in adversity. 'Whispers' came out a year later.
'more than a fascinating concept….the songs are really interesting,'
Adam Walton, BBC Radio Wales Nov 2015

AmeriCymru: Care to tell us a little about the band's current lineup?
Andy: The group came together in 2013 as part of a project to support some of the WW1 centenary commemorations and events of the following year. Phil Jenkins, came on board as a multi instrumentalist, guitar, ukulele, mando-cello and lead singer. Terry Thomas, mandolin, accordion and lead vocals, Jeff Singer, guitar and lead singer, Lorraine King, banjo, acoustic guitar, mouth organ, whistler and lead.
Seimon Pugh Jones and Andy Edwards lay the foundation of the performance on drums and bass.
It's a unique sound that successfully melds the human, humorous, love and passionate stories behind the tragic events of WW1 with a 21st Century brand of music that transcends folk/rock.
'…starting to make a big name for themselves in their home country of Wales and in 2016 expect to see them at festivals across the UK as their following grows.

Painstakingly researched for authenticity and sung and played with a passion which cannot be matched. These guys are being labelled a folk group and although there is a strong element of traditional storytelling here there's also a very modern feel to the album with sumptuous harmonies and accomplished musicianship.

… the passion they feel for this project is overwhelming - so successful has their debut album been that they're already halfway into recording number two ! If you buy one album - one great Welsh album - make it this one!'

Welsh Connections - CD Review

AmeriCymru: How would you describe Trenchfoot's repertoire? Do you mainly perform songs from or about WW1 and WW2?
Andy:  All songs are related to The Great War and more or less take the audience through from 1914 to 1918 and then the after effects of the war. All songs are originals and the whole band are credited with composition.
We have developed two sets of songs. The first starts with the outbreak of war, 'The Great First World War' opens the set and relates the cause and effect of what happened in Sarajevo with the assassination of Franz Ferdinand. The first set finishes just after the Battle of the Somme.
The second set is a little more up tempo and invariably people will dance and singalong. We will always finish with 'Keep The Flame.' The song has become the band's motif for what we have done over the last four years – to keep stories alive.
'A Welsh folk-rock band that tells tales, sings songs, makes you laugh, makes you cry, but above all, entertains you!'

'Not only a musical feast, it was a tonic for the soul. I stepped out with my heart a little lighter and my head filled with song.'

Wales Online, Nov 2014

AmeriCymru: What's next for Trenchfoot? New gigs, recordings?
Andy: It's a cross roads for the band. We purposefully entrenched our music in a specific time slot. 1914-18. It has been hard to market a band who although play up-tempo tunes have the subject matter of death and war. The last few weeks as we have travelled through South Wales we have been met with large appreciative audiences and it questions whether to change direction or not.
We still have a large number of songs unrecorded. It would be amazing to go back into the studio and finish the job, but it all costs and decisions will have to be made. We have muted a possible change in direction to become a folk band relying on Welsh history in general. Trenchfoot is such an original, creative group of people it would be sad to let it go. We'll just have to wait and see!
'There's something about their songs that impress itself upon us, tapping into nuances of emotion we didn't know we had, and finding memories that don't belong to us,'
Western Mail, Dec 2014
AmeriCymru: Where can readers go to hear/purchase your music online? 
Andy:    Website: https://trenchfoot-music-wales.webs.com
Facebook: https://www.facebook.com/Trenchfootmusic/
People can always e mail us. We have a few CD's left and can post them worldwide £9.99 inc p&p or £15 for the two.
trenchfootmusic@gmail.com
'Prostrate' a powerful song...Lorraine's voice suits it perfectly'

Frank Hennesey Celtic Heartbeat, BBC Radio Wales Nov 2015
AmeriCymru: Any final message for the readers and members of AmeriCymru?
Andy:   One concept we would love to follow is the Welsh influence in the U.S.. Can anybody tell me the best place to research? Are there any books written? Is there any information that might help? Sometimes it's nice to look at the 'small' man and the social side of life rather than bigger moments in history. It's stories of the real man that inspire us to compose songs that tell a tale.
'It was all a dream. TRENCHFOOT seen live is a unique and powerful experience. The band cross eras and indeed styles. Reminds one of the 'hard drinking' Irish folk bands of the 60s but the difference is they are Welsh and targeted. The subject matter is often hiraeth, as felt by the men at the 'front' in WW1. Through it all there is a sense of fun, albeit some songs are poignant and sad. Numerous catchy chorus lines are nailed on 'singalongs' and 'foot-tappers'. Beneath it all the message is strong and moving.
Great band, great night out!'

John Francis Wake