NEW BOOK FOR WELSH LEARNERS INSPIRED BY RESCUE WHIPPET WHO ONLY UNDERSTANDS WELSH

2018-11-03
By: AmeriCymru
Posted in: New Titles
REVIEW
---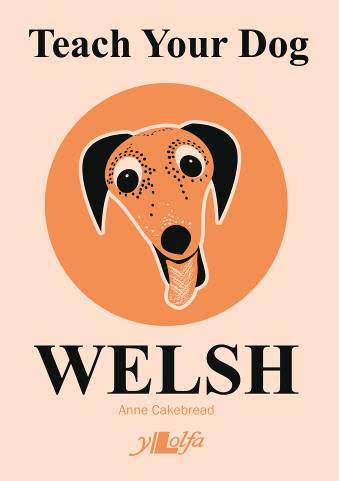 Teach Your Dog Welsh may be the cutest book I have ever seen in my life.  Illustrator Anne Cakebread has done a fantastic, small volume of useful and everyday Welsh phrases for dogs, many of which are also useful when speaking to your fellow humans.
I'm supposed to be reviewing it and then giving it back, but I'm afraid that's not going to happen.  I'm keeping this copy and everyone else will just have to buy their own.
Teach Your Dog Welsh is published by Y Llofa because who else would do this book but "the fun place"? Each of the more than fifty nifty phrases appears on its own page and includes an English translation and phonetic pronunciation guide on the left page, and a demonstrative illustration on the right.  
The illustrations are playfully 60s-ish, on white in black and one other kind of desaturated color per illustration, and very cheerful. Her style reminded me of Canadian illustrator Margaret Bloy Graham's wonderful books for children.  The translations and their phonetic guides are very easily understood and you can check your pronunciation (to some degree) against google translate's robot Welsh voice .  
I've been trying to learn Welsh well enough to hold a conversation for a while and this book is really useful, especially if I want to tell my boyfriend to sit or stop barking. I also love dogs and I've thought for years, why not train my dog in Welsh? People do it in German for German Shepherds and, especially here in the USA, how many people are going to be able to countermand my commands in the proper language?  If they can, I probably want to hang out with them anyway.  Gaabriel Becket
---
Buy it here! Our price $11.99 - 20% Off (price includes postage & handling)

THE BOOK
---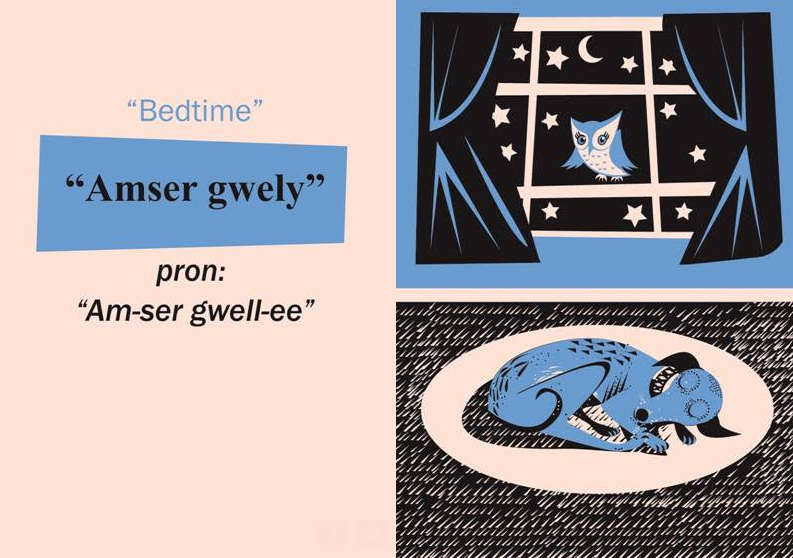 ---
Here's a book for Welsh learners with a difference! Teach your Dog W elsh aims to help Welsh learners practise their Welsh with their dog.
Teach your Dog Welsh (Y Lolfa) is full of appealing 1950s-style retro illustrations, with a picture and the expression it illustrates (in both Welsh and English) on every double page, as well help with the Welsh pronunciation. There are over 100 expressions to practise, from Paid â chrafu ('Don't scratch') to Fydda i ddim yn hir ('I won't be long'). It's an excellent and really fun introduction to learning Welsh for all ages – and most of the phrases can also be used in non-dog related situations!
The inspiration for the book came to Anne Cakebread after she re-homed Frieda, a rescue whippet. Anne came to realise that Frieda would only respond to Welsh commands. Slowly, whilst dealing with Frieda, Anne realised that she was overcoming her nerves about speaking Welsh aloud by talking to the dog, and her Welsh was improving as a result – this gave her the idea of creating a book to help other would-be learners whilst also using her skills as an illustrator.
The book has been awarded W H Smith Book of the Month for November 2018 and praised for its beautiful illustrations and quirky concept. Comedian and writer Richard Herring has commented:
"Anne Cakebread not only has the best name in the Universe, she has also come up with a brilliantly fun book which will help humans and canines learn new languages. I am world renowned for doing the best Welsh accent ever, so it's good to now also be able to speak some actual Welsh too. And more importantly, so can my dog."
Originally from Cardiff, Anne and her partner moved to a village on the west Wales coast. She wanted to improve her Welsh as it was important to her to become part of the lively Welsh-speaking community in the area.
"I first had to unlearn the Welsh I'd been taught in school as it's nothing like the Welsh people speak here. That's why I've made the expressions in the book colloquial, as a large part of learning is listening to what people say around you."
Frieda, the Welsh rescue whippet, can understand a few words in English and the other English dogs have learnt a few sentences of Welsh – so the house is fully bilingual!
BBC weatherman and Welsh learner Derek Brockway has praised the book and described it as "a really nice, fun way to start learning Welsh – great book!"
Summoning up the confidence to use a language you're learning can be daunting at first, and a number of books are available to help with vocabulary and pronunciation, but the lighthearted context and the beautiful illustrations mean that this book is a bit out of the ordinary. Lefi Gruffudd from Y Lolfa says:
"This book is both a practical and a fun way to practise Welsh, and hopefully it will be a useful resource to Welsh learners."
Carolyn Hodges, Head of English Publishing at Y Lolfa, who developed language-teaching materials for Oxford University Press for many years, said: "Some people have a bad experience of learning Welsh at school and that puts them off trying again as adults. One of the key factors in motivating someone to start learning and using a new language is to make it enjoyable. Teach Your Dog Welsh really brings the language to life and makes it fun – it's a really positive (re)introduction to this wonderful language."
There are plans to expand the series to include Teach Your Cat Welsh, as well as translations into other minority languages including Manx, Cornish and Maori.
Anne Cakebread is a freelance illustrator with over 20 years' experience in publishing and TV, including cover art and illustrations for numerous books, magazines and adverts. She also illustrated sets and props for Boomerang on S4C's award-winning ABC. She grew up and went to school in Radyr, Cardiff and now lives with her partner, two whippets and lurcher in St Dogmaels, where she runs a B&B.
Teach Your Dog Welsh by Anne Cakebread is available now (£4.99, Y Lolfa).

---