The Final Trick - An Interview with Welsh Author, Brian Jarman

2017-09-05
By: AmeriCymru
Posted in: Author Interviews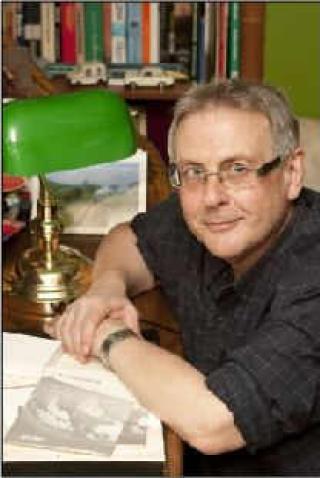 AmeriCymru spoke to Welsh author Brian Jarman about his life, work and future plans.
"Brian Jarman was born on a farm in Mid Wales, the joint youngest of five brothers. He was educated in local schools and did a degree in French Studies at the LSE, spending one year teaching in a Parisian lycee.
........

He lives in London with his wife Julia and regularly visits family in Mid-Wales and Cardiff (especially when there's an international rugby match on)."
READ MORE HERE

....
---
AmeriCymru:  Hi Brian and many thanks for agreeing to this interview. Can you tell us a little about your Welsh background? When did you decide you wanted to write?
Brian: It's a pleasure. I was born and raised on a farm in Mid-Wales: Lower Gwestydd near Newtown. I'm 21 years younger than my eldest brother, and 20 minutes older than my youngest, my twin brother Milwyn. The older two, David and Gwyn, carried on the family tradition of farming and we younger ones were encouraged to work hard at school and go out in the world to make our own lives. Mechanisation meant the farm could only now support my parents and two brothers and their families. Not that we were exempt from farm work. My middle brother Trevor was the first one of the family to go to university, and we followed.
For as long as I can remember I wanted to write. At infants school we were asked to draw what we wanted to do when we grew up. My friends drew trains and fire engines, but my picture showed a man writing books, one at a time.
In our teens Milwyn and I started a family newspaper. I think it lasted for three editions.
After university I got a job as a reporter on the South Wales Argus, and became Chief Feature Writer. It was my dream job. It was only much later I found the time and the courage to bring that picture to life and start writing novels.
AmeriCymru:  Care to tell us a little about your most recent novel The Final Trick ?
Brian:   It's set in Cardiff and New York, but was inspired by my time in Boston, where I worked on PRI's daily radio programme, The World. I joined a Bridge club and partnered a formidable woman, Lilian Nagler, who taught me so much about the game. In the novel, a Journalism lecturer in Cardiff, Al Evans, moves to New York after being dumped by his wife. He comes to regard his Bridge partner Greta as one of the rudest women he's ever met. He has a bet with his friend that there must be One Good Thing about her and he sets out to find it. It also has memories of growing up in the Rhondda, supplied by my cousin, Meryl Lewis.
...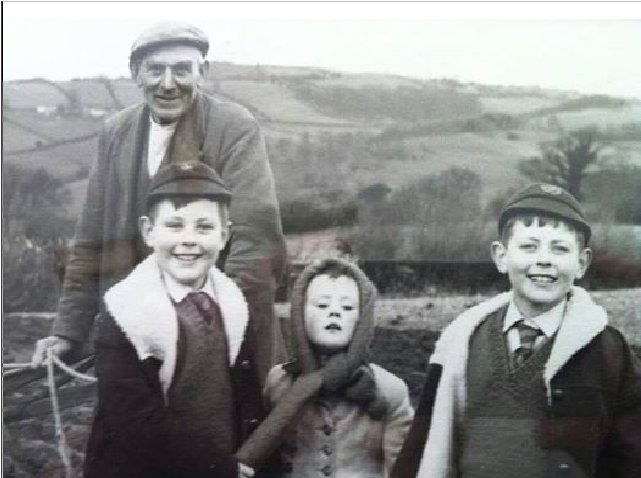 Brian Jarman (left), with brother Milwyn and niece Paula, with  grandfather, Pop, ploughing with horses.
---
AmeriCymru:  Your second novel The F all From Howling Hill is set in Mid Wales. In what way does it reflect social changes in the area over the last 4 or 5 decades?
Brian: Indeed, that was one of my motives in writing it. I remember my grandfather, Pop, ploughing with horses. My grandparents' farm, Brondolfor was over the hill from ours. There was no electricity or mains water, so it was oil lamps and a pump in the yard. My Dad use to tell stories of farm workers sleeping in a back room in the farmhouse. They were hard times but held happy memories. Our first TV was a snowy set with one channel which stood on the floor, but it opened up the wider world to us. As we were growing up the farm became increasingly mechanised, so in the end my two eldest brothers farmed it alone. I wanted to memorialise this changing world. The book was originally called Glanharan, but friends advised me to change it as people wouldn't know what it meant.
AmeriCymru:  What can you tell us about the mystery of The Missing Room your first novel, without giving away the plot of course.
Brian: It's based on the farmhouse I grew up in, which did have a room-sized space in the middle with no windows or doors. We used to have fun imagining all kinds of things that could be in it. In my early thirties I suffered from ME (Chronic Fatigue Syndrome), so I had this idea of a man with a mystery illness returning to his childhood home in later life and trying to unlock the secret of The Missing Room. The front cover is a photo taken by my wife of the farmhouse - the missing room is behind the little room behind that window, underneath the gable.
AmeriCymru:  Over the years you have worked in Radio,TV and journalism. Any plans to continue working in those areas?
Brian: I now lecture in Journalism at London Metropolitan University, which I greatly enjoy, and do bits and pieces of print journalism, but my main focus now is on writing novels.
AmeriCymru:  You have lived and worked in the US in the past. Care to tell us a little about that period of your life? Any plans to return?
Brian: I lived in Boston, MA for two years when I was Managing Editor of The World, and worked for a while with WNYC in New York. In all I spent about ten years travelling back and fore between London and the US (and Wales!) which was an ideal. I was lucky enough to visit most US cities at various public radio conferences. It was a magnificent time, but now I guess I'm pretty settled in London.
AmeriCymru:  What's next for Brian Jarman? Any new titles in the works?
Brian: Yes, I'm just about to start reworking one I wrote a while back, called The Absent Friend, about a Welshman living in Tuscany who has to come to terms with his past and the incident that caused him to fall out with his best friend in London years ago. There's another one percolating in my head, about twin brothers. One stayed farming in Wales and the other went to London to become a famous TV presenter. They haven't spoken for 25 years. But one gets a call from the other saying he's dying of cancer and so it's their last chance to bury the hatchet and work out what went wrong all those years ago. (NB: this part is not autobiographical - I get on with my brothers very well).
AmeriCymru:  Any final message for the readers and members of AmeriCymru?
Brian: It's a great resource and one I wish I'd known about earlier. Make the most of it. In The Final Trick, Al's girlfriend in New York researches living history - people's past lives as passed down through generations. She takes him to Ellis Island and he's moved by the stories of immigrants who left everything behind to come to the New World. It arouses his curiosity about his own past - his father came from the Rhondda and his mother from a farm in Mid-Wales. He wasn't interested in their stories when he was growing up, but now he wants to find out more about his ancestors. But is it too late?
Many thanks for this wonderful opportunity. Hwyl, Brian.