WELSH WINE MERCHANTS WIN PRESTIGIOUS FOOD AWARD

2017-01-10
By: AmeriCymru
Posted in: Book News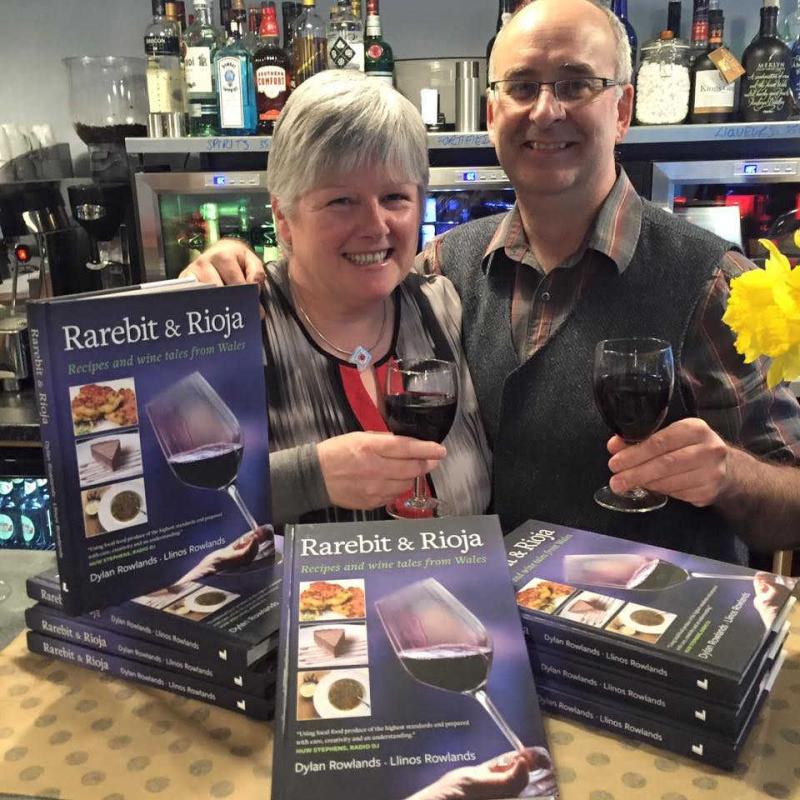 Dylan & Llinos Rowlands
---
A Welsh cookbook by two local Welsh entrepreneurs has won a prestigious French cookbook award.
Rarebit and Rioja: Recipes and wine tales from Wales  by Dylan and Llinos Rowlands of Gwin Dylanwad Wine, Dolgellau, has been declared the national British winner in its category, Best Food and Wine at the 2017 Gourmand Awards. The Welsh food and wine book stems from the two entrepreneurs' 30 years experience in the trade.
The Gourmand World Cookbook Awards were founded in 1995 by Edouard Cointreau. Every year, they honour the best food and wine books, printed or digital, as well as food and cookery television programmes. Books from over two hundred countries participate in these prestigious awards, the only international competition of the sector.
This most recent success for Dylan and Llinos Rowlands follows previous accolades from renowned wine guru Hugh Johnson – who praised the wine shop and cafe-bar as a 'Great little wine merchant in Dolgellau' and wine writer Nevill Bletch who commended the bar as 'one of the best places you can drink real quality at a reasonable price'.
Rarebit and Rioja is much more than just a recipe book with its entertaining and sometimes touching tales of journeys of discovery in the wine world from Spain to Armenia. It contains recipes, with some of the best Welsh ingredients from Canapés and Tapas, to Main Courses and Desserts which are accompanied by wine recommendations. The book is very much a wine book too and discusses how to make the most of tasting wine; what makes a good wine and the characteristics of various grapes. It ends with menu suggestions for special meals as well as a list of Welsh producers.
Dylan is a regular guest on S4C daytime magazine show Prynhawn Da as their wine expert and Llinos writes regular articles on food and wine. They host tastings in their beautifully renovated 16th century building in Dolgellau, which now includes upstairs tasting rooms where customers can relax and enjoy the wide variety of wines from the cellar shop that Dylan has travelled far and wide to source – from Italy and France to Moldova, in addition to the quality wines Welsh vineyards are now producing.
Commenting on the book upon its release in 2016, BBC Radio 1 DJ, Huw Stephens said: 'As this success story grows, so too does its physical home, marking a new era for this proud Welsh institution. This book is a celebration of the story so far, and of the future and all that it holds.'
The annual Gourmand Awards ceremony will be held in Yantai, China during the 27 th and 28 th of May 2017 where Dylan and Llinos will be competing in their winning category against winners from other countries for the Best in the World .
Dylan and Llinos said, 'Winning the British category of this prestigious award is very exciting. The feedback we have had about the book has been so positive, people really love the combination.'
'We're already visiting producers in Bordeaux and Rioja in February and March so we don't think we can manage China in May for the awards but the prospect of now competing for the world's best food and wine book is thrilling!' they added.
Rarebit and Rioja – Recipes and Wine Tales from Wales by Dylan and Llinos Rowlands (£14.99, Y Lolfa) is available now.