An Interview With Welsh Writer CM Saunders

2013-09-05
By: AmeriCymru
Posted in: Author Interviews
Back to Welsh Literature page >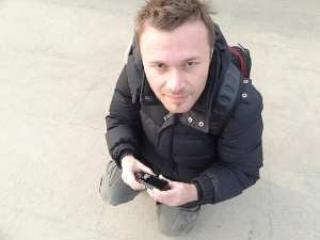 Christian Saunders is an author from New Tredegar in South Wales. He has worked as a freelance writer contributing to several international publications and a regular column to the Western Mail newspaper.
His short stories have been anthologised in numerous horror publications and his latest novel is: Sker House and a definitive account of the history of Cardiff City Football Club: From The Ashes: The Real Story Of Cardiff City FC
....
....
....
AmeriCymru: Hi Christian and many thanks for agreeing to talk to AmeriCymru. When and why did you decide to become a writer? What was the first work you submitted for publication?
Christian: I guess I always wanted to be a writer, but to be perfectly honest I wasn't the brightest at school, so most people thought it was beyond my capabilities. I wasn't stupid, exactly. I just had no interest in the things I was meant to be learning at school. I much preferred reading books by myself. I always remember being 16 and the deputy head asking me what I was going to do with my life. I said I wanted to be a writer, and he laughed out loud. Well, the joke's on you now, Mr Richards!
I didn't have much confidence in my ability at that stage, though. I left school with no qualifications, went to work in a local factory in the south Wales valleys, and wrote stories in my spare time for my own amusement. When I was in my early twenties I thought it wouldn't hurt to send a few stories out, just to see if they were as bad as I thought they were. This was the late 1990's, pre-internet, and the small press was flourishing. There were thousands of genre magazines on the market. One, called Cambrensis, specialised in Welsh fiction written in English and was run by a sweet old guy called Arthur Smith, who sadly isn't with us anymore. By some unimaginable stroke of luck he accepted the very first short story I sent out, which was called Monkeyman.
Looking back, I think I got the sympathy vote from dear old Arthur. I submitted the entire story in BLOCK CAPITALS! But he would do anything he could to give writers a start. He saw it as his life's work. He re-typed the whole thing, and sent me a few encouraging letters. The payment was a subscription to the magazine.
AmeriCymru:   You write mainly horror fiction. What attracted you to the genre?
Christian: It's just what comes naturally to me, I guess. For me it's by far the easiest genre to work in. I wouldn't know where to start with a love story! I've always been a fan of horror movies and books, though 'horror' is a very broad genre and can encompass most things.
I'm a jack-of-all-trades, really. I've also written non-fiction about the unexplained and supernatural, some music journalism, I do a lot for men's lifestyle magazines, now I write mainly about sport. It's strange, though. People only ever notice my fiction! 
AmeriCymru:   Can you tell us which anthologies your work appears in and where they can be purchased online?
Christian:   So far, I've been lucky enough to have had stories published in nine or ten anthologies. The most recent was The Delectable Hearts in Legends of Urban Horror on Siren's Call.
I have stories in two other anthologies, which will be available in the coming months. The Elementals & I in Dark Visions 2 on Grey Matter Press.
And Altitude Sickness in the first anthology by DeadPixel Publications, which is basically a collective of independent writers.
When I write fiction, I use the pseudonym CM Saunders.
AmeriCymru:   Is there a horror fiction writer that you particularly admire or would like to recommend? Are there any that strongly influenced your writing?
Christian:   Sorry I can't give a more original answer, but I love Stephen King. He's a master storyteller, and his story is inspirational. He used to work in laundry in the days and write in the nights. Apart from SK its good to see his son Joe Hill continue in the same vein. He's a great writer. Credit to him for not taking his dad's name for the commercial value attached to it, but if anything he's trying a bit too hard. Let it go, dude. Just write. I also like Dean Koontz (though he's been wheeling out the same formula time after time for the past fifteen years or so, some of his earlier works are stone-cold classics), Richard Matheson, Graham Masterton, Richard Laymon, Ramsey Campbell, and Joe Lansdale. I'm more of a contemporary horror fan, though I did read and enjoy a lot of Poe, Lovecraft, M.R. James, Jules Verne and Robert Loius Stevenson when I was younger.
I think everything you read, and everything you see and hear, influences your writing to an extent. As I get older I find myself reading more autobiographies. I am currently reading American Sniper by Chris Kyle and Waiting to be Heard by Amanda Knox.
AmeriCymru:   We learn from your bio that you are are currently living and teaching in China. Is this a permanent relocation and how are you enjoying your experience there?
Christian:   Actually, I'm back in the UK now! Maybe I need to update that bio. I came back in January to work for a magazine in London. I eventually went to uni as a mature student, after that 9-year factory stint, then when I graduated I went freelance. I was living in Southampton at the time, and I just had the urge to travel. I'd always been drawn to Asia, and China in particular. It's a vast, mysterious country. The kind of place you can get lost in. I taught English to university students there in Beijing, Tianjin, Changsha and Xiangtan, and stayed for five years altogether. It can be a bit surreal but all-in-all, it's a great life. I had a lot of time to travel, think and write. I did very little journalism out there (you need special accreditation from the government, and a license) so that was when I went back to writing fiction after a long gap. I was never a teacher. I was always a writer in disguise!
Looking back, I'm glad I had the experience, and I feel lucky. It's important to explore other cultures. I'm from a very small village in the Rhymney valley called New Tredegar, which has a large percentage of narrow-minded people who very rarely (if ever) leave the place. I didn't want to be one of those.
AmeriCymru:   You have also recently published a novel Rainbow''s End Would I be right in saying that it is partly ''autobiographical''?
Christian: Yes indeed! I would say it's around 90% autobiographical. I made up the other 10%. But of course, I would never tell anyone which 10% I made up! It's about a young guy growing up in south Wales who wants to be a writer and travel, but various things hold him back. Until, eventually, he finds a way out.
AmeriCymru:   Which brings us to From The Ashes How did you come to write it and how long have you been a Cardiff City fan?
Christian:   I've been a Cardiff fan for about 25 years, I guess. The first game I ever went to was a 1-1 draw with Barnet when we were in the old fourth division. Every club has a lot of history, but the Bluebirds have more than most. We remain the only club to take the FA Cup out of England, and won the Welsh Cup that same year, making us the only club in history (as far as I could tell) to hold the national cups of two different countries simultaneously. That FA Cup was the first to be broadcast on live radio, and the Radio Times published a numbered grid to help listeners follow the game. That, allegedly, gave rise to the popular saying 'back to square one.'
I started writing the book about ten years ago, using mainly the microfilm newspaper archives at Cardiff library. I got a publisher interested in the book, but they pulled out saying, basically, that the club wasn't big enough to justify costs. After that I moved on to other things, and only when it looked like we might win promotion last season did I start offering it around. Luckily, Gwasg Carreg Gwalch expressed an interest so then it was a mad rush to bring the book up to date, which I managed in just a month or so. The hardest thing was sourcing the pictures. I contacted the club, who were no help at all, and ended up buying a load from Getty.
So far the book is doing very well!
AmeriCymru:   OK I have to ask...can Cardiff City cut it in the Premier League and where do you think the Bluebirds will be in the League table at the end of the season?
Christian:   Sure, I think we are more than capable of staying up. Malky Mackay has made a couple of great signings this summer. Both Gary Medel and Steven Caulker were wanted by much bigger clubs and ended up buying into the dream and moving to the CCS. There are much worse teams than us in the Premier League! I'm under no illusions, I don't think we'll qualify for Europe, but we won't finish in the bottom three, either. Somewhere in-between, I'd say. After the move from Ninian Park, last season we turned CCS into a bit of a fortress. If we can continue that home form, and it's looking good so far with that win against Man City and the draw against Everton, two of the better clubs in the league, we have every chance of staying up. The win against Man City, when we came from behind to win 3-2, gave the players, fans and the local media a massive confidence boost and hopefully we can build on that.
AmeriCymru:   What''s next for Christian Saunders? Do you have any new publications planned?
Christian:   At the moment I'm working full time for Sports Direct magazine, so any new fiction will have to take a backseat for a while. Saying that, I'm always working on something, and I have lots of projects at various stages of development. I've decided to go independent with regards to fiction, and early next year I'm putting out an ebook compilation of short stories called X, most of which have been published before in various places. It's all ready to go. If I don't go through a publisher I'll be able to sell the book a lot cheaper and hopefully reach a wider audience. I'm also re-writing my first book, Into the Dragon's Lair – A Supernatural History of Wales, which will be reprinted by Gwasg Carreg Gwalch hopefully sometime next year. When that is done I've been thinking of doing a follow-up to Rainbow's End, about a valley boy and his experiences of living and working in China!
AmeriCymru:   Any final message for the readers and members of AmeriCymru?
Christian:   You only have one life, so follow your dreams, do what makes you happy, and don't let anyone hold you back!
Thanks for reading, and feel free to drop by my blog:
http://cmsaunders.wordpress.com/" target="_blank"> http://cmsaunders.wordpress. com/
Or follow me on Twitter CMSaunders01