Review: 'From The Ashes-The Real Story Of Cardiff City Football Club'

2013-08-22
By: Ceri Shaw
Posted in: Book Reviews
Back to Welsh Literature page >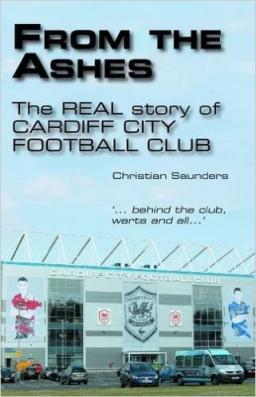 After an initial blaze of glory, during which they became (and still remain) the only non-English club ever to win the coveted FA Cup and came within a whisker of winning the old First Division title, Cardiff City began a slow, painful descent down the footballing hierarchy, into relative obscurity.. Sometimes, however, miracles do happen.
Following Cardiff City's historic promotion to the Premier league it is only to be expected that the team will attract more international attention and publicity. Indeed. this season both Cardiff City and their local arch rivals, Swansea City ( promoted in 2011), will be enjoying a bonanza of promotion courtesy of NBC who are broadcasting 380 live matches after securing Premier League broadcasting rights from ESPN and Fox Sports. Premier league sides have been allocated areas in New York and NY Taxis are sporting the teams colors and logos in a bid to increase viewing figures. Cardiff City got Brooklyn and The Swans got the Upper West Side.
Against this background Christian Saunders new book could not be more timely. 'From The Ashes' is an easily readable and enjoyable account of City's more than one hundred year history which charts the rise, fall and rebirth of the side from its humble beginnings in 1899. It doubles as a superb reference work with full accounts of fixtures, results and team personnel for every season from the earliest days to the present.
City's early glory days ended soon after 1927 when they won the F.A. Cup and the team spent a long time in the doldrums till a succession of inspired owners and managers led them back to the top of the English football league system. This is the story which is recounted in painstaking detail in Christian Saunders book.
Wikipedia has this to say about Cardiff's historic 1927 F.A. Cup final win:-
"On St George's Day, 23 April 1927, at Wembley Stadium in London, the FA Cup was taken out of England for the first time when Cardiff City beat Arsenal 1–0 in the Final, cult hero Hughie Ferguson scoring the only goal of the game.
In the 74th minute, collecting a throw from the right by George MacLachlan, Ferguson hurried a tame shot toward the Arsenal goal. Dan Lewis, the Arsenal goalkeeper, appeared to collect the ball but, under pressure from the advancing Len Davies, clumsily allowed the ball to roll through his grasp. In a desperate attempt to retrieve the ball Lewis only succeeded in knocking the ball with his elbow into his own net."
Ernie Curtis, the 19 year old centre-wing said of the goal:
"I was in line with the edge of the penalty area on the right when Hughie Ferguson hit the shot which Arsenal's goalie had crouched down for a little early. The ball spun as it travelled towards him, having taken a slight deflection so he was now slightly out of line with it. Len Davies was following the shot in and I think Dan must have had one eye on him. The result was that he didn't take it cleanly and it squirmed under him and over the line. Len jumped over him and into the net, but never actually touched it."
It is believed that this cup final attracted one of the highest audiences ever, as it was the first to be broadcast by BBC Radio. Captain Fred Keenor received the FA Cup trophy from King George V only 7 years after Cardiff City had entered the Football League and six seasons since they had been promoted to the top division.
The South Wales News reported the historic win in the following terms:-
"To the people (of Wales) it was more than a struggle between two teams: it was a struggle between two nations. This may not be exactly logical but sentiment transcends logic. So this years Cup Final will remain in consideration a Welsh victory."
Today Wales is represented in the Premier League by two excellent sides ( Cardiff and Swansea ) and any true Welshman will wish them both well. Christian Saunders entertaining and informative book is the history of one of them, Cardiff City; arguably the biggest football club in Wales and the only Welsh side to bring the F.A. Cup home to from England. A 'must read' for all Cardiff City and Welsh football fans.
Try our Cardiff City FC quiz below. Download Cardiff City Football Club Quiz Answers here
...
QUESTIONS
---
1. Cardiff City Football Club began life in 1899 as ......?
A. Riverside AFC
B. Splott AFC
C. Grangetown AFC
D. Llandaff AFC
...
2. What was the name of the City captain who accepted the F.A. Cup from King George V?
A. Willie Davis
B. Fred Keenor
C. Jack Nicholls
D. Edgar Thomas
...
3. City were drawn against which team in the semi-final of the 2010 playoffs. Was it....?
A. Blackpool
B. Nottingham Forest
C. Newcastle
D. Leicester
...
4. The first competitive game in Cardiff City's new stadium was played on 8th August 2009. Which team did they play?
A. Plymouth
B. Scunthorpe
C. Watford
D. Middlesborough
...
5. City won their first competitive match in the new stadium BUT what was the scoreline?
A. 4-0
B. 3-2
C. 3-0
D. 3-1
...
6. What is the capacity of the new Cardiff City stadium?
A. 26,000
B. 27,000
C. 28,000
D. 30,000
...
7. 'I'll Be There' ( video below ) is a song unique to Cardiff City fans. It was first sung in 1926 at the time of the General Strike.
A. True
B. False
...
8. How much did Sam Hammam pay to secure the transfer of Leo Fortune-West from Rotherham United in 2000? Was it......?
A. 400,000
B. 250,000
C. 300,000
D. 500,000
...
9. In the 2012-2013 season City only conceded 45 goals beating their previous record of 51. True or False?
A. True
B. False
...
10. In the 2012-2013 season City won 25 League games beating their previous best of 22. True or False?
A. True
B. False