The Cory Band - USA 2016. An Interview With Neil Blockley

2015-11-23
By: AmeriCymru
Posted in: Music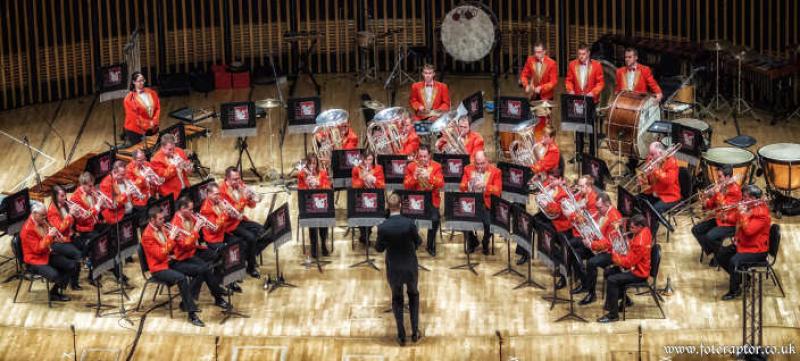 ---
AmeriCymru Hi Neil and many thanks for agreeing to this interview. What can you tell us about the forthcoming US Tour? Has the Band toured the US before?    
Neil: Thanks Ceri for taking an interest and sharing this with the Americymru community.  The planned tour will take place between 12th February until 21st February 2016 and with the current proposed scheduled cover the five States of Virginia, Delaware, North Carolina, Pennsylvania, and  New Jersey. We have five confirmed concerts at present and are in discussions for another potential booking.  We are delighted to be working alongside several Universities and Brass Bands in America to host and promote our tour.  This is an historic tour for the Cory Band as it will mark 40 years since our last visit to America when the band represented Wales as part of the Bicentennial celebrations in 1976.
AmeriCymru The Cory Band is one of the oldest and best known Brass Bands in the world. Care to tell us something about it's history?
Neil: The band was formed in 1884 as the Ton Temperance Band in Ton Pentre, Rhondda less than two miles from where the band are based today. In 1895, the 'Ton Temperance Band' was invited to play at the official opening of Gelli Colliery Library in Ystrad. Sir Clifford Cory, the highly influential son of John Cory performed the ceremony. He was so impressed by the standard of the Band's performance that he offered to provide financial assistance and provide suitable employment to enable the Band to engage a first class conductor. The 'Ton Temperance Band' changed its name to reflect the generous financial assistance from Sir Clifford Cory and his family business, 'Cory Brothers'. Consequently, from 1895, the Band became known as 'Cory Workmen's Band'
In Cardiff on 19th July 1923, the Cory Workmen's Band also took part in what is believed to have been the first radio broadcast of a Brass Band. By the mid 1950's Cory Band had notched up an impressive two hundred and fifty (250) BBC Broadcasts.
Robert Childs became MD in 2000 and immediately made an impact.  During that year they won both the British Open and the National Championships and made history in taking the British Open Shield home to Wales for the first time in the contest's 148-year history. This triumph was repeated in 2002, 2007, 2009 and 2011 when the band won their fourth British Open title. In 2008, 2009 and 2010 the band achieved a historic hat-trick of European Brass Band Champion titles.
The current Musical Director Philip Harper was appointed in June 2012. 2013 saw the band regain the European title, undertake a 10-concert tour of Australia and become the Champion Band of Great Britain at the Royal Albert Hall.
The band has been ranked the number one Brass Band in the World for the last 8 consecutive years.
AmeriCymru: Many people will be familiar with the Welsh choral tradition. How important have Brass bands been in the history of Welsh valleys society?

Neil: Brass Bands have been a proud rich tradition of Welsh valley life for generations and are a cultural movement strongly linked to the Coal Mining Industry in Wales. The Mines are now long gone but the bands play on.  Learning to play a Brass instrument has been part of the education system within schools in Wales for many years and community bands have supported this development by providing opportunity to use these musical skills and provide a social outlet for young people and also older people who continue to play after leaving school. A Brass and Voices concert, generally with male choirs is a regular favourite in Wales bringing our rich musical traditions together. 
After reading the rest of this article, let us transport you for a few minutes to the green green grass of home where you can watch us on Youtube performing alongside a modern famous Welsh choir, Only Men Aloud.
AmeriCymru: For the uninitiated can you describe the typical composition of the band or of Brass bands in general? How many musicians will be on the tour?
Neil:   The Brass Band repertoire is varied and not just marches or orchestral transcriptions although these still can form part of a concert. There are now many wonderful original Brass Band compositions which are firm favourites with Brass Band audiences around the World. Add to that a mix of jazz and popular music and you soon see that a Brass Band is really diverse in its capabilities. A total of 30 players will be travelling to perform this tour, 30 flights for people, luggage and instruments doesn't come cheap!
AmeriCymru: You have launched a Kickstarter appeal to cover some of the costs of the tour. Can you give us some idea of the logistical problems involved in arranging a tour like this?
Neil: There are many logistical problems in arranging a tour like this, luckily we have a member of ours called John Southcombe who was Tour Manager for us in 2013 when we went to Australia who is working on this tour again for us.  Now that the majority of the schedule has been fixed and flights reserved, the next major cost and logistical work is arranging the required VISAs to enable us to perform in America, at the moment this is endless telephone calls and emails to seek advise on the exact requirements but at this stage it looks like we need to get all our players to London for individual interviews to obtain the VISAs required.  After this we will be working on developing and recording a specific tour CD and merchandise to give our audience in America a truly unique Cory experience. After this we will have to finalise and pay for UK Coach Travel, Flights, Coach Travel in Amercia and Hotels but most importantly we will be working on our concert performances and brand new repertoire for the tour as well as developing masterclasses to inspire students and members of the brass bands in America to be the best that they can be. All in all we've got a busy few months ahead before we even get to February when the fun really begins!
AmeriCymru:  Of all the many titles and honours the Cory Band has earned over the years are there any in particular that stand out? What, for you, is the bands proudest moment?
Neil:   One of the greatest contest achievements that Cory achieved prior to 2000 was achieving a hattrick of wins at the National Championships of Great Britain at the Royal Albert Hall in London (1982,83,84) under the musical direction of Major Arthur Kenny.
Since the year 2000 the band has enjoyed the most successful period in its long history, and this sustained period of success has enabled the band to maintain the position as the number one ranked band in the World for the last eight consecutive years. The stand out achievement during this period was becoming Double Champions in 2000, which means winning the National Championship of Great Britain and also winning the British Open contest in the same year. The British Open win was the first time that this had been won by a non-English band in the 148 years that the contest had been in existence. 
There are so many proud moments that I can think of during my 20 years performing with the band, but I think being chosen as the band to represent Wales at the Queens Jubilee Celebrations in London in 2002 and also for me personally being part of the band that toured Australia in 2013 was a great experience. Many past players of the band have shared some great experiences of their tour of America in 1976 and that was definitely a proud moment in our history and it's fantastic that we now have an opportunity to take that same musical voyage 40 years later.
AmeriCymru:   How would you describe your repertoire? What kind of musical experience can audiences expect at your forthcoming US dates?
Neil: For our tour our repertoire runs through stirring British classics to favourite movie themes and classical music. Want a touch of Hoagy Carmichael's Stardust, followed up by the theme from James Bond, a flirtation with Star Wars and a little space travel with Holst's Planets Suite? Yep, we do that. This brass band from the Welsh Valleys will send you into orbit with its extraordinary virtuosity, showmanship and heartfelt emotion. 
AmeriCymru:  What is your most recent recording? Where can readers go to buy your music online?
Neil: One of our most recent recordings which I'm sure your readers will enjoy is Cory in Concert Volume 5. This will provide a good example of the vast and varied repertoire that a band such as Cory can perform. Visit www.worldofbrass.com to purchase or visit our Youtube page to view some live performances www.youtube.com/thecoryband1884
AmeriCymru:  Any final message for the readers and members of AmeriCymru?
Neil:   First of all thank you for taking the time to find out more about us, please say hello on Facebook or Twitter and let us know what you think and please share this with your friends, family and communities. We really do want to make this a tour a success and are busy currently with a Crowdfunding campaign to raise the required funds to pay for those expensive transport costs. If you can help in any way we would really appreciate it and there are some excellent rewards if you do get involved, please visit our Crowdfunding page
https://www.kickstarter.com/projects/772364903/get-the-no1-brass-band-in-the-world-from-the-welsh
We hope to see lots of you in February but for now you can say Hello on:
www.facebook.com/coryband
www.twitter.com/coryband
www.coryband.com