Bara Lawr ( laverbread ) Bagees

2015-11-23
By: AmeriCymru
Posted in: Recipes
---
---
Many thanks to AmeriCymru member Dilwyn Phillips for sending us this excellent recipe which was suggested to him by his son-in-law Justin Rees. Justin is a top Welsh chef and owner of the Fountain Hog and Grill in Aberkenfig ouside Bridgend in south Wales. He is also the author of Welsh Cheese Recipes which features many recipes and adventurous ideas on serving up Welsh cheese.
Visit the Fountain Hog & Grill FB page here:-   Fountain Hog & Grill
Buy Welsh Cheese Recipes here:-  Welsh Cheese Recipes
If you live ouside Wales it is possible to order lavabread / laverbread online from Parsons Pickles in Llanelli. Here is the link:- Laverbread from Parsons Pickles .
mmmmm
Bara Lawr in the frying pan
---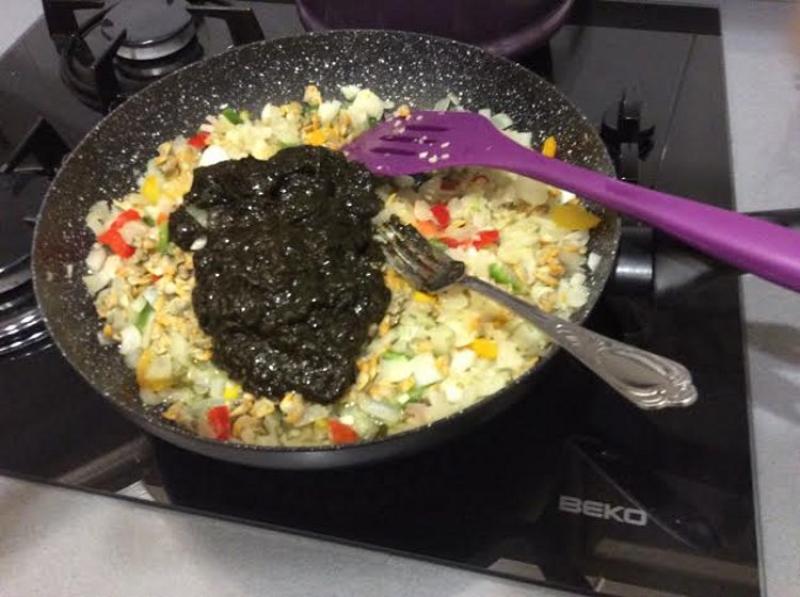 The Ingredients (Serves 3)
3 tins of Bara Lawr (available on line with Parsons pickles)

2 medium chopped onions

2 cloves of diced garlic, or of you prefer, mince

1 tin cockles

Mixed chopped peppers

7 table spoons of Porridge oats depending on thickness required.

Sprinkling of crushed chillie


Sprinkling of curry powder

Pepper and salt to taste

     
Method (Preparation time: 45 mins approx)

Fry the onions and garlic until cooked.

Add chopped peppers then the cockles and Bara Lawr.

Cook for about 5 minutes and add chillie, curry and salt and pepper.

After about a minute of mixing well, add porridge oats, stirring until nice and thick.


Leave mixture to cool.

Form into bite size balls ( or bigger to own preference), I've got a big bite!, and place on greased or non stick baking tray.

Bake at 180C until slightly crusty on the outside. This takes me about 20-25 minutes.
,,,
N.B. Bara Lawr Bagees can be made in a slab, then sliced into squares and frozen. To serve from frozen warm up in a microwave. Lardons may be substituted for cockles in this recipe.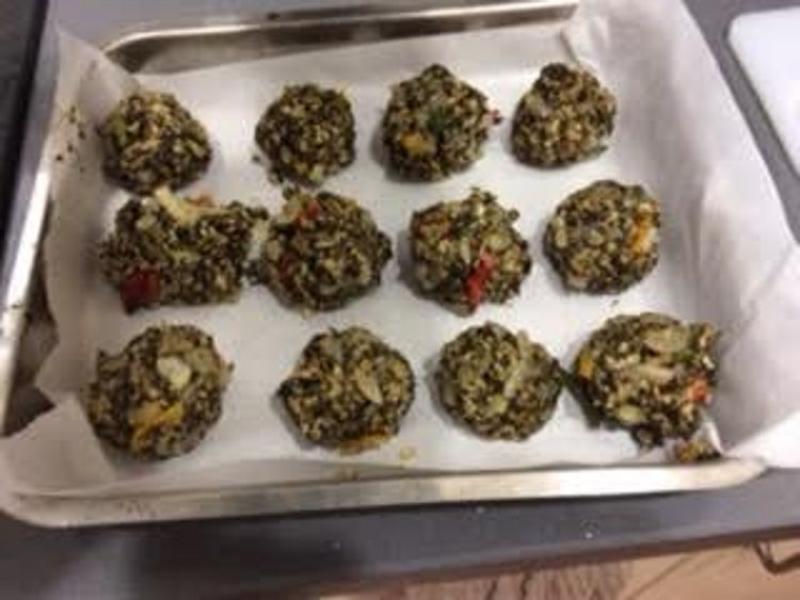 ---
Bara Lawr Bagees ready to serve