An Interview With Welsh Singer Songwriter Lleuwen Steffan

2011-06-06
By: AmeriCymru
Posted in: Music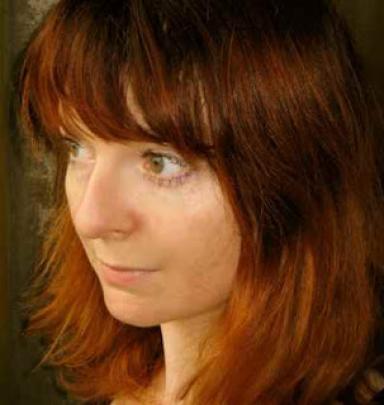 AmeriCymru: Hi Lleuwen and many thanks for agreeing to talk to AmeriCymru. Your new album 'Tan' was released on April 4th. Care to tell us a little more about it?
Lleuwen: Of course! Tan is basically what I've been working on this past year with Breton genius musician and producer, Vincent Guerin. I first came to Brittany to perform at the Lorient Interceltic Festival 2008 and once I immediately fell in love with the atmosphere and language because I think, in a way, I felt great empathy with the Breton people. Then in 2009 I was fortunate to win the Creative Wales Award by Arts Council Wales. I had agreed with the arts council that I'd write songs, record an album and then come back to Wales to perform this new material. I feel blessed to have received that award, and "Tan" would not have happened without it. We'll be performing at festivals in Brittany and Wales in the summer and it's great to have my new music out there at last.
AmeriCymru: You are currently living between Wales and Brittany. How strong is the Breton influence on the album and upon your life and music generally at the moment?
Lleuwen: It's pretty nuts spending so much time on a boat or plane but, to be honest, I don't really like to be settled in one place so I suppose this life suits me well. I live far from the city here in Brittany and this is a huge influence on my work. I would say that this new disc has an anti-urban sound to it almost. The production is rough and gritty and it was important for me to have it that way. It sounds quite wild too - lots of made-up weird open guitar tunings which I have grown to adore. I also play drums and zither on it and various pots and pans from the kitchen. I wanted sounds that the listener doesn't recognise as "instruments" . . . that way nothing comes between the listener and the music itself. I wanted to get to the core of it.
AmeriCymru: I read somewhere that you were learning Breton. How is that going? How does it differ from Welsh?
Lleuwen: Breton is a delicious language, close to nature and so interestingly similar to my own mother tounge . It s been one of the greatest adventures of my life to explore and learn this language and I continue to do so. I began leaning the language in the pubs of course and just by generally hanging out. When I first go t here I spent some time camping out in the garden of "Tavern Ty Elise" in Plouie. This pub has since burned down but will be reopening shortly and I can't wait. I need it's inspiration. It s a legendary bar, run by Merthyr Tudfil boy, Byn Walters. Anyway, I learned a lot of Breton there, just by listening, just by being. I then decided to study more seriously by doing a six month course with an association called Roudour. It was here I began to write a few Breton songs too . . .as well as my Welsh ones. Please check out Roudour's site if you can : www.roudour.com . Their courses are the best. A real mind-opener.
AmeriCymru: Can you tell our members a bit about your career, how you developed as a vocalist?
Lleuwen: My father is singer/songwriter Steve Eaves and so I don't remember a time where music, musicians and instruments were not around me. I suppose it's fair to say that I had a blesssed childhood in that way. I never really gave much thought to singing or making music. . . it just happend. It's just something I do. One of the uncomplicated things in life! I went on to study music and theatre and, through my studies, I got to go to Central College Iowa for six months. I loved it and met so many interesting people who were crazy about jazz (like myself!) I returned to Wales inspired to do do Welsh language jazz . . .something new to the scene. I joined jazz trio Acoustique and we released "Cyfnos" (which, translated means "Dusk") on Sain Records. I have since released three solo albums, all being different but at the same time, I still have the same goal, and that is to make NEW music. That is what I have, what I am and what I will always search for in life.
AmeriCymru: Can you explain something of the background and inspiration for the 'Duw a Wyr' album for our readers?
Lleuwen: It was 2004, a century after Evan Roberts's Welsh religious revival and I became interested in the hymns that were sung at the time. I met pianist Huw Warren that same year and we realized that we shared the same interest in these revivalist hymns and began to dig deeper into the project. I spent months and months researching into the hymns that were sung in the Bethesda area and was amazed by some the jewels I found - long lost tunes and mind-blowing poetry! My mother passed away the previous year and, looking back, I see that, through my research, I was also searching for answers. My mother introduced me to the Welsh hymns and I heard them from her radio set as I fell asleep every sunday night throughout my childhood. I find it difficult to listen back to "Duw a Wyr" because I hear my grief in the music. And although I cant' isten to it, I am proud of the record because I still receive letters today, from people who have been touched by the music.
AmeriCymru: Your album, 'Penmon,' was inspired by your home on Ynys Mon/Anglesey. can you tell us a little about the album?
Lleuwen: "Penmon" was my first adventure with the acoustic guitar! My first record as a songwriter and guitarist as well as singing. There was a sense of freedom in this and I continue along that road.
AmeriCymru: Where can people hear/buy your music online? Any live appearances in the near future?
Lleuwen: to buy the music, put my name into the search on www.sainwales.com and for live appearances, check out www.myspace.com/lleuwen
AmeriCymru: Any plans to visit the States?
Lleuwen: I hope. I wish.
AmeriCymru: Any final message for the members and readers of Americymru?
Lleuwen: thanks for listening. spread the love.