Interview for St David's Day: Sion Jobbins, Welsh Author & Parade Organiser

2019-02-27
By: AmeriCymru
Posted in: St Davids Day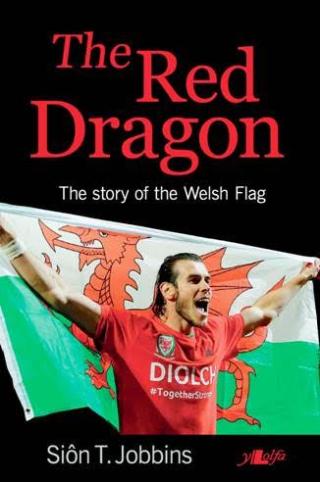 AmeriCymru spoke to Welsh author and St David's Day Parade organiser, Sion Jobbins. Here is a list of Sion's published works:-
Llyfrau | Books
The Phenomenon of Welshness II or 'is Wales too Poor to be Independent?'
The Phenomenon of Welshness or 'how many Aircraftcarriers would an independent Wales have?'
The Welsh National Anthem: its story, its meaning
....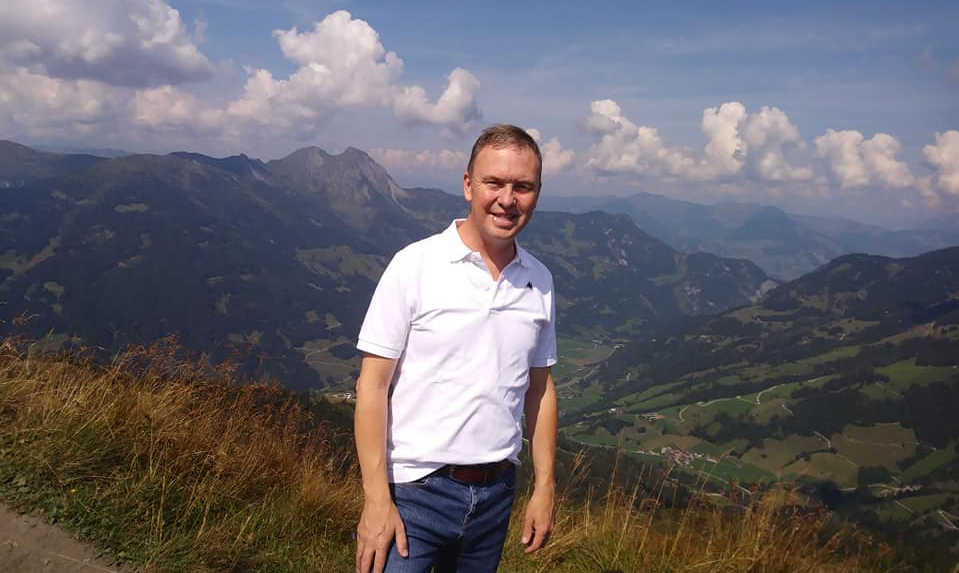 AmeriCymru: What made you decide to organise the St David's Day parade in Aberystwyth? What was the inspiration and what was the original aim?
Sion: The first Aberystwyth St David's Day Parade ( http://gwyldewiaber.cymru) was in 2013. I founded it in response to the disappointing results of the 2011 census which had just been released. I felt we needed to lift people's spirit and show we were "yma o hyd" (still here).
I'd also been a great supporter of Cardiff's St David's Day Parade and felt every town should have one. In fact, I suggested that in an article I have on St David's Day in my book, 'The Phenomenon of Welshness: How many Aircraft Carrieres would an Independent Wales have?' I felt that Wales had always been to quiet and too, well boring, in its celebration of our patron saint, especially compared to the Irish. Although I felt St Patrick's Day could seem a little naff at times, I admire their zeal and confidence in celebrating their national day.
I had considered holding a Glyndwr Day Parade rather than St David's Day one as Glyndwr would be a secular event and so not offend or leave a bitter taste for those who wish celebration of St David's Day to be more nationalistic and those who wished commemoration of St David to be more religious. In the end, after holding a small meeting, the consensus was that people were more familiar with St David's Day and that Glyndwr Day Parade may not appeal to such a wide cross-section of society.
AmeriCymru: Who are the main organisers and do they get funding? Who takes part?
Sion: The Parade is organised by a small group of volunteers. I'd like the Parêd to grow to be a week-long event of music, discussion, comedy, food and fun. But I, and the others, don't have the time. So, we try to do one thing well.
We receive money from Aberystwyth Town Council who are very supportive and the parade wouldn't happen without it. We've also received money in the past from places like the Lottery and also from private businesses.
AmeriCymru: Tell me about some of the unique elements that you have in the Aber parade. How has it grown over the years and how do you see it growing in the future?  
Sion: I'm a great believed in invented tradition and in thanking, celebrating an elevating our heroes. I'm also a fan of flags. So, this Parade includes all those strands.
We've invented our traditions such as having a bagpiper to lead the Parade. The pipes are Welsh pipes or Galician. The tunes are Welsh – Calon Lân for instance.
Behind the piper in the Parade is the 'Tywysydd' (leader). Every year the Parade choses a local person who we believe has made a contriution to Welsh language life in the town and possibly nationally. The first Tywysydd was the late Dr Meredydd Evans, the musicologist and later head of BBC Cymru Wales Light Entertainment. He and his American wife, Phyllis Kinney, had made a huge contribution to the study and celebration of Welsh folk music – as well as other things. This year's Tywysydd, by contrast, is Dilys Mildon, who's from Aberystwyth and returned to the town in 1985 to open Gannets a very popular bistro in Aber. She retired last year. Gannets was a hub of Welsh language life and was one of the few places in the 1980s and 1990s which never shied away from using and promoting Welsh at a time when people were more averse, or even dismissive, of their business being seen as 'too Welsh'.
AmeriCymru: What are the economic benefits to the area?
Sion: It's hard to quantify, but the town is fuller on the Saturday afternoon. It's ovious that people come in with their families either to take part in the Parade or to watch. We've also in the past organised music and events in some of the shops and cafes on the day of the Parade. We hold a free folk gig and music session at the Llew Du pub. There's certainly a buzz on the day.


AmeriCymru: What can you tell us about the Ras yr Iaith?
Sion : Ras yr Iaith ( http://rasyriaith.cymru) is a different event. It's a fun run for the Welsh language – to rasie profile and again, confidence in the language and also raise money which is then donated as grants to initiatives which support and use Welsh.
Ras yr Iaith (race of the language, language race) is based on other hugely successful language runs in the Basque Country (the first one) called the Korrika; Redadeg (Brittany), Rith (Ireland). Every different country has its own version but they are all non-competative and clubs, societies, families, businesses pay to sponsor a km of the route with the profit made given back as grants to support the native language.
Our Ras yr iaith happens every two years, the next one will be in July 2020. We run through the town centres along a route through Wales. With our run more than one institution or club can sponsor the same km. There have been 3 Ras yr Iaith so far (first on In 2014) and we've given out a lot £30k in grants during that period. So, it's a way to raise money for the language independently of the state and it's also a great way to draw supporters of the language – be they Welsh speakers or not – together as they run or help steward the event.
I founded Ras yr Iaith, in 2012. I hoped 'someone else' would do it, but then realised I was that 'someone else'.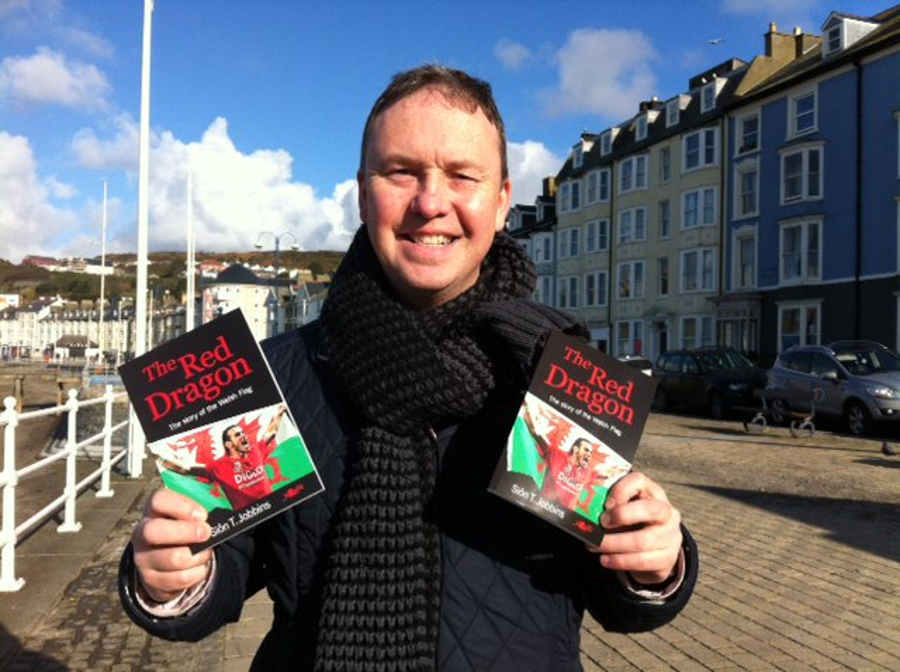 AmeriCymru: Care to tell us a little about your book:- 'The Red Dragon - The Story of the Welsh Flag.'?
Sion: I like flags! The Red Dragon has to be one of the best flags ever, and its history is very interesting. The great thing about flags is that they are simultaneously an obvious manifestation of what and how a nation wishes to see itself represented to others, But the history behind the flag, the choices of flags and designs not made, the time it was constructed and flown, also betrays so much about the nation.

The Red Dragon was officially made flag of Wales in February 1959 when Westminster recognised it – though the present design itself was older of course.

AmeriCymru: In the book you propose that the 28th May to be commemorated annually in Wales as 'Flag Day'. Care to explain why? What has been the reaction to your suggestion?
Sion: I'd like to initiate 28 May as the Flag Day as it was on that day in 1865 that the oldest reference to the Welsh flag being flow is made as the Welsh settlers for Patagonia raised it on the Mimosa ship as it sailed out of Liverpool.
I haven't had much reaction to be honest, though, Rhys Llewelyn, who organises the Pwllheli St David's Day Parade is interested in promoting the idea further. Part of the problem is that Wales, nor the UK, has much of a tradition of 'flag day' so, people aren't aware of the tradition. Also, many people no fly the flag at every day of the year. However, it's something I'd like pursue.
I'd also like to promote my design for the Maritime Flag which is a Red Dragon flag but with the green half brought down to below the claws of the Red Dragon so that the red doesn't deface the green. This will make the flag (and Dragon) easier to recongise from a distance. The current national flag design breaks the 'Rules of Tincture' which were, ironically, written by Welshman Humphrey Lhuyd in the 16th century.
AmeriCymru: What's next for Sion Jobbins. Will you be organising more marches? Do you have any new books planned?
Sion: What next? Well, no new books is one certainty, I'm afraid. I'm now Chair of Yes Cymru the grass roots, non-party political movement for an independent Wales. Things are moving quickly here with a big independence march in Cardiff on 11 May. I've also started and I present on Radio Yes Cymru – which is a rather grandiose name for an online broadcasting outfit – though I'd like to develop that more. Check out Yes Cymru and Radio Yes Cymru online and on Facebook and Twitter.
AmeriCymru: Any final message for the readers and members of AmeriCymru?
Sion: Keep in touch with Wales, support and promote Wales when you can, and try and enjoy life and see the best side of people – we're only on this planet once – "do the little things" as St David said.