Ffwrnes Gerdd - An Interview With Gerard KilBride

2016-06-30
By: AmeriCymru
Posted in: Music
AmeriCymru spoke to Welsh musician and Taran founder Gerard KilBride about the recent S4C series 'Ffwrnes Gerdd' .
"The programme, an original idea by Gerard KilBride and produced by ffilmiau'r ffwrnes, continues the tunechain series and features a wide variety of styles and performances by different performers in the beguiling atmosphere of the Ffwrn café and restaurant at Fishguard, Pembrokeshire."
......
AmeriCymru: Hi Gerard and many thanks for agreeing to this interview. What is Ffwrnes Gerdd and what was your involvement with it?

Gerard:   I am the ideas originator, Producer, Musical director, tea boy and general dogs body.
Ffwrnes Gerdd is the first ever co-production between Arts Council Wales and S4C, and continues a series of short films I made in  2012 with Rhodri Smith, supported by trac  called Tunechain/ Clustfeiniau.

These short films start with Robert Evans who discusses how he became involved in Welsh folk music and then he plays a tune he learnt from me. It then continues to follow the chain  from musician to musician, a journey around Wales, discovering the aural tradition. They are absolutely beautiful but very low budget filmed and recorded on iphones.

They were a great success, but limited by their low technology approach,  so I approached ACW to make another set of films, using Welsh fiddlers, playing Welsh music on Welsh made violins. We also had help from Gethin Scourfield, another fiddler from the 80's band Penderyn and a legend in Welsh TV, producer of Welsh language hit Hinterland. He is working on the next series as I write this. So we approached S4C with the same idea but with Welsh singers. When S4C and ACW  heard that we were working on two different projects they asked if they could co-produce and share some of the content? At the same time Theatr Mwldan, Aberteifi, and I had been planning to tour the Songchain/Cylchcanu  idea using 10 artists from the films, touring Welsh arts centres and theatres.
This has just finished and was a great success - a game changer for Welsh music in Welsh theatres. We intend to tour again next year, with big plans for a collaborative project in Patagonia next year.

AmeriCymru: How many other Welsh musicians were involved with the project?

Gerard: In total  33 Welsh musicians, all masters of their crafts and touring.

AmeriCymru: Where can readers go online to view the programs or excerpts from them?

Gerard: We did a re-edit of all the tunechain clips for Lorient Interceltic 2013 and they are here in one programme :

Ffwrnes Gerdd, the two main programmes are on s4c's clic channel:

and

A ll links will always be at www.pibgyrn.com and http://www.trac-cymru.org/

AmeriCymru: When did you first become interested in Welsh traditional music? What are your musical influences?
Gerard: Both my parents played music and were instrumental in the Welsh music revival back in the 60-70s here in south Wales, so they were my first influences.  They ran a dance band called Juice of Barley for thirty years so we all grew up with music all around us, my brothers and I learnt via osmosis.

Bernard is one of the fiddlers included in the films, a great fiddler and Dan who also played a big part in Taran, is currently the director of trac, Wales' Folk Development organisation.
My dad was a Ship's Captain who used to bring back tunes and whiskey from all over the world, we laugh thinking that a fiddle playing ship's Captain brings new meaning to the Mari Celeste.

My early Welsh influences were bands like Yr Hwntws who I was very proud to play the fiddle with, Pedwar yn y bar and Plethyn .  Bob Evans who starts the tunechain and was also on the songchain tour, was a huge influence on my fiddle playing, he taught me there was "no such thing as a bad tune."  But many great musicians passed through our doors all leaving a tune or two behind,  it wasn't all plain sailing as we all rebelled and formed a punk rock band, but gradually our parents won us back with the offer of steady paid work in their dance band.

I learnt the fiddle when I was about 18 and after trying to make one, being a carpenter and joiner, decided I would learn to repair and make them. So I went to Newark School of Violin Making where I met  the amazing Shetland fiddle player Ewan Thompson, who to this day is my biggest musical influence. He is a living legend, and a thoroughly lovely bloke.
AmeriCymru: Would you agree that Welsh folk and traditional music suffers by comparison with Scottish and Irish music in terms of international exposure? If so what do you think are the reasons for that?

Gerard: Not really, it is nowhere near as popular, which isn't a bad thing, but I think it's one of Wales's best kept secrets. If it was hugely popular it wouldn't be as special. History played a huge part. Ireland and Scotland almost lost their language but kept their music, in Wales it was the opposite. Wales as a nation has not promoted or supported its traditional music, comparing Welsh music to Irish and Scottish is also I feel, like comparing different fruits, an orange will never be an apple, sorry if that's obscure?
 
AmeriCymru: Is Welsh traditional music currently undergoing a renaissance?

Gerard: There are lots of young talented people, taking up instruments and putting the spirit into it and a lot of classical musicians joining in, which I have some mixed feelings about. I don't feel written music is the way to learn traditional music, but I could go on about that for hours. L et's not make it too popular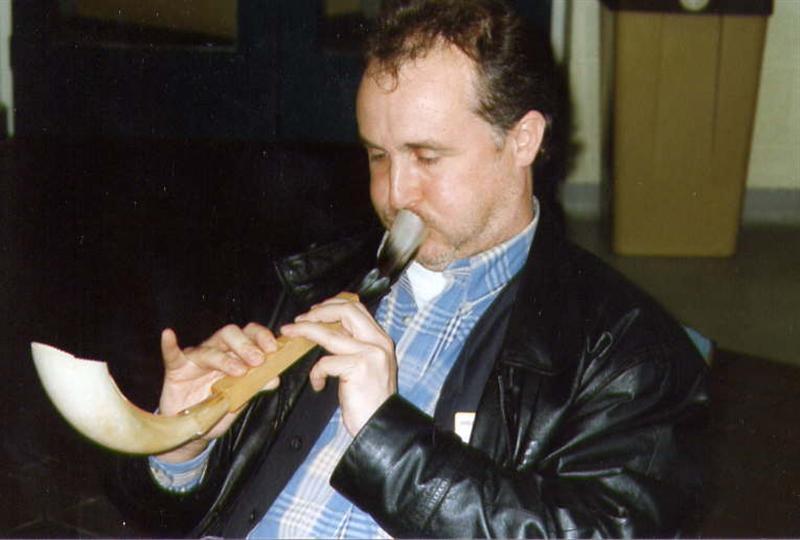 Welsh Pibgyrn By Coppop (Own work) [ CC-BY-SA-3.0 ], via Wikimedia Commons
---
AmeriCymru: Your site,  www.pibgyrn.com  contains a wealth of information about the oldest of Welsh instruments, the pibgyrn. What advice would you give people who are seeking to become acquainted with it? Where would you acquire a pibgyrn?


Gerard: Many people think the pibgorn is a simple instrument, and feel that if they play the recorder or whistle then this instrument will be an easy transition.....not many who come from this route persist.


At first it is the most frustrating instrument to learn and to keep in playing condition. Moisture/ spit and condensation are the enemies and new players rarely understand how to manage this moisture.


It was for this  reason that I made www.pibgyrn.com. As a professional instrument maker in Wales I found there was a huge myth and lack of decent information on the pibgorn. Those who knew how to play it were not keen to pass it on. This has changed now and the site is set up to dispel many of those myths.


Most of the players worldwide input into the facebook group here with lots of good advice,


https://www.facebook.com/groups/162020927154723/


The best advice I have heard so far is, until you understand fully how to adjust a pibgorn reed "do not touch or alter that reed!". Also moisture is your enemy. Learn to circular breath, and cross finger to save air, as they do with the Basque alboka.

The finest maker of Pibgyrn is Jonathan Shorland, his horn carving is second to none and like a fine porcelain, they are generally louder than most other makers instruments. He can be tracked down on the internet, he doesn't advertise, look for the band Celtech.


Gafin Morgan also a member of the band Taran, has made a pre cast plastic Pibgorn which works. It is available here www.pibgorn.co.uk . He again is a lovely man who has spent years trying to promote the instrument and  through his efforts will continue to improve the manufacturing techniques.


Taran"Suo Gân" Interceltique Lorient 2009
---
AmeriCymru: You are the leading light and founding member of Welsh Celtic band Taran. For the benefit of any of our readers who are not familiar with it can you tell us a little about the 'Hotel Rex' album released in 2011?

Gerard: Hotel Rex, was a huge undertaking, with 26 performers from 3 different countries, and took just over two years to make. I am very proud of the outcome although it was not to the general publics taste. It is still Available on itunes and CD baby.

It starts with a sample of Jimmy Hendrix and ends with Dylan Thomas reading " and death shall have no dominion".  It was the second CD for the band Taran, who mixed samples of ancient poetry, bagpipes and  beats to Welsh traditional music.
AmeriCymru: What's next for Gerard Kilbride and Taran? Any new recordings or tours in the pipeline?

Gerard: We will be touring the Songchain/Cylchcanu project again next year, and I would like to continue to make short films about music. I have big ideas to include more English speaking Welsh artists and do some more collaborative work. Patagonia for the Mimosa's 150th landing celebration would be exciting. Members of Taran continue to work together in different outfits and if a project came up that interests us we would be back together in a shot. I am busy making and restoring fiddles and run several web e-commerce solutions for high end violin dealers. I am also trying my best to bring up a young family.

I would love to do more recording and playing, but no longer have the time to commit to something as large and all consuming as Taran.
Also I have another long term research project on violin bridges www.violinbridges.co.uk

AmeriCymru: Any final message for the members and readers of AmeriCymru?

Gerard: Thanks for your interest and I hope you enjoy some of these projects. I would love to come back to the States sometime as I was blown away by the sheer scale and beauty of the place.