20% OFF WHILE STOCKS LAST- SPECIAL PRICE FOR AMERICYMRU READERS
Original Price $16.00 / Our Price $12.80+$3.99 handling=$16.79
Offer applies in U.S. only. Price includes shipping and handling $3.99. If you are a member and logged in to AmeriCymru use the shopping cart symbol above to purchase. If not, please use the PayPal button below. You can purchase with your debit or credit card if you do not have a PayPal account.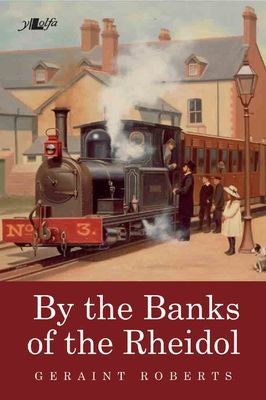 By The Banks of the Rheidol A historical novel set mainly in the Aberystwyth area, with twin themes of local industry and romance.
Young lead miner Dafydd is forced to flee his family after being targeted in a violent confrontation. He runs to the port of Aberystwyth, where he is helped by local Trefecahn girl, Gwen. He slowly begins to rebuild his life, falling for Gwen in the process.
Dafydd works his way up from navvy on a nearby quarry railway to become an apprentice in England. In doing so, he is parted from Gwen, but she promises to wait for him. When he finally returns, to work on Aberystwyth's new Rheidol Railway, can he progress as a railwayman, track down the family he's lost - most importantly - find Gwen?
Aberystwyth born and bred, Geraint Roberts returned to live in the area in 2008. He is the retail mananger for the Vale of Rheidol Railway and writes historical articles for the Rheidol Railway newsletter. He is interested in local history (especially mining and railways), and this is his second novel He lives in Llanilar, Wales.
---
From the Wikipedia:- " The Vale of Rheidol Railway (Welsh: Rheilffordd Cwm Rheidol) is a 1 ft 11 3⁄4 in (603 mm) narrow gauge heritage railway, opened in 1902, that runs for 11 3⁄4 miles (18.9 km) between Aberystwyth and Devil's Bridge in the county of Ceredigion, Wales.
From 1968 until 1989, when it was the first part of British Rail to be privatised, it was the sole steam-operated line on the 1948 nationalised British Rail network.
Unlike most other preserved railways in the United Kingdom, the Vale of Rheidol Railway did not have a period of closure between its being part of the national rail system and becoming a heritage railway, and so has operated a continuous service for residents and tourists."
Shipping and Handling:
$3.99