10% OFF WHILE STOCKS LAST- SPECIAL PRICE FOR AMERICYMRU READERS
( Offer applies in U.S. only. Price includes shipping and handling $3.99)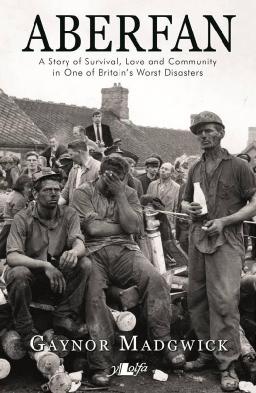 On the 21 st of October 1966, the village of Aberfan in Merthyr Tudfyl was shattered by one of the worst disasters in Welsh and British history.
Following days of bad weather, water from a spring had destabilized a huge coal slag tip – one of the black man-made mountains which surrounded the village. Thousands of tonnes of coal tip waste slid down a mountainside and devastated the mining village of Aberfan. The black mass crashed through the local school, where pupils were  celebrating the last day of term. One hundred and forty-four people were killed. One hundred and sixteen were schoolchildren. Gaynor Madgwick was there. She was eight years old and severely injured. Her brother and sister were in  classrooms either side of her. Both died.
Recalling the horrific event in a diary four years later, Gaynor wrote,
'I heard a terrible, terrible sound, a rumbling sound. It was so loud. I just didn't know what it was. It seemed like the school went numb, you could hear a pin drop. I was suddenly petrified and glued to the chair. It sounded like the end of the world had come.'
In Aberfan – A Story of Survival, Love and Community in One Of Britain's Worst Disasters , Gaynor tells her own story and interviews people affected by that day – from the bereaved and the rescuers, to the police and royalty. She explores the nature of courage, grief and faith, to create both a moving personal story of one family's pain and a definitive account of the events that shook the nation and the world.
'For the past 50 years I have lived as a sort of prisoner or victim of my past. Now I am trying to break free.' said Gaynor. 'I started this book by looking again at the writings of my young self. I've tried to explore the determination, courage and resilience which got me through. Then, I set out on a journey, to find those same qualities in my community, to see how it had coped, survived and often thrived.'
The Earl of Snowdon – who was there hours after the disaster – described it as ' one of the most moving experiences of my life.'
'Gaynor Madgwick's book, Aberfan , is a brave, heartbreaking and inspiring journey in which she re-visits the story of what happened to her and to the whole community of Aberfan on that dreadful day.' he said. 'It is a book that should be read by all of us in memory of those who died and those who survived.'
Said Broadcaster Vincent Kane,
'Gaynor Madgwick was pulled injured from one of the classrooms where her friends died. She was left behind to live out her life. This is her story, sad, sweet, sentimental, and authentic. I commend it to you.'
'October 2016 marks the 50th anniversary of that awful day. For 50 years we have been trying to recover from the Aberfan disaster. It's a long road, and we take it one day at a time.' said Gaynor.
 'I've tried to tell this story in a way in which it has never been told before, beginning by reliving Aberfan through the eyes of a survivor.  As a survivor, now 58 years old, I have been haunted by the memories of the Aberfan disaster.'she continued 'I wanted to create the fullest picture of the disaster and its aftermath while people were still around to tell their story.' 
'For me, I can't start the next chapter of my life if I keep rereading the last one; this book will help me move on. My hope is that it will help others move on too.'