An Interview With Welsh Artist Nichola Hope

2020-05-26
By: AmeriCymru
Posted in: Arts
STOP PRESS:
The competition is open for voting till June but the outstanding quality of Nichola's work has already been recognised with the award of the 'Elizabeth Hosking Prize For Watercolor'. We all wish Nichola the best of luck next month. VOTE HERE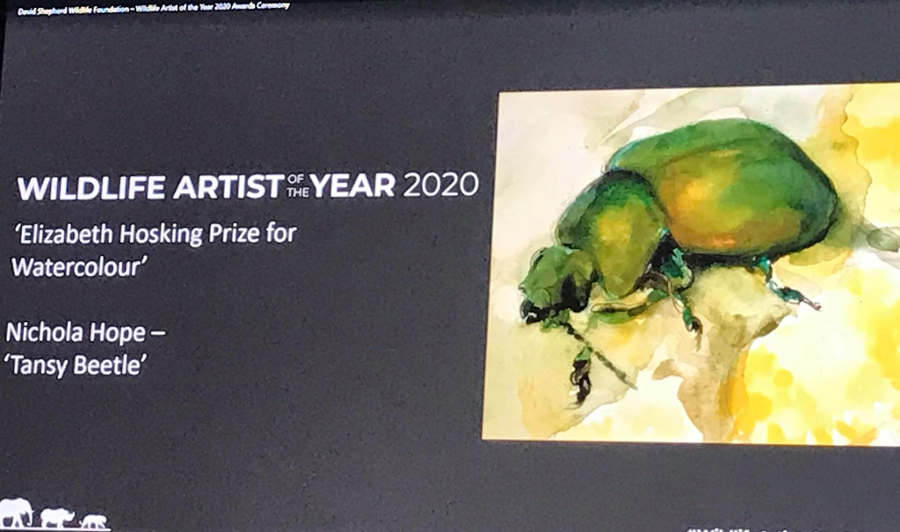 bbb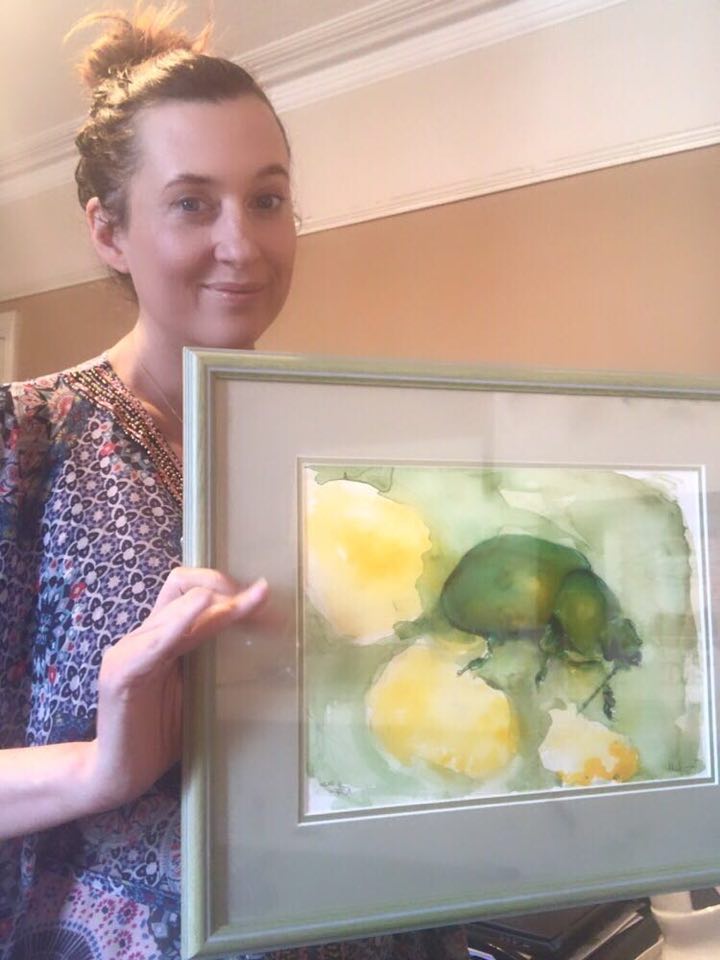 AmeriCymru:  Hi Nichola, and many thanks for agreeing to this interview. What can you tell us about your entry to the 2020 Wildlife Artist of the Year competition?
Nichola: Thank you for the wonderful opportunity to share my work with your members and communicate. 
My Tansy Beetle, watercolour has been shortlisted for Wildlife Artist of the Year 2020. My work is one of 159 artworks selected from an incredible 1,200 entries from across the world.
It really is a huge honour to be shortlisted by this competition. Through art, we can raise awareness and support wildlife conservation.  This exhibition is usually held in Mall galleries London but due to the pandemic is now a live online exhibition. You can view my work here:
https://davidshepherd.org/wildlife-art/artwork/tansy-beetle/
My work is featured in the category Facing Extinction. This category invites artists to celebrate these vulnerable species, capturing their behaviour and importance in striking imagery. They may be gone tomorrow if we do not act today.

AmeriCymru:  In 2005, you became a visiting artist for WNO. What does this entail? Where can people see samples of your work online?
Nichola:  I observe and draw the rehearsals and performances on stage.  For over ten years, I've been documenting a visual history of Welsh National Opera through the medium of drawing alongside my sister Sarah Hope, who is also a professional fine artist. Our work is held in public and private collections across Europe, Australia and the USA
Working from live performance requires a responsive gaze and the ability to capture movement and emotion with immediacy and confidence. Watercolour allows me to work with colour in a very fluid way and this medium offers up unique qualities.
I've been fortunate to draw two productions at Lyric Opera, Chicago. It was an amazing experience and I fell in love with the city, the  friendly people and crazy weather!
My work can be viewed on www.nicholahope.com or on social media - Instagram and Facebook  @thedrawingeye 
AmeriCymru:  In 2019 you were invited to do a drawing demonstration in the galleries of the National Museum of Wales for the public event 'After Dark'. Care to tell us more about this experience?
Nichola:  I began drawing natural history specimens at National Museum Wales in 2019. I'm currently interested in shorebirds connected to Wales.  We have a diverse range of habitats that are important for birds. Some, such as the seabird colonies of Anglesey and Pembrokeshire, have probably been that way for thousands of years. 
I was invited to do a drawing demonstration at After Dark, an event held by National Museum Wales in Cardiff. The museum was opened up in the evening and was attended by a thousand members of the public. 
The museum's taxidermy collection was used as an inspiration for drawing. I chose to draw a grey heron in ink and wash. I hope that this inspired people to look closely and respond creatively to the wonderful wildlife we have.

AmeriCymru:  Your work is clearly inspired by the animal world. What can you tell us about your 2019 exhibition - 'London Rats' - at the Workers Galley in Porth?
Nichola:  The Workers gallery is located in the little village of Porth, South Wales. Three of my works from a series called London Rats were selected for the exhibition Drawn to Life. This aligned with the Big Draw festival 2019. Over 25 countries including Wales participate in this worldwide campaign each year.
London Rats is inspired by the role of rats as Other in folklore and history. Rats are hugely symbolic. Interestingly it's year of the rat!
AmeriCymru:  What's next for Nichola Hope? Any new exhibitions or events?
Nichola:  My exhibition of opera paintings and drawings at the Pierhead Building, Senedd Welsh Assembly was due to open in May 2020 but has been postponed due to the pandemic. I'm looking forward to rescheduling the show for a future date!
I'll be submitting a sketchbook to the Brooklyn Art Library, NYC later this year and that will be part of a touring exhibition and will be digitized.
AmeriCymru:  Any final message for the readers and members of AmeriCymru?
Nichola:  I admire how AmeriCymru raises Wales' cultural profile to American audiences and  I'd love to see more cross Atlantic artistic collaborations between Welsh  and American artists in the future. 
---
You can vote for Nichola Hope for the People's choice award here: Wildlife Artist of the Year 2020
        Artwork

       TITLE: TANSY BEETLE
       ARTIST: NICHOLA HOPE
       ARTWORK CATEGORY: 
       FACING EXTINCTION
       MEDIUM: WATERCOLOUR
       ARTWORK SIZE (CM): 38 X 46