Welsh Terror Group Mastermind Claims They Could Have Killed Prince Charles

2019-08-27
By: AmeriCymru
Posted in: New Titles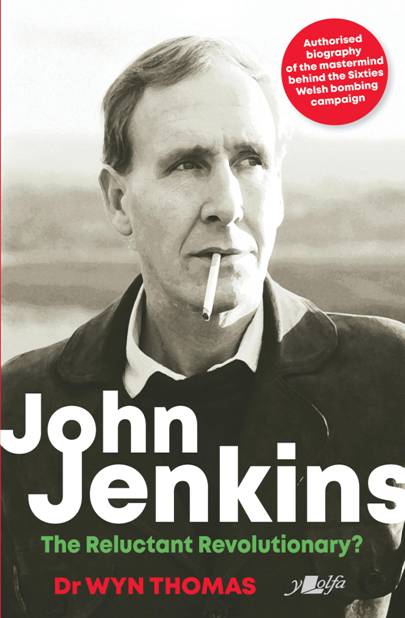 EXCLUSIVE FOR AMERICYMRU READERS
AmeriCymru is pleased to announce the availability of a small number of first edition hardback copies of 'John Jenkins: The Reluctant Revolutionary?' by Dr Wyn Thomas. The hardback first edition is now out of print. Originally priced at $34.00 this important & historic biography can be yours for only $23.99 including shipping and handling (offer applies in U.S. only). New, unread and unmarked but slightly damaged with bumped corners. 
"The mastermind of a Welsh bombing campaign in the 1960s claims that the terrorist group he led could have killed Prince Charles during his Investiture as Prince of Wales fifty years ago."
...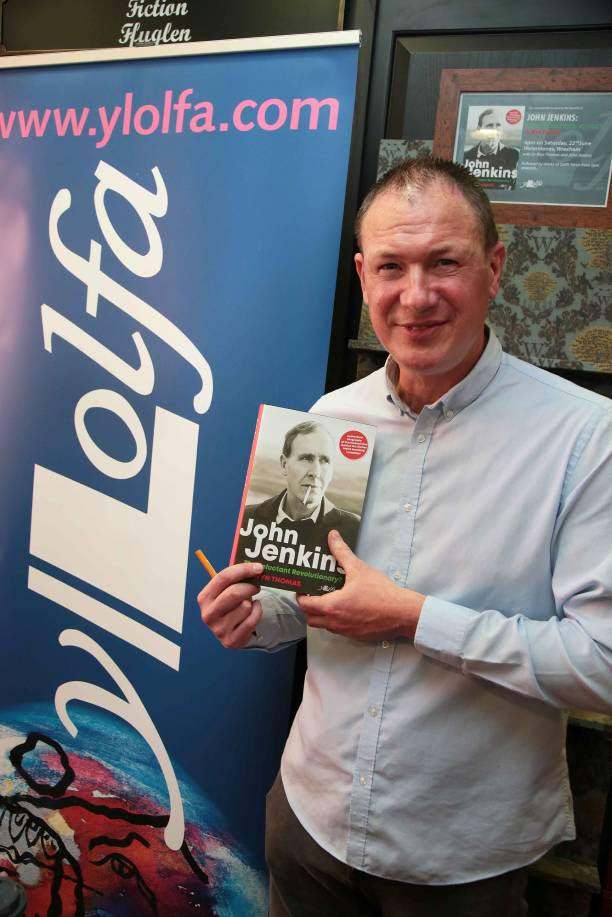 The mastermind of a Welsh bombing campaign in the 1960s claims that the terrorist group he led could have killed Prince Charles during his Investiture as Prince of Wales fifty years ago. 
John Barnard Jenkins plotted a long and audacious bombing campaign with the Welsh nationalist group  Mudiad Amddiffyn Cymru  (the 'Movement to Defend Wales' – generally known as MAC) that caused damage to water pipes and government buildings throughout Wales from 1963 to 1969. In a new biography of Jenkins, he claims that they could have killed Prince Charles in 1969. He says in the book, published exactly fifty years since the Investiture, "We could have killed him... For one thing, I was a sergeant in the British Army's Dental Corps, and was on duty in Caernarfon that day. I could have carried a rifle and I could have shot him there and then if I wanted. Furthermore, if I'd said 'Right, I want a couple of people   who are prepared to do something and not come back from it', I know at least two who would have come forward and volunteered. I'm talking about a suicide operation." 
During the period leading up to the investiture many targets were bombed, with one device killing two of the bombers themselves in Abergele. Another bomb injured a child, though Jenkins insists their intention had been only to attack infrastructure and not to injure anyone. 
The campaign was undertaken in the belief that the political voice of Wales was being ignored. There had been mass protest in Wales earlier in the decade about the plan to evict the Welsh-speaking community of the Tryweryn Valleyso as to turn it into a reservoir to supply water to England. Despite the fact that not one Welsh MP voted in support of the Bill, it was passed in Parliament and the project was allowed to go ahead. In 1966, a huge spoil tip collapsed onto the village primary school in Aberfan, killing 124 people, most of them children. Although the National Coal Board had been warned of the danger beforehand and was found responsible for the disaster by the ensuing inquiry, it was not prosecuted or   fined. John Jenkins says that both incidents influenced MAC's campaign. 
John Jenkins: The Reluctant Revolutionary?  by historian Dr Wyn Thomas reveals the international interest in the Welsh bombing campaign, with offers of help coming from Libya and Communist East Germany. John Jenkins also discusses how his campaign influenced the IRA, with their cell system based on the one he devised for MAC. 
The author, Wyn Thomas, said: "What John Barnard Jenkins did in spearheading  Mudiad Amddiffyn Cymru 's bombing campaign in Wales and England during the 1960s is unparalleled in Welsh if not British history."
Since the group's bombing campaign ended with John Jenkins' arrest in 1969, questions have been asked about what motivated MAC's formidable leader and strategist's course of action. Wyn Thomas' authorised biography provides the answers, throwing light on this complex and hitherto guarded individual. As the group's bombing campaign intensified, the authorities were desperate to locate MAC - and its anonymous controller. But unknown to all but the smallest band of associates, John Jenkins was in fact hiding in plain sight, as a serving member of Her Majesty's Forces. The story of John Jenkins and MAC has been engulfed in a fog of speculation, innuendo and rumour, but for the first time, with the publication of Thomas' biography, the true extent of the threat posed by the group is shockingly revealed. 
This meticulously researched appraisal has been written on the back of fifteen years of interviews conducted by Thomas with John Jenkins, and – among others – former police officers and members of MAC and their families. The result is monumental: the amount of fresh information surrounding the narrative is astonishing, and each disclosed detail offers a fascinating insight into the shadowy world of MAC and its brilliant, if flawed, organiser. It is not just a study of one man, but also an absorbing social history which considers the political and cultural background to, and impact of, MAC's campaign. The extraordinary life of John Barnard Jenkins is as complicated as the campaign of militant activism he so effectively led. The title of the biography is a question:  John Jenkins: The Reluctant Revolutionary? This is based on the emotional turmoil that Jenkins apparently experienced when increasingly compelled to orchestrate a campaign of militant activism in the name of Welsh political freedom. Other observers maintain, however, that far from being resistant and ultimately resigned to his role of leading MAC, John Jenkins relished the challenge and the task of providing a worthy opposition to the British state.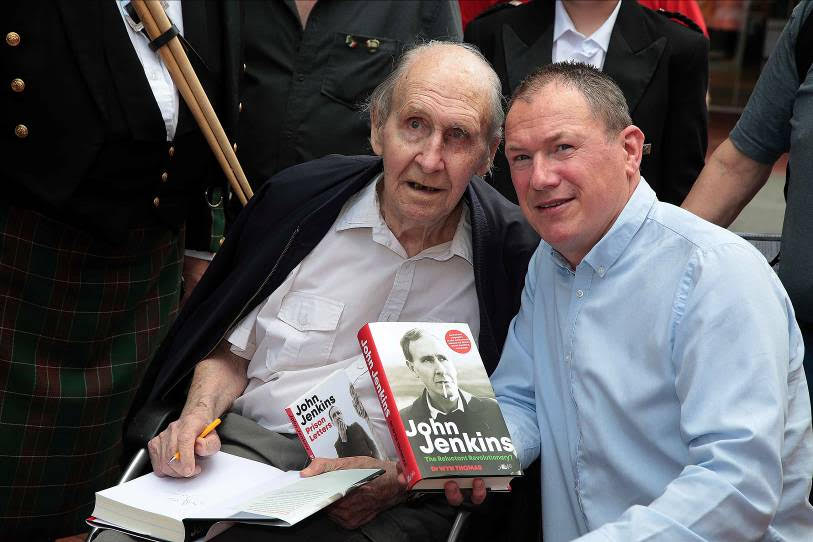 ...
From the Wikipedia - Mudiad Amddiffyn Cymru :- "Mudiad Amddiffyn Cymru (Welsh: [ˈmɨːdjad amˈðiːfɨn ˈkəmrɨ], Movement for the Defence of Wales), abbreviated as MAC, was a paramilitary Welsh nationalist organisation, which was responsible for a number of bombing incidents between 1963 and 1969. The group's activities primarily targeted infrastructure carrying water to the English city of Liverpool.
MAC was initially set up in response to the flooding of the Afon Tryweryn valley and the flooding of the village of Capel Celyn to provide water for Liverpool. Its founders were Owain Williams, John Albert Jones and Emyr Llewelyn Jones. On 10 February 1963 a transformer at the dam construction site was blown up by three men, of whom one, Emyr Llywelyn Jones, was identified, convicted and sentenced to one year imprisonment. MAC blew up an electricity pylon at Gellilydan on the day of his conviction. This led to the arrest and conviction of Owain Williams and John Albert Jones. READ MORE HERE
...