Mischievous Black Cat To Inspire People To Learn Welsh!

2019-05-08
By: AmeriCymru
Posted in: about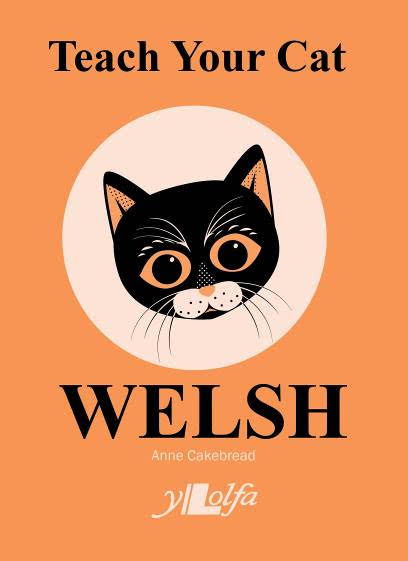 Teach Your Cat Welsh has been developed due to the huge popularity of the dog version, as well as numerous requests by cat-lovers who are learning Welsh!
"The popularity of the series has been amazing! I was thrilled when Teach Your Dog Welsh was re-printed for the first time – but I'm amazed that it's been reprinted three more times since! A lot of cat lovers approached me personally or contacted me over social media asking if there'd be a cat version of the book," says author and illustrator Anne Cakebread.
The mischievous black cat in the book, who – unlike the very obedient dog in Teach Your Dog Welsh – often ignores instructions, has been inspired by two cats: one being Chanel, the cat of Anne Cakebread's two nieces. Mari and Elin are thrilled to have Chanel in a book.
"Chanel made a lovely model as she's nice and plump and full of character," said Anne Cakebread. "The other cat that inspired the personality is the local black tom cat with yellow eyes who prowls and hunts around the old Abbey ruins, and is a bit of a legend here in St Dogmaels. He's a seriously tough character!"
Originally from Cardiff, Anne and her partner moved to St Dogmaels on the west Wales coast. She wanted to improve her Welsh as it was important to her to become part of the lively Welsh-speaking community in the area.
"I first had to unlearn the Welsh I'd been taught in school as it's nothing like the Welsh people speak here. That's why I've made the expressions in the book colloquial, as a large part of learning is listening to what people say around you."
The original book was inspired by Frieda, a rescue whippet, who only understood Welsh commands when she was first homed with Anne and her partner. Slowly, whilst dealing with Frieda, Anne realised that she was overcoming her nerves about speaking Welsh aloud by talking to the dog, and her Welsh was improving as a result – this gave her the idea of creating a book to help other would-be learners whilst also using her skills as an illustrator.
Summoning up the confidence to use a language you're learning can be daunting at first, and a number of books are available to help with vocabulary and pronunciation, but the light hearted context and the beautiful illustrations mean that this book is a bit out of the ordinary. Lefi Gruffudd from Y Lolfa says:
"This book is both a practical and a fun way to practise Welsh, and hopefully it will be a useful resource to Welsh learners."
Carolyn Hodges, Head of English Publishing at Y Lolfa, who developed language-teaching materials for Oxford University Press for many years, said: "Some people have a bad experience of learning Welsh at school and that puts them off trying again as adults. One of the key factors in motivating someone to start learning and using a new language is to make it enjoyable. Teach Your Cat Welsh really brings the language to life and makes it fun – it's a really positive (re)introduction to this wonderful language."
"It was particularly fun for me to edit the book as I started learning Welsh on my own in Oxford, where the only 'person' I had to practise on was my cat! This book would have been really useful!"
There are plans to expand the Teach Your Cat Welsh and Teach Your Dog Welsh series to include translations into other minority languages including Cornish and Irish. Teach Your Dog Māori is already available as an e-book, and there will be a special travel edition teaching Japanese to coincide with the Rugby World Cup in the autumn.
Anne Cakebread is a freelance illustrator with over 20 years' experience in publishing and TV, including cover art and illustrations for numerous books, magazines and adverts. She also illustrated sets and props for Boomerang on S4C's award-winning ABC. She grew up and went to school in Radyr, Cardiff and now lives with her partner, two whippets and lurcher in St Dogmaels, where she runs a B&B Oriel Milgi.
Teach Your Cat Welsh by Anne Cakebread is available now (£4.99, Y Lolfa).