Walking the Pembrokeshire Coast With a Harp! Welsh Folk Musician's Crazy Adventure

2019-03-27
By: AmeriCymru
Posted in: New Titles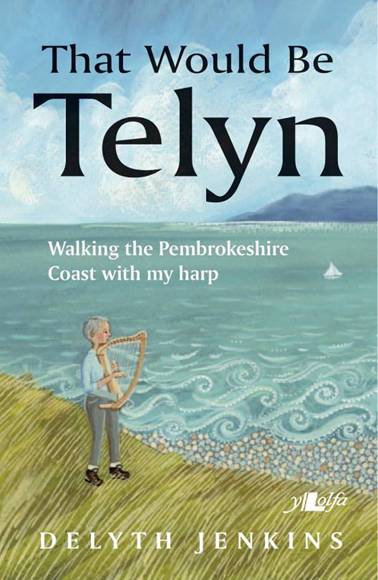 In the summer of 2012 musician Delyth Jenkins walked the 186 miles of the Pembrokeshire Coastal Path over a period of 17 days. With her she carried her Welsh harp and hoped to give a series of impromptu path-side concerts. That Would Be Telyn (Y Lolfa) is an inspiring account of her adventures and the people she met and played for along the way.
Delyth set out to challenge herself both physically and creatively and combined three things that she loved: walking, playing the harp and the Pembrokeshire coast.
"The walk itself was a creative process. I had no idea when I started the walk that I would end up writing a book. I have also composed new music inspired by the walk – one of the pieces, Cofio , is on DnA [her instrumental duo with daughter Angharad]'s album Llinyn Aur ," said the Delyth, adding:
"People seemed genuinely moved to hear my music. A couple from Spain felt that my music had magically  managed to dispel the mist and bring out the sun. I played 'Happy Birthday' to someone who was absolutely delighted to be able to celebrate his birthday with the expected song but in the most unexpected of locations!".
That Would Be Telyn   is an account of the journey, but also a memoir. As she walked, she thought and remembered and the text is interwoven with autobiographical flashbacks including memories of her childhood, her life with her late former husband, the poet Nigel Jenkins, and her career in the world of theatre and Welsh traditional music. The book also includes a hitherto unpublished poem by Adrian Mitchell.
"What I discovered was that my music was not merely a form of expressing myself, but it also gave me the extraordinary privilege of having an insight into other people's thoughts and emotions, and brought home to me that music is not just about the performer but just as much about the audience," said Delyth of her experience.
Since completing the walk, Delyth has given several performances about the journey, including a show in collaboration with the poet Emily Hinshelwood called Salt On Our Boots . The overwhelming response from audiences has been that they would like to read about what was described during performances.
"I realised with some force that I don't want to let life pass me by, and I am keen to take on more physical and creative challenges whilst there is still time. But probably my main reason for writing the book was that I wanted to write it. I felt very much that I had a story to tell, which I wanted to share," says Delyth.  
That Would Be Telyn has received high praise:
"A musician's miniature odyssey, full of epiphanies, gentle meetings and haunting personal reflections." - Stevie Davies  
"Delyth writes just as she lives and plays music: with honesty, humour and a warm curiosity in other people and in the ancient land she travels through." - Andrew Green  
"Her descriptions lead the reader to wish they'd been there – had chanced upon this wandering minstrel and heard her play the Telyn while the waves crashed far below and the seagulls swooped overhead." - Jo Mazelis.
---
Delyth Jenkins was born in Oswestry. She studied at University College, Swansea and has lived in the city ever since. It was here, in her early twenties, that she started learning Welsh and the harp. She started her career with the Swansea-based folk band Cromlech, and then went on to form the pioneering instrumental trio Aberjaber. She has made many albums both as a member of groups and as a soloist. She has toured extensively in Britain, Europe and America. She has also worked as an actor, composer and musician for various theatre companies, and has collaborated with poets and storytellers. But it is perhaps her collaboration with her daughter Angharad Jenkins that gives Delyth the most pleasure. Delyth and Angharad released their second album Llinyn Arian in 2018.
Delyth Jenkins will be reading extracts from the book and performing pieces inspired by her walk. Tickets are £5 can be ordered from Mission Gallery (01792 652016 | info@missiongallery.co.uk ) and will include a glass of wine or soft drink. For more information about the event, please contact Delyth Jenkins delyth.harp@gmail.com or Gwenllian at Y Lolfa gwenllian@ylolfa.com | 01970 832304.
That Would Be Telyn by Delyth Jenkins (£8.99, Y Lolfa) is available now.