Tales From The Murenger - Newport's Seedy Side - An Interview With Author Michael Keyton

2018-11-01
By: AmeriCymru
Posted in: Author Interviews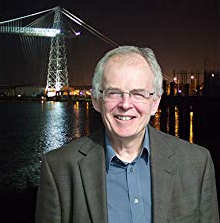 AmeriCymru spoke to Welsh author, Michael Keyton about his work and future plans. Michael was born in Liverpool, graduated from Swansea University and has lived in Newport, south Wales in the past. He currently resides in Monmouth and is the author of several books including a collection of spooky short stories set in the Murenger pub in Newport ( Tales From The Murenger ). He has also written a novel about the tragic life and fate of  Gwyneth Morgan of Tredegar House ( The Gift ).
"My Newport is a dark, seedy and magical city, the unimaginable just around the next corner . . . or the corner after that." Michael Keyton


...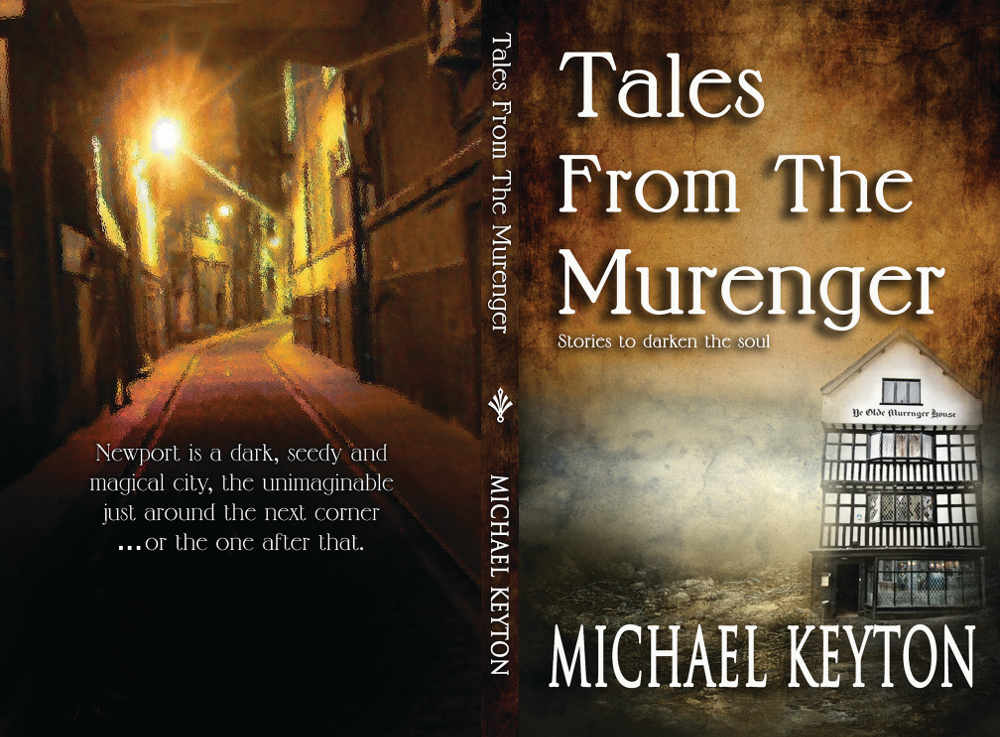 AmeriCymru: Many thanks for agreeing t o this interview. Care to tell us a little about your Welsh background and your history as a writer?
Mike: I was born in Liverpool, from a long line of Parrys on my mother's side and a rich mix of Irish—Keytons, Henrys, and Tobins—on my father's. That's the nature of Liverpool, the unacknowledged capital of the Celtic world.
I went to Swansea University and loved it so much I decided to settle there. Fate had other ideas and led me to Newport instead – which I loved. I still live in Wales – just about—in Monmouth.
Ironically, I began writing (in my head) before I could read. I caught rheumatic fever as a child and was in hospital for over a year on my back. People gave me books I couldn't decipher. I remember Beatrix Potter books, in particular Mr Todd and Jeremy Fisher. I've had a thing about foxes, reeds and lily pads ever since. There were no TVs in Myrtle Street Children's Hospital and not much conversation. Instead, I stared at book pictures and made up my own stories.
All in all, I lost two years of schooling, and it was a struggle to catch up. The first inkling I had that writing could be sexy was in what they called a 'free composition' class in English. I still remember the story but not the ending. It involved a man falling from a plane without a parachute. The most attractive girl in the class—Ruth—was breathing over my shoulder caught by the story I was only halfway through. 'What happens next?' she asked, and I stared at the page like rabbit caught in a headlamp. I had no idea—other than he was going to smash into the ground at hundred miles an hour—and I knew that wouldn't satisfy her. Luckily, I was saved by the bell. But that basic question, 'What happens next' has always been with me.
At university, and influenced by Michael Moorcock, I wrote a poor pastiche of Moorcock's hero—Elric, my equivalent being 'Meibron, Pale Piper of Valkesh.' Less said about that the better, I think. Subsequently, family, teaching, and a profitable side-line in a Ceilidh band left little time to write. The itch though, remained constant.
AmeriCymru: What can you tell us about your novel The Gift ? How did you become interested in the Morgan family?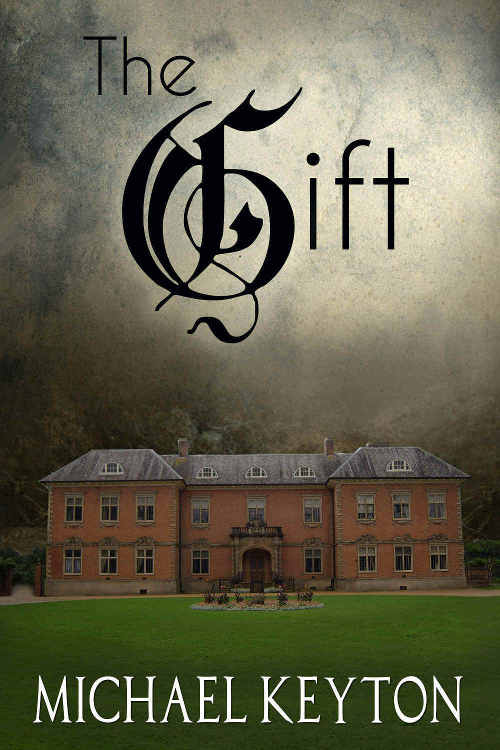 Mike: The Morgan family and Tredegar House have always fascinated me, in particular Evan Morgan, Papal Knight, sexual predator and Satanist, and his more tragic sister, Gwyneth Morgan, who died in such mysterious circumstances. It dominated the papers at the time.
In ill health, weakened by enteric typhoid and drug abuse, Gwyneth was a severe embarrassment to the Morgan family and was all but incarcerated in 'The Niche,' a large house in Wimbledon.
In the early hours of Thursday, December 11th 1924 she slipped out of the house and vanished. Six months later, her body was fished out of the Thames near Wapping.
The mystery is manifold. By all accounts, Gwyneth was severely ill, unable to walk very far without feeling tired, and spent much of her time in bed. On the night she disappeared, London was shrouded in one of those legendary fogs, an impenetrable 'pea-souper,' and the nearest entry point to the Thames was Putney Bridge, four miles from where she lived. It is hard to believe that a semi-invalid could walk four miles in thick fog through unfamiliar streets and fall into the river at Putney Bridge. The fact that her decomposed body was found in Wapping, even farther away, compounds the mystery. It would have had to have floated along one of the world's busiest waterways beyond Hammersmith and Rotherhithe without being seen.
Nature abhors a vacuum and so does the press. In the absence of hard facts, newspapers had a field day with theories involving white slavers, Chinese opium lords, and lesbian lovers. It is in this context The Gift was born.
AmeriCymru: What can you tell us (without spoiling the plot) about Lizzie McBride and Gwyneth Morgan, the two central characters of the novel?
Mike: The Gift follows the rise of a Liverpool orphan, Lizzy McBride, and the degradation but ultimate redemption of one of the richest heiresses in Edwardian England, Lady Gwyneth Ericka Morgan. Though there are elements of the fantastic, the novel is grounded in historical fact. It involves real people and historical events as it explores the occult underbelly of the English aristocracy and its links with the emergent Nazi movement.
The Gift is the first book of a trilogy, beginning in 1912 and ending in 1941. The three books trace the magical rivalry between two sisters, Elizabeth and Elsie McBride and interweaves between historical events and the cracks in between - the ultimate prize, the unlocking of Hell.
The first book introduces the two sisters, twelve-ye ar-old Elizabeth and Elsie, then a baby inhabiting the bottom drawer of a cabinet. Hints of Elizabeth's occult gifts appear early on and the story develops as leading Satanists— including Aleister Crowley— attempt to seduce and corrupt her. The second book traces the corruption of Elsie and the love-hate relationship between the two sisters. The final book describes Elsie's attempt to engineer a bloodbath ie World War II through the occult manipulation of diplomacy; it ends in a struggle to the death between the two sisters as Operation Barbarossa begins.
In short the three books are inspired by the rich but wasted lives of Evan and Gwyneth Morgan, and the dynamics of three fictitious characters, Elizabeth and Elsie McBride, and the magician John Grey.
AmeriCymru: Tales From The Murenger is a collection of dark tales centered around the pub of the same name in Newport, Gwent. Are there any standout tales in your opinion
Mike: That's a difficult question. All of them have their different qualities. For a more objective answer than I'm able to give, the first story, 'Mr Nousel's Mirror,' was included in anthologist, Ellen Datlow's Best Horror of the year for 2011, alongside works by Stephen King and Jack Ketchum. I am though, fond of 'A Touch of Rat,' 'Martin Brownlow's Cat' and 'Ailsa.' And there I have to stop as other stories start screaming in my ear accusing me of favouritism.
AmeriCymru: What inspired this collection? Are you a regular at The Murenger?
Mike: The Murenger was the first pub I drank in on the first day I arrived in Newport.
That was more years ago than I care to remember. It's still my 'local' even though I now live over twenty miles away in Monmouth and drink there less frequently
Most of the stories have been previously published in various British and American anthologies. With the various copyrights having reverted back to me I puzzled on how to make them earn me a little more money.
There was no problem in putting them together in a single collection, for they all had a central motif: every story was set in or around Newport—and for good reason. Newport, or my version of it, is an alternative 'Arkham,' the Welsh equivalent of HP Lovecraft's sinister town. The only problem I had was choosing a name for the book. Tales from Newport . . .? No, perhaps not. Tales from the Transporter Bridge . . . again no — but I was getting there. I needed an icon, something everyone in the area would recognise, something once seen you immediately think— 'ghosts be there inside those walls'—and above all, something smelling of beer. Good beer.
The Murenger immediately came to mind, an iconic pub that everybody in Newport knows. And what you see on the front cover is pretty much what you see on the street, though I can't guarantee the ghostly smoke. After that it was a marriage made in heaven. Rob, the landlord has a savvy media presence, and the relationship became symbiotic—Rob generously incorporating the book in his tweets and me marketing his pub. You can imagine my delight when he framed a picture of the book cover in his pub. In my daydreams, a future pilgrimage for those who like their Newport dark.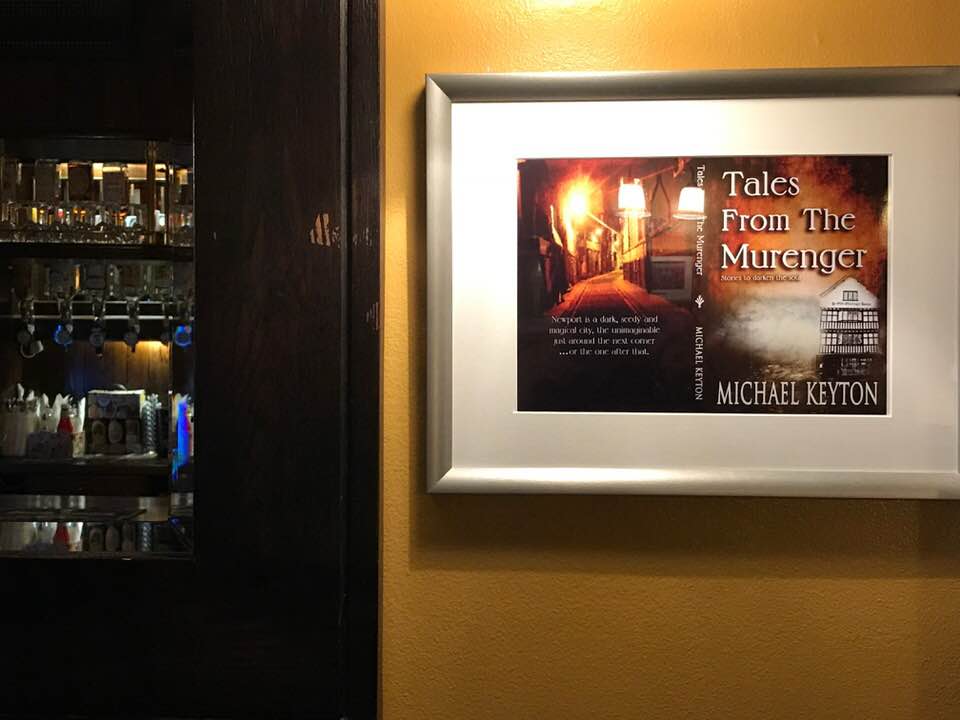 AmeriCymru: "My Newport is a dark, seedy and magical city, the unimaginable just around the next corner . . . or the corner after that." Care to expand?
Mike: Ha! So far no one has objected to the depiction. Perhaps they agree that 'dark and seedy' suggests fertility, and there's no doubt Newport is magical, if you know where to look.
My first years in Newport were spent in 'bed-sit' land – converted rooms in Edwardian or Victorian buildings behind the Civic Centre. Many were built on hills and so offered evocative views of roofscapes and sky. In winter the roofscapes were blurred in shadow and rain and with mysterious gaps in-between. The sky was equally exciting, changing from day to day, sometimes sulphurous, often grey, but the sunsets were something else.
I loved the streets, the alleyways, and old Pill (the dockside area) before redevelopment carved it out of existence. And the river, muddy, turgid and slightly sinister. It's easy to superimpose a shadowy, alternative world onto Newport. Walk through Maindee or Baneswell at night and you'll understand what I mean.
The 1960's blighted many towns, when developers razed old buildings and replaced them with concrete and glass. In those days, Newport had more sense than money and as a result when you walk the main street and look above the generic shop facades, there remains an unspoilt Victorian skyline. Above all though, it's the people, resilient, sharp and never predictable. You can't be otherwise with the curved balls Newport has faced year after year.
AmeriCymru: Where can readers go to purchase your titles online?
Mike: Amazon.com and Amazon.co.uk. In fact any Amazon outlet throughout the world.
https://www.amazon.co.uk/Michael-Keyton/e/B016S5RBI4?ref=dbs_p_ebk_r00_abau_000000
AmeriCymru: What are you reading currently? Any recommendations?
Mike: I'm fairly eclectic. I enjoy thrillers like Scott Mariani's Ben Hope series. Mariani provides a master class in how to write page-turners. I love old and now forgotten pulp writers like Peter Cheyney and Richard S Prather, and I love Anthony Trollope. I'm currently reading an Agatha Christie, but if I were to recommend two books – the two best books I've read this year—they would be:
The Shadow Of The Wind by Carlos Ruiz Zafon and Plain Song by Kent Haruf. The Shadow Of The Wind is rich in image, satisfyingly complex and has a strong but subtle narrative drive. Plainsong is set in the fictional Holt County, Colorado. The characters get under your skin – especially the two magnificent McPheron brothers. You won't forget them. When you read books like these, you lament that you haven't written them but you at least learn by reading.
AmeriCymru: What's next for Michael Keyton? Any new titles in progress?
Mike: The Gift is book one of a trilogy. The second book, 'Bloodline' will be out January 1919, the final book, 'Blood Fall' in the summer of that year. I'm currently turning The Gift into a TV script in the hope that it will be picked up by BBC Wales.
In between times I'm doing a final edit of a Science Fiction book called Phage.
AmeriCymru: Any final message for the readers and members of AmeriCymru?
Mike: Nothing special, just a big thank you if you've read this far, and a huge thank you to Ceri for offering me the chance to burble on for so long. Hmm, maybe I should also urge you to buy the books. The money will come in handy for Christmas.