Dialect Poetry - An Interview With Welsh Writer Mike Jenkins

2018-08-17
By: AmeriCymru
Posted in: Author Interviews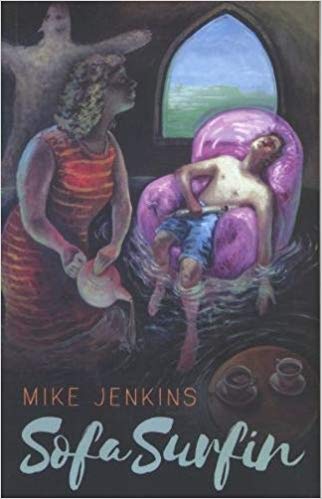 AmeriCymru spoke to Welsh author Mike Jenkins about dialect poetry and his recently published collection - 'Sofa Surfin'. Mike has published four collections in this genre and we asked him how he became interested and whether he plans to publish any further anthologies of dialect poetry.
Dialect poetry by Mike Jenkins:-
Graffiti Narratives
Sofa Surfin | Review ...
"With this book I was venturing out : on a stream of marmite, in a humble coracle."
---
AmeriCymru:  Hi Mike and many thanks for agreeing to this interview. Can you tell us what initially attracted you to dialect poetry?
Mike:  As with many aspects of creative discovery it all began with a confluence ( an Aber moment if you like). When I began writing in dialect I had also started teaching at a Comprehensive school in the large Gurnos estate in Merthyr Tydfil ( south Wales valleys), a Council estate with a bad reputation.
I was relatively new to the Valleys ( though I'd done teaching practice in nearby Tredegar) and was struggling to come to terms with many facets of life, including the accents and distinctive dialect of both pupils and staff.
I was anxious to know if I was being insulted when they used the word 'angin' or the actual meaning of 'Now I've come!' when a pupil arrived late for class .
I soon discovered the first was, as it sounds, an insult and 'come' simply meant 'arrived'.
I was baffled by the use of 'belonged' meaning 'related to', but now I've learnt Welsh it makes total sense, as the Welsh word 'perthyn' can mean belonging in the sense of both ownership and relations.
On a daily basis I was floundering yet also fascinated by their sayings and vocabulary, with short phrases like 'on pins' denoting nervousness and 'tampin' for getting very angry.
For quite a while before that I'd been into the music of Bob Marley and the poetry of West Indian writers like Derek Walcott and Black English writer James Berry, all using forms of dialect.
Amazingly, I got to meet Walcott and Berry when they read in Cardiff and to experience both Benjamin Zephaniah and Linton Kwesi-Johnson live, dub poets who lived in England and caught the political oppression of Thatcher's Britain.
I loved the way they captured the language of the street, giving voices to those neglected and abused by an uncaring government.

However, it was one poem that showed me what could be done with dialect here in Cymru and that was David Hughes's brilliant 'Swonzee Boy, See' published in 'Planet' magazine. It was very funny , phonetically-written , but also a reflection of a neglected working class.
So, all these tributaries joined into the Taff itself, the river which flows through a small town I soon called home.
AmeriCymru:  You have said re: dialect poetry - "It's Marmite poetry....but I like Marmite." Care to expand?
Mike:   There are individuals and magazines who would never read or consider my dialect poems, but who cherish and publish my work in standard English.

I believe it divides opinion for a number of reasons.

Firstly, poetry in dialect is more acceptable from other parts of the world – notably Scotland and the West Indies - because they are seen very much as part of a literary tradition.

With the exception of myself, certain novelists like Niall Griffiths and poets such as David Hughes and Gemma June Howells ( who writes in Caerffili dialect), there is no precedent …….we are exploring unmapped lands.

Secondly, I think dialect poetry is seen as parochial, though when it comes to prose Scottish novelists like James Kelman have been widely praised for work in the vernacular.

In recent years we've seen a growth of left-wing poetry outlets especially in England, with websites like proletarian poetry and culture matters. These have encouraged working-class , political writing and my dialect poems have found a perfect place there.

Ironically, most literary magazine in Wales have become dominated by university creative writing departments ( as in the USA) and have not been sympathetic .
One university lecturer and critic who was a fan of my early book 'A Dissident Voice' soon dismissed 'Graffiti Narratives' as 'mere ventriloquism'.
Only the magazine 'Planet' have savoured the thick, dark flavoursome 'gooetry'.
AmeriCymru: Are the poems in these collections based on real life encounters; conversations overheard in the street? What is your creative process with the dialect collections?
Mike:   Considering 'Sofa Surfin' there are many diverse inspirations, but at the very hub of the book is my close friend and comrade of many years and his experiences.
I can understand how a reader sees the character in the title poem as female yet this and many others draw on what happened to him : losing his wife, job, flat and even benefits for several months, pushed to the brink of suicide.
This sounds unremittingly sombre, but I also focus on positive aspects of his life in 'Rubbish Sculpture' and 'Practical Dance', as he's a highly intelligent and creative person with few qualifications. Incidentally, at the Merthyr launch my friend actually danced along with the second poem…..a sight to behold!
Sometimes, I write poems which take off on a flight of imagination into the surreal. In my book 'Barkin!' was 'Ewman Advert' where I imagined myself transformed into a KFC chicken by the smells of junk food. In 'Sofa Surfin' the poem 'A Pijin in Gregg's' is similar and came from encountering a pigeon inside a shop down town.
After reading it at our monthly Open Mic in a local pub a friend suggested the pigeon stand for election and this gave rise to a whole series of blogs on my site www.mikejenkins.net about the legendary Wayne-O Pijin.

As ever, my political beliefs are fundamental to the poetry.
'Pound Shop Politics' and 'Muslims up yer' came from the lack of understanding and indeed, intolerance towards people from different cultures which is sadly manifested in considerable support for UKIP.
The latter was inspired by encountering Muslims in traditional garb in my small village above Merthyr : I imagined a fearful, suspicious person telling his account.

Humour is vital to me. My life changed when I read Heller's 'Catch 22' and realised you could be very funny and deadly serious at the same time.
AmeriCymru: You have published four collections of dialect poetry to date. Care to tell us a little about the first of these:- 'Graffitti Narratives'?

Mike:   'Graffiti Narratives' was so exciting for me and I have to thank the then editor of 'Planet' John Barnie for his faith in my dialect work and for publishing the book.
There are three stories as well as poetry in this book and I'm particularly proud of ' Novelties' and 'Some kind o beginnin'.
This book was very much inspired by the Gurnos estate, my pupils and musical influences of punk and two-tone ( ska made in England).
'Gurnos Boy' was my grim version of that Hughes poem about Swansea, 'Mouthy' from the viewpoint of a pupil who couldn't see the point of poetry and 'Nex Time' described hatred for the police and was inspired by Belfast punk band Stiff Little Fingers.
Yet the title poem is closer to the stories, as it's a fictional representation of the tales behind two sets of bizarre graffiti on either side of a railway bridge in Merthyr.
Occasionally , writing poetry can cause trouble and one poem 'Flasher' is the true (though embellished) story of one pupil who flashed in school with a cucumber attached to his penis!

After he'd left school this boy found out about the poem and came back to confront me in the corridor – 'Did you write that poem about me?'
To which I managed to side-step rapidly – ' It was about someone….made up!'
Amazingly, he accepted my faltering explanation.
With this book I was venturing out : on a stream of marmite, in a humble coracle.
AmeriCymru: What can you tell us about your 2001 collection 'Coulda Bin Summin'?
Mike:   The next collection 'Could bin summin' was harder to get published, but John Barnie once again took it on.
The title poem is the direct and passionate plea of a girl whose life has been ruined by a boy leaving her when she became pregnant and her own family rejecting her because the boy was a waster.
Many in the book come from my knowledge of young people struggling against a system which doesn't value them, though others take on historical implications like 'Gwyn Alf' and 'Mad Jack spoils VE Day'.
'Gwyn Alf' pays tribute to the great Welsh historian Prof. Gwyn A. Williams ( from Dowlais) , one of the most inspirational figures from Cymru in the last century in terms of lecturing, broadcasting, historical books and his unique left-wing nationalist politics.
The second poem takes the viewpoint of a conformist family who celebrate VE Day and are truly shocked when a certain Siegfried Sassoon ( English anti-war poet nicknamed 'Mad Jack') suddenly appears on the scene.
'Day-a Duchess Come' isn't just an anti-monarchy rant, it's a true story. When Mrs Windsor's cousin visited our school republican staff were confined to classrooms with pupils likely to be troublesome. As happens on such occasions, she arrived late and stayed longer than expected, so pupils became increasingly annoyed and more fervently anti-monarchist. As her helicopter took off they all leapt towards the windows , waving goodbye with insulting v-signs.
With 'Could bin summin' the river broadened and often made a sound like laughter as it flowed faster.
AmeriCymru: How would you describe the focus of your most recent dialect poetry collection 'Sofa Surfin'
Mike:   The cover of 'Sofa Surfin' is a painting by the great Merthyr artist Gustavius Payne ( 'Gus' to his mates), who also did the one for 'Barkin!'.
The final poem in this book could relate directly to Gus's life, though the narrator is fictional. 'Where I Come From' is a brief return to the Gurnos estate I wrote about in 'Graffiti Narratives' and 'Coulda bin summin'
Gus hails from there, went to college and has since become one of the most acclaimed artists in Cymru.
In this poem the narrator's aware of others' perceptions of the Gurnos ( especially in the media) and also, how much it has altered. Sympathy comes from a realisation that he confounds that stereotype yet still finds it amusing the streets are named after trees and bushes which have no presence there.
The friend and comrade I mentioned earlier ended up homeless and 'Sleepin in-a subway', but on the page opposite that grim tale of despair is 'Fly Man' where I praise his ability to avoid detection in pursuit of the causes we share.
'Sofa Surfin' ( like 'Barkin!') are words familiar to the point of cliché , yet I hope I've given them a whole new sense in the title poem and a man balancing as the rising sea threatens to overwhelm him.
AmeriCymru: Do you plan any further collections of dialect poetry?
Mike:   My next collection of poetry is in dialect and published by Culture Matters, due out later this year. It is entitled 'From Aberfan t Grenfell' and the title poem is in the latest issue of 'Planet'.
It'll be illustrated by Swansea artist, poet and fiction-writer Alan Perry and the drawings are truly amazing ! They're integrated into the text and will co-exist on the same pages.
It opens and closes with poems reflecting on connections between those two man-made disasters , at Aberfan near Merthyr in 1966 and recently at the high-rise flats , Grenfell Tower in London.
I was struck by one remark on Facebook – ' Grenfell is our Aberfan.' The resemblances are striking : authorities ignoring warnings and a callous system punishing the poor for the criminal negligence of those in power.
As with previous books, there are a number of poems about distinctive , eccentric Merthyr characters such as 'Steve the Bus', a re-working of an early poem never published in books.
In Wales all over-60s receive passes enabling free bus travel and I heard tell of a man who spent all his days travelling on them because he couldn't afford the energy bills of staying at home. I imagined him a widower contemplating what his late wife would say.
I do realise that the tragedies of both Aberfan and Grenfell are highly sensitive subjects and some would argue that writing about them is tantamount to exploitation.

However, I try to respect the people of both communities and many who came to help them.

Any final message for the readers and members of AmeriCymru?
Mike:   Like Gus Payne's profound paintings and Alan Perry's sharply satirical drawings, I seek to portray a country struggling after the demise of so many industries yet expressing itself through the sheer passion of its language, whether dialect in English or Welsh itself ( which I have learnt) and its many art-forms. In the future I'd like to write far more poetry in Welsh, though I'll never ( like Harri Webb) abandon the English language. Winning the Gadair at the learners' Eisteddfod when the National came to Y Fenni / Abergavenny a few years ago made me very proud, but it was only a beginning.