2018-07-27
By: AmeriCymru
Posted in: New Titles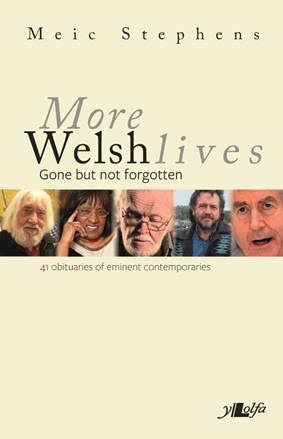 Meic Stephens' last book, More Welsh Lives , was published only a few days before the author himself died.
Eirian Jones, English-language editor at Y Lolfa, said:
"It is sad and ironic that Wales' best known obituarist has himself died but knowing Meic was unwell, we made a special effort to ensure he was happy with the proofs and was able to receive a copy of the book -- his final one of so many."
More Welsh Lives is his third collection of obituary notices published originally in The Independent and profiles a wide variety of prominent Welshmen and women including politician Rhodri Morgan, poet Nigel Jenkins, broadcaster David Parry-Jones and artists Aneurin Jones and Gwilym Pritchard.
Robat Gruffudd, founder of Y Lolfa and friend of Meic at Bangor University, said:
"Meic himself made at least as distinguished a contribution to Welsh life as any of those he wrote about. It is hard to believe that someone as proactive and productive is with us no more. He was a nationalist in the best sense. Although a Welsh learner, he practically led the first, historic language protest at Trefechan Bridge and then gave his country many decades of generous service as author, editor, poet, arts administrator, academic and of course obituarist.
"Only somebody with an intimate knowledge of Welsh life, and a fluent mastery of English, could have written such readable and sympathetic obituaries. In celebrating Welsh lives, the book also celebrates Wales."
Y Lolfa has also published Meic Stephens' autobiography, Cofnodion (in Welsh) (2012) and My Shoulder to the Wheel (in English) (2015).
More Welsh Lives by Meic Stephens is available now (£9.99, Y Lolfa).