COMPELLING GLYNDŴR STORY: FINAL BOOK IN TRILOGY PUBLISHED

2018-07-24
By: AmeriCymru
Posted in: New Titles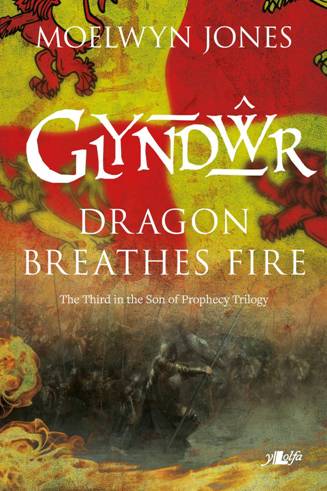 The final instalment of a trilogy which tells the tantalising story of the final years of Glyndŵr's rebellion is published this week.
Glyndŵr: Dragon Breathes Fire by the late Moelwyn Jones is an imaginary novel based on the real life battles of Owain Glyndŵr, and follows Glyndŵr: Son of Prophecy published in 2016 and Glyndŵr: To Arms! published in 2017.
Moelwyn Jones started his career as a Welsh and History teacher, and was particularly interested in the life of his hero Owain Glyndŵr, which he researched thoroughly for the trilogy. Sadly, Moelwyn passed away before the publication of the series. His widow Delyth has ensured that the trilogy was published and has kept to the wishes of her late husband.
The third instalment is published in time for the National Eisteddfod of Wales, which is in Cardiff this year.
"It would have meant a lot to Moelwyn that the final book is out for the Eisteddfod – I'm very pleased," said Delyth.
Glyndŵr: Dragon Breathes Fire sees Wales united under one flag - with a Senedd in Machynlleth and the long-held dream of a nation almost a reality. Strengthened by the support of the French king and an alliance with the English forces of Henry Hotspur (Sir Henry Percy), Owain Glyndŵr can legitimately claim the title of Prince of Wales. However, fate intervenes and his rebellion which sees the prophecy of a saviour who would one day free Wales is fulfilled, albeit all too briefly.
Glyndŵr: Son of Prophecy was selected as Book of the Month by the Welsh Books Council in November 2016 and both novels have received high praise and acclaim for their portrayal of the life of Wales ' revolutionary hero Owain Glyndŵr.
Author Moelwyn Jones was raised in Bancffosfelen, Carmarthenshire, and had a career as a Welsh and History teacher in Cardiff before joining the BBC as an Information Officer. He was then appointed Head of Public Relations for Wales and the Marches Postal Board and following his retirement worked in the Welsh Assembly.
Glyndŵr: Dragon Breathes Fire by Moelwyn Jones (£8.99, Y Lolfa) is available now.