The Prince Madoc Secret - An Interview With Author Barrie Doyle

2018-06-11
By: AmeriCymru
Posted in: Author Interviews
,,,

Bio
---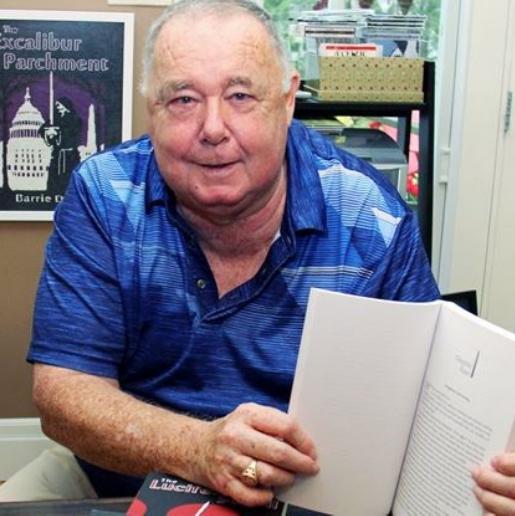 Born in Wales, Barrie is a former journalist, public relations consultant, college professor, broadcaster and freelance writer. He served with major publications in Canada and the United States before sharing his media expertise as a consultant, training corporate executives and Christian ministry leaders. Barrie trained many budding public relations professionals as a professor at one of Canada's most prestigious media studies programmes in Toronto. He has lived in Virginia, California and Pennsylvania as well as Great Britain and Canada where he now lives on the beautiful blue water shores of Georgian Bay in Ontario.
He is an enthusiastic traveller, constantly thinking how to bring his latest travel discovery to life as a location in his next story. From Venice to Istanbul and many parts of Western Europe, he has also explored most corners of the United States. Many of these places will become prominent in the three books of theOak Grove Conspiracies.  Apart from travel his eclectic range of interests varies from history and politics to theology and bagpipes and transportation to hockey. AmeriCymru spoke to Barrie about the 'Oak Grove Conspiracies' and his future writing plans.

,,,
Interview
---
AmeriCymru:  Hi Barrie and many thanks for agreeing to this interview. What is your connection with Wales?
Barrie:   I was born in Maesteg, a small town in the Llynfi Valley of South Wales. It's about nine miles up the valley from Bridgend and only 30 (give or take) miles from either Cardiff or Swansea. I left when I was 10 years old (taking my family with me, of course) and emigrated to Canada where I went to school, to university and then began my career. But I have been back many times since, visiting family. In both 2015 and 2017 though, I rented a flat in the seaside resort of Porthcawl for three months during which time I researched and wrote both The Lucifer Scroll and The Prince Madoc Secret. It gave me a base from which to go to places I wanted to use for settings in the books as well as to re-absorb the atmosphere and ambience. Oh yes, and the weather! During that time, we also welcomed Canadian friends and were able to show them Wales, something they'd never considered before the books. I hope to do the same again soon and am in the process of working with a tour agency to develop a specialized tour of Wales highlighting the places or prototypes for settings in the book. I never get tired of being in Wales.
AmeriCymru:  You have not always been a writer. When did you decide to take up the pen?
Barrie: In a sense, I always have been a writer. I studied journalism at Ryerson University in Toronto and began my career as a journalist with the Toronto Star. I have also worked for publications in the US and freelanced for American and British publications. I was based in Washington DC. I returned to Canada and modified things slightly by becoming a public relations executive for a number of major organizations and corporations, finally opening my own agency. During that time I was invited to become an adjunct professor in the School of Media Studies in the prestigious Public Relations Certificate at Humber College in Toronto. This was largely a post-grad course and I now have former students successfully pursuing careers in the US, Canada, UK, Australia and other parts of the globe. After years of telling other peoples' stories and fiddling around a bit with fiction, I finally took the plunge and began to write the stories I wanted to tell, when I produced my first book, The Excalibur Parchment.
AmeriCymru:  Care to introduce your latest novel 'The Prince Madoc Secret' for our readers?
Barrie: I have always been fascinated by history—particularly Welsh history—and interested in legends (which I believe contain nuggets of truth and reality). As I was writing my first book, I came across the story of Prince Madoc, son of King Owen of Gwynedd and the legend of how he travelled across the Atlantic to Mobile Bay, Alabama some 300 years before Columbus, before vanishing into the mists of time. I was intrigued to find out that the Daughters of the American Revolution placed a plaque at Fort Morgan at the entrance to the bay, recognizing Madoc's arrival. Further, there are stories of Welsh-speaking indigenous tribes in the American interior; so many that the Lewis-Clarke expedition was mandated to find them. It was enough for me. I began to research Madoc more thoroughly and consider a way in which his voyage in 1170 might have deadly implications for the modern world as it ties into the heroes and villains I had created in the first two books. I needed something that would make Madoc's trip the focus of a 21st century quest. As I said, I love history. And I love to play with it when I am writing fiction, turning the tables and going against the "accepted viewpoint" so to speak. Thus, in the first book Merlin is cast as a baddie. In "The Prince Madoc Secret" I turned the table on the Knights Templar who are most often cast as criminals and murderers. Instead, I made them good guys fulfilling their ancient mandate of protecting the church. That leads to both the 12th century Templars and a modern incarnation of Templars, playing a crucial role in the book. What secret did Madoc take to America with him? What impact does it have on the modern day? How will our 21st century heroes and villains discover the secret and what will they do with it? It is a stand-alone story and can be read without having first enjoyed the other two. However, the main characters and themes appear in all the books.
AmeriCymru:  'The Prince Madoc Secret' is the latest instalment in the 'Oak Grove Conspiracies' series. What can you tell us about the series as a whole?
Barrie: I was tired of reading novels that had basically the same cast of villains: Nazis, neo Nazis, Soviet or post-Soviet operatives or criminals, corrupt businessmen, politicians or church leaders and so on. I wanted a new, particularly nasty, set of baddies. So I went back to the legends about the Druids—making sure I differentiated them from the current embodiment of the term—and utilized their penchant for human sacrifice and the like to create a new brand of zealous, vicious, power-mad terrorists bent on twisting the world to their perverted sense of governing. My Druids worship the supernatural and have their own rituals and places, including sacred oak groves—which gave me the series name. Basically, historical events provide the impetus for cataclysmic clashes. In book one, Arthur's sword Excalibur was never thrown into the lake but rather, was preserved for future generations and protected by a small abbey in Wales. From a 14th century Welsh abbey to a climax near Carreg Cennan in Carmarthen, the story progresses. My Druids believe it has supernatural power and covet it for their own push to seize power in the western democracies. A Welsh professor and an American journalist get drawn into the miry swamp reluctantly and seek to thwart the Druid plots. While a lot of the book is set in Wales, it also ranges from Venice to London to Washington and Canada. In the second book, the Spear of Destiny (also called The Holy Lance) is the legendary Roman centurion's spear that was thrust into Christ's side on the cross. Charlemagne, Napoleon and Hitler (among others) all believed that it would give unworldly power and that who owned the lance would control the world. Hitler and Heinrich Himmler spend much of the war seeking the lance and, eventually, creating a fraud while the real one was spirited away in a U boat along with other treasures in the last days of the war. That was the basis for the story in which the Druids are also aware that the real lance never disappeared in a sunken U boat, nor was it on display at the Vatican or in Vienna as a modern day exhibit. Again, the journalist and professor are drawn in reluctantly and this time the story ranges from Wales to Istanbul and across the southwest United States among other places. In each of the book, I try to explore the conflict of ordinary people struggling to do extraordinary things while doubting in their own strength and yet forging ahead regardless. I believe that history is changed not by the mighty leaders, but by individuals going above and beyond themselves in order to do the right thing and the books reflect that.
AmeriCymru:  Are there any further episodes in the pipeline?
Barrie: I had originally planned one book. Then my publisher pushed me to make it a trilogy. Now my fans are demanding a fourth, believing there may be a few loose threads.. So we'll see.
AmeriCymru:  Your plots are fantastically complex. How do you construct them? What is your process?
Barrie: When I was a reporter I once interviewed a famous author who told me the plot was conceived by the characters and that he merely wrote it down. I thought "yeah, right" and dismissed him as a whacko. Well, guess who joined the whacko club! I start with a vague thought in my head about where the story starts and equally vague ideas about how and where the story will end. Then I start writing. I do not outline, I just start writing. It is done in fits and starts. I struggle at times with "where am I going with this?" and then realize that my characters are telling their story; I listen to them. I think about them and how—as I have created them—they would react to the twists and turns of the plot. I let my bad guys tell me what awful things they plan and I listen to my good guys as they face the crisis and try to stop it. It sounds simplistic and silly (see my comment above) but in fact it is a very time-consuming, worrying, difficult way of writing. Outlining, like JK Rowling does, is probably a lot easier. But there are times my characters have come up with plot twists that make it just as exciting for me as for any reader, because I am experiencing them at the moment they occur just as a reader does.
AmeriCymru:  Where can readers purchase your novels online?
Barrie:   They can be purchased on the Amazon platforms, Barnes and Noble in the US, Chapters/Indigo in Canada and Waterstones in the UK. More importantly they can be purchased online directly from AmeriCymru I believe. If people want a signed or personalized copy they can go to my website www.barriedoyle.com and shop there.
AmeriCymru:  Who do you read for pleasure? Any recommendations?
Barrie: I am an eclectic reader, enjoying both fiction and non-fiction. I love history, as I said, but I also like science fiction, thrillers, and mysteries among the genres. Every year I try to read one of Tolkien's magnificent works and am currently working on The Return of the King. I love Ken Follet and Tom Clancy and am flattered that a number of reviewers and fans have compared my work to those giants.
AmeriCymru:  Any final message for the readers and members of AmeriCymru?
Barrie: Wales is a magnificent country. It's rich heritage, landscape, history and legends make it a unique place in all the world. I am proud to be Welsh. I believe there are so many stories emanating from Wales that would make tremendous stories and they're just waiting to be told. I challenge people to consider writing these stories. Fiction allows one to delve into the nation's psyche and history in a way non-fiction cannot. I would love to write—or read—about Owain Glyndwr, or the magnificent King Hwyl, or St. David, or Llewellyn or any others, famous or not, who dot the tapestry that is Wales. Many stories to be told, so few doing it.