Honno: A Welsh Women's Press - Interview With Helena Earnshaw

2018-05-29
By: AmeriCymru
Posted in: Book News

AmeriCymru: Hi Helena and many thanks for agreeing to this interview. What can you tell us about the history of Honno Press? How did it get started?
Helena: Back in 1986 a group of determined women from all over Wales got together to discuss the possibility of establishing a Welsh Women's Press. It was felt at the time that existing male-dominated publishing houses in Wales discriminated against women writers and were not particularly interested in women's issues or interests. Nowhere was this better illustrated than in the publication around that time of an anthology of twentieth century Welsh poetry: Blodeugerdd o Farddoniaeth Gymraeg yr Ugeinfed Ganrif. Of the 170 poets included only six were women. (By contrast, Honno published an anthology in 2003, Welsh Women's Poetry 1460-2001, which collected together 70 key Welsh women poets, writing in both Welsh and English and has become a staple of University reading lists.)
One of the first considerations for the founders was to work out how they might raise funds to launch the publishing house. So they wrote to women across Wales explaining their aims and within weeks over 400 had demonstrated their support by buying shares, raising around £4000 – an early form of crowdfunding! This allowed them to publish Honno's first two titles. One in Welsh, Buwch ar y Lein by Hafina Clwyd - her diaries from the golden era of the London Welsh in the 1950s and 1960s, and an English language Classic, An Autobiography of Elizabeth Davis, a Balaclava Nurse, transcribed originally in 1857 by the well-known historian Jane Williams (Ysgafell), but with a new introduction by Deirdre Beddoe. Honno was launched on the 1st March 1987 in the then HTV studios in Cardiff.
AmeriCymru: What is the main goal of Honno Press.? What is its mission?
Helena: In the words of co-founder Luned Meredith the original aim of Honno was 'To promote creative writing by women with a connection to Wales, past and present, in Welsh and English.' When Honno was set up it was with four core aims to - provide a feminist perspective; to give Welsh women writers an opportunity to see their work published; to get earlier important, but neglected, writing by Welsh women back into print; to provide employment in publishing for women in Wales.
AmeriCymru: You have recently re designed your website. Care to tell us something about the new site and its features?

Helena: When Honno was on the verge of turning 30 we felt that it was a good time to affirm our core values and update our image. One thing I learnt from talking to people about what Honno stands for is that there are a lot of people who are passionate about what we do, and our contribution to the social, political and cultural life and literature of Wales and beyond. We looked at many rebranding ideas and website designs and eventually found a look we all loved – reflecting the history of our original logo, but updating it. Our new website has all our books on it of course, with special offers from time to time and from where you can sign up to our e-newsletter. You can now have a book gift wrapped and sent directly to the recipient anywhere in the world, look at any events we are holding or read our new blog with monthly articles on different aspects of writing and publishing.
AmeriCymru: You have recently republished Margiad Evans' Creed in your 'Welsh Women's Classics' series. Care to tell us a little about this title?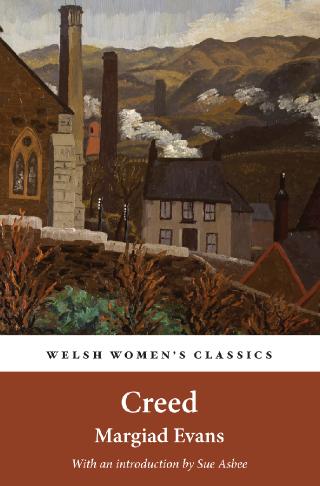 Helena: Creed is the 27th Welsh Women's Classic brought back into print by Honno, and the second by Margiad Evans. Published in 1936 it is a compelling portrait of violence and dissipation in a fictional border town. Margiad Evans was a unique and interesting writer who also liked to explore the possibilities and limitations of language but who had fallen out of print, as so many great Welsh women writers of the past had. Classics Editor, Jane Aaron, Emeritus Professor of Welsh Writing in English at the University of South Wales, describes the Classics as returning to Welsh women a part of their history that otherwise would have been lost. Each of the titles published includes an introduction setting the text in its historical context and suggesting ways of approaching and understanding the work from the viewpoint of women's experience today. We select works which are not only of literary and cultural merit but which remain readable and appealing to a contemporary audience. Thanks to the Classics series the lost voices of these important women – like Rachel Barrett who made a hugely important contribution to the suffragette movement, and nurse Betsy Cadwaladyr, both previously forgotten - have been restored. "[It is] difficult to imagine a Welsh literary landscape without the Honno Classics series [...] it remains an energising and vibrant feminist imprint." (Kirsti Bohata, New Welsh Review)
"[The Honno Classics series is] possibly the Press' most important achievement, helping to combat the absence of women's literature in the Welsh canon." (Mslexia)
AmeriCymru: You have also recently published One Woman Walks Wales by Ursula Martin. What can you tell our readers about this author and her work?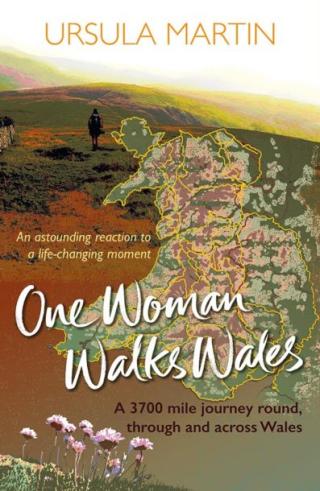 Helena: Aged just 31, Ursula Martin was diagnosed with ovarian cancer. After being treated, and determined not to sink into self-pity, she decided to walk between her home in mid-Wales to follow-up hospital appointments in Bristol – a distance of around 150 miles. Ursula's journey took her across, around, up, over and through all of Wales, as she walked over 3,700 miles, raising almost £12,000 pounds and awareness for the need for early detection of the disease.
One Woman Walks Wales is the inspiring story of Ursula's walk, based on her popular blog: of the generosity of strangers who offered her meals and accommodation; of her core belief which wouldn't let her give up even at the point of exhaustion and acute physical discomfort; of her intense love for, and joy in, nature; of the following she attracted on her popular blog which she wrote on her phone whenever there was signal; of how walking and the physical connection with the landscape gave her self-discovery.
'A rare combination of an epic tale of an extraordinary adventure and a delicately woven study of the kindness of random strangers. Hugely enjoyable' Clare Balding
AmeriCymru: Are there any new titles or authors that you would like to give a special mention?
Helena: Coming out in July in the UK, and being launched in September at the North American Festival of Wales is Absolute Optimist: Remembering Eluned Phillips. Eluned Phillips was a passionate woman who ignited passionate responses in others. The second woman ever to wear the National Eisteddfod crown – Wales' most prestigious Welsh language literary prize – she is the only woman to have won it twice. Unusual among Welsh women of her generation, Eluned embraced an unconventional lifestyle which took her to pre-war London and Paris, where she met artists Augustus John, Edith Piaf, and Pablo Picasso. This is an affectionate and yet critical biography of an unsung heroine of Welsh literature during at a time of great change – taking her from rural Carmarthenshire to bohemian Paris and urban Los Angeles. She was often frowned upon, but never less than true to herself. Award-winning poet Menna Elfyn examines Phillips' life and work and argues convincingly that Eluned's poetry is undoubtedly hers and more than worthy of two Crowns. Absolute Optimist was shortlisted for Wales Book of the Year on publication in Welsh and Honno are delighted to be introducing it to the English speaking audience. Menna will be launching it at the North American Festival of Wales, in Alexandria, VA,on Saturday, September 1.
We have just published the wonderful Albi, by Hilary Shepherd, A poignant, compassionate glimpse into the life of a child caught up in the Spanish Civil War, a country at war with itself. We have A Different River, the sixth novel from Jo Verity, to look forward to in June, the story of a woman caught up in family duty who finds a way to get out of her comfort zone. And also coming out in July we have Nansi Lovell, the latest title in our Welsh language Classics series.
One of our titles, Light Switches Are My Kryptonite, has just been shortlisted for the Wales Book of the Year 2018 in the Fiction Category and we are also delighted to announce – and not a little overwhelmed – that the Honno founders were chosen as one of Women's Equality Network Wales's 100 legendary women!
AmeriCymru: Any final message for the members and readers of AmeriCymru?
Helena: When asked to sum up what Honno's achievements, it's easy to see only what we haven't done. The authors we haven't recovered yet, the writers we want to find, the histories we want to tell. But the texts we haven't managed to publish yet will be, with luck, the books we will publish next year. Honno is tiny; to have survived for over 30 years is a great achievement and a testimony to all the women who have contributed. It's also, hopefully, just the beginning.
Follow us at:
Instagram: @gwasghonnopress