ONE MUM'S MISSION TO BRIDGE THE GAP IN WELSH BOOKS AVAILABLE TO PARENTS

2018-02-27
By: AmeriCymru
Posted in: New Titles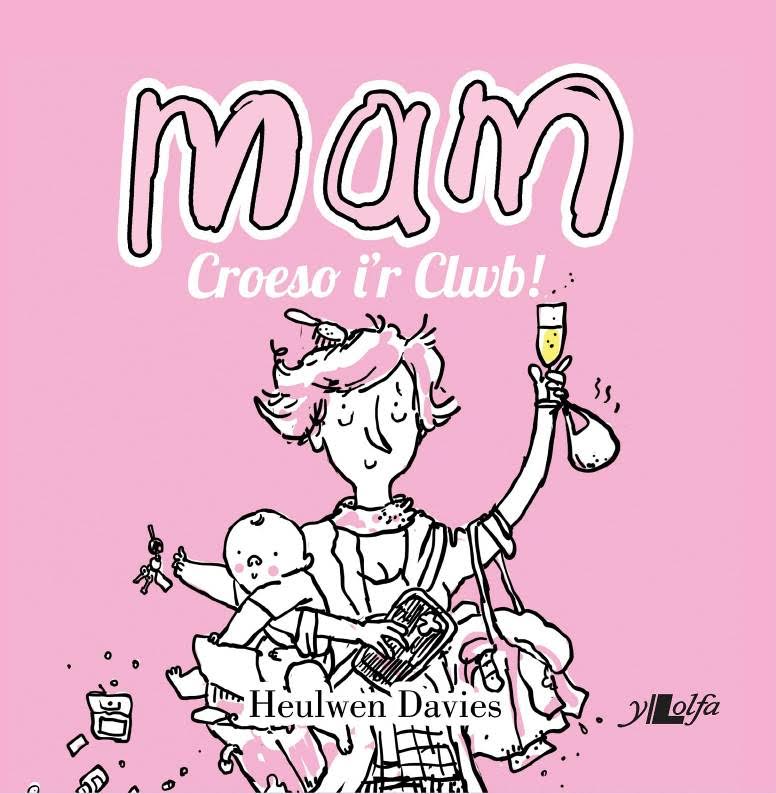 One Mum has sought to bridge the gap in the Welsh books that are available to new parents which will illustrate the reality of bringing up a child in Wales with a Welsh perspective by publishing a new book that will be a fun and comprehensive guide for new parents.
Heulwen Davies of Machynlleth publishes Mam – Croeso i'r Clwb (Mam – Welcome to the Club) this week – a book full of facts for new mothers recording the experiences of parents, families, doctors and midwives, leading the mother through the pregnancy up to the end of the child's first year. The volume will include an open and light discussion about the changes and challenges facing new parents whilst offering advice along the way. It will be launched in time for Mothers Day on 11 March 2018.
'As a first time mother, it became clear that there were plenty of English books and websites available to get advice and share experiences, but there was no Welsh language or Welsh digital platform,' explained Heulwen, 'Although the English resources were of help, I was not able to identify with these mothers, as the majority lived in a city, were rich and posh! Their life was very different from my life - a pregnant mother in rural Wales. Not better, just different.'
'I was keen to change the situation, to help future parents, and ensure that the experiences of parents are shared in Welsh and bilingually, to portray the life of a parent in Wales today.' says Heulwen, 'I started blogging my experience as a new mother and had a very good response'.
Eager to encourage more parents to discuss and support each other, Heulwen decided to write her own book and in the process she set up the popular bilingual blog, Mam Cymru.
The incentive to write the book finally came from author Caryl Lewis when Heulwen attended a one-day writing course in Tŷ Newydd, which was led by Caryl.
'At the end of the course, Caryl's words were, 'If you don't take this idea to a publisher by Monday, I'm going to take it for you!' said Heulwen.
The volume's drawings were produced by cartoonist Huw Aaron to 'add to the humor of the book'. Huw was glad of the opportunity and went through a similar experience himself during the time spent illustrating the book's pictures when he became a father for the second time.
Although extensive parts of the volume are based on Heulwen's experiences, there are contributions from over fifty parents, midwives and experts from all over Wales following an online questionnaire created by Heulwen in order to gather other parents' experiences in Wales.
'I'm not an expert, I'm a mother, but I'm absolutely honest and eager to help and make prospective parents and parents alike smile and laugh as they realise that everything that they are going through is normal!' said Heulwen.
'It's impossible to explain what its like to be a mother. You've got to experience it for yourself as you go on this exciting, emotional, happy and challenging journey.' she said.
'If you take one thing from this book on your journey, I'd like you to remember the importance of Prosecco – no, I'm joking! Its the importance of time!' added Heulwen, 'Make the best of your time, make the most of the time together and do what's right for you. Mum knows best!'
Heulwen Davies lives in the Dyfi Valley with Gareth and Elsi Dyfi. She travelled Wales and the world as a producer and director of television and radio, before returning to Machynlleth and begun a career as a manager and marketing consultant and events.
The book will be launched in Caffi Alys, Machynlleth at 7pm on Friday 2 March and then in Medina in Aberystwyth at 6.30pm on Monday 5 March, both in th company of Heulwen Davies and Caryl Lewis.
Mam – Croeso i'r Clwb! by Heulwen Davies (£6.99, Y Lolfa) is available now.