A CHALLENGE TO TEST PEOPLE'S KNOWLEDGE ABOUT WALES ON SAINT DAVID'S DAY

2018-02-26
By: AmeriCymru
Posted in: New Titles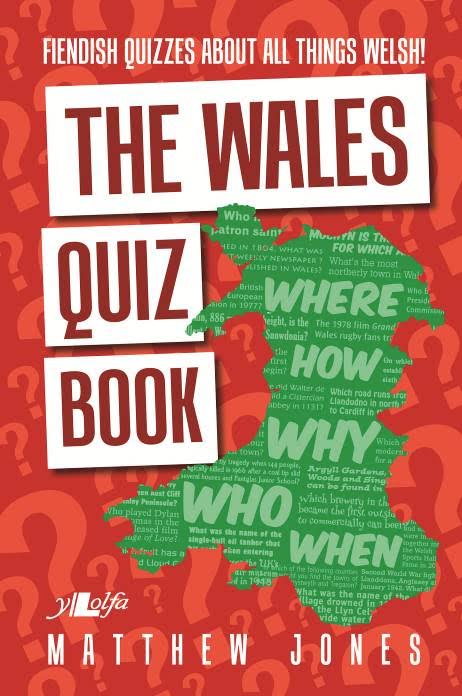 An acclaimed author of bestselling Welsh quiz books has challenged readers to test how much they know about Wales in the run up to Saint David's day.
Matthew Jones is the author of many acclaimed quiz books including the bestselling Welsh Rugby Quiz Book which has been recently updated with over fifty new questions and reprinted after selling over 12,000 copies. This week, he publishes the comprehensive The Wales Quiz Book which will test the readers' knowledge on Wales and all things Welsh.
'It's always fun to test your own knowledge, and even better to challenge others,' said Matthew Jones, 'Now here's a chance o prove to family and friends how much you know about Wales and test your memory on Wales' rich tapestry of history, culture, landmarks and people.'
The Wales Quiz Book includes fifty rounds of ten questions on a variety of topics including music, films, successful individuals, memorable events, geography and more. Some questions are harder than others but Matthew is confident that 'there's something for everyone'.
'From Tom Jones to Manic Street Preachers, Richard Burton to Rhys Ifans, there's a real spectrum of enjoyment bursting from this book' said Matthew Jones.
'It's an impossible task to pack everything about Wales into 500 questions, but The Wales Quiz Book gives a fantastic mixture of facts to suit everyone.' added Matthew, ' This is a fun way for you to see how much you know about the country and its people, and getting friends together is even more enjoyable – people love a good quiz!'
Matthew Jones is the author of Welsh Sports Quiz Book, The Rugby Union Quiz Book, The Lions Rugby Quiz Book, The Six Nations Rugby Quiz Book and the bestselling Welsh Rugby Quiz Book . He lives in Cardiff and does media and PR work in English or Welsh.
The Wales Quiz Book by Matthew Jones (£3.99, Y Lolfa) is available now.