ORIGINAL WELSH CHILDREN'S BOOK CHOSEN AS PART OF THE WELSH GOVERNMENT'S FLYING START SCHEME

2018-02-01
By: AmeriCymru
Posted in: New Titles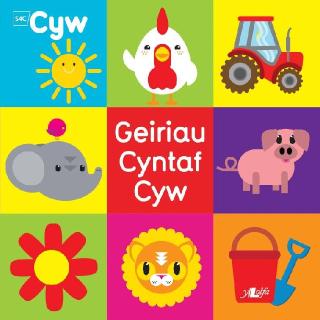 An original Welsh language children's book has been selected for an exciting Welsh Government initiative to promote literacy in the most deprived areas of Wales.
Geiriau Cyntaf Cyw by Helen Davies (Y Lolfa) was chosen as the successful book after the Welsh Books Council was asked to be part of the tendering process to supply 10,000 copies of a Welsh title as part of the Flying Start programme.
Flying Start is part of the Welsh Government's early years programme for families with children under four years of age living in disadvantaged areas of Wales. As well as providing childcare, an enhanced health visiting service and access to parenting programmes, it also provides parents with support in regards to speech, language and communication.
Evidence shows that speech, language and communication ability is an important predictor of later progress in literacy and has an impact on social skills as well as behaviour of children.
The successful title had to be a Welsh language picture book for pre-school children - preferably with a Welsh theme.
Geiriau Cyntaf Cyw (Cyw's First Words) is a colourful picture-word book presenting a simple vocabulary in various locations such as the garden, farm and seaside. It was originall published in cooperation with S4C and Boom Pictures Cymru. It is suitable for children who are attending nursery or for young children aged between 3 and 5 years old.
'The Lolfa is very proud that Flying Start has chosen one of the Cyw books for the scheme,' said Garmon Gruffudd, managing director of Y Lolfa, 'I hope, as a result, that parents will find more of the great original books that are available to children in Welsh.'
I am delighted that this book, which has received Welsh Government support via the Welsh Books Council's grant scheme, was chosen for Flying Start' added Helgard Krause, Chief Executive of the Welsh Books Council, 'It will give children and parents living in Wales access to an authentic Welsh book originated entirely in Wales and hopefully contribute to lifelong enjoyment of reading.'
Copies will be distributed around Wales as part of the scheme by the beginning of February.