CHILDREN'S COMIC MELLTEN IS LOOKING FOR THE NEXT GENERATION OF WELSH CARTOONISTS

2018-01-17
By: AmeriCymru
Posted in: New Titles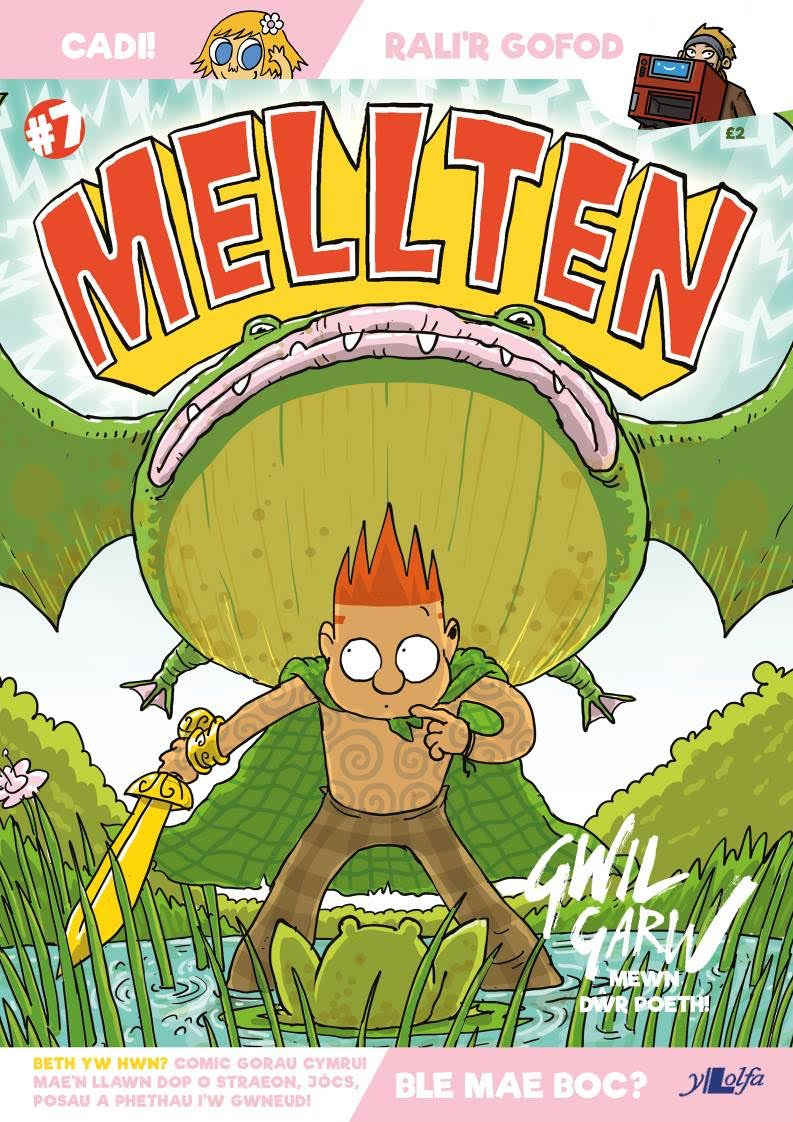 Welsh comic Mellten is looking for the next generation of cartoonists by giving young children the chance to create their own cartoon character or cartoon strip in a big competition that is launched this week. As part of the 2018 World Book Day celebrations , the Welsh Books Council are running a competition with Mellten – a quarterly Welsh-language comic for children, bringing together stories, jokes, puzzles and competitions.
The prize for the winning entry will be an original piece of artwork by Mellten creator, Huw Aaron and a Family Ticket to Hay Festival 2018. The strip will also feature in the next issue of the comic! There is also a prize available for the winning school – a workshop with Huw Aaron himself.
The competition is open to all and you competitors can choose to complete the Capten Clonc cartoon strip included in the seventh issue of Mellten or create a totally new character or cartoon.
The competition closes on the 31 st of March and the names of the winners will be announced in April. Competitors are asked to send their work to cllc.plant@books.wales or through the post to – "Mellten Competition" , Welsh Books Council, Castell Brychan, Aberystwyth, Ceredigion, SY23 2JB.
''We are delighted to be working with Mellten and y Lolfa on this competition and give the children and young people of Wales the chance to get their imagination going by creating a new cartoon character or strip,' said Angharad Wyn Sinclair, Reading Promotions Project Manager, 'What better way to celebrate World Book Day this year than by reading the latest issue of Mellten and trying out in this competition? We look forward to seeing the various creations!'
'The seventh issue is a great example of encouraging children to create and use their imaginations,' says Huw Aaron, 'We at Mellten are very eager to help and develop children's creative talent. I myself especially want to see the next generation of cartoonists creating their own comics in the future.'
'The creative talent is certainly there but children need the opportunity to showcase their talents' he added.
In the pages of the seventh issue Gwil Garw discovers himself in a bit of trouble, Bloben discovers its affection for Cyw and Iola is preparing to race at the Space Rally competition.
There will be more stories from the shadows as the storyteller tells the story of Pontarfynach's mysterious bridgge, the Allwedd Amser mystery will continue while poor Boc is missing on the farm and the animals are all on the run.
Aimed at children between 7 and 13, Mellten is the first original Welsh language comic in decades. The next issue will appear in March. Individual issues are available or it is possible to subscribe for £8 a year via the website, schools or local bookshops.
The seventh issue of Mellten (£2, Y Lolfa) is available now.