FIRST WELSH NOVEL WITH A TRANS WOMAN AS MAIN CHARACTER PUBLISHED

2017-11-28
By: AmeriCymru
Posted in: New Titles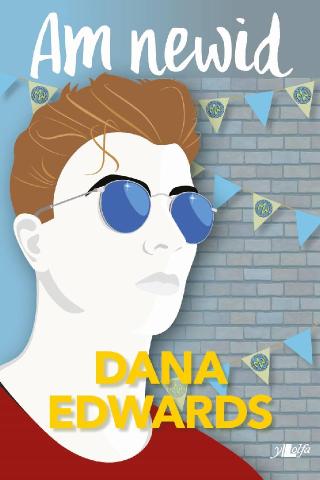 The first Welsh language novel to have a trans woman as a main character is published this week.
Am Newid by Dana Edwards follows main protagonist Ceri who returns to her childhood home but has changed a lot since she left. She goes to join Merched y Wawr and despite being a woman, the fact that some still think of her as a 'boy' mean that it is not easy for them to accept her.
But Ceri isn't the only one who's changed. Over the past twenty-five years, her community's language, culture and attitudes have also changed.
'I wanted to write something that was contemporary but that would also demonstrate a timeless attitude shown towards people who are deemed different or who don't conform to our idea of 'normal',' said Dana Edwards.
'Issues on gender and sex appear in the press almost daily – schools change their toilets to be unisex, policemen change their outfits to also become unisex, and the discussions on abolishing the need to state your sex in the next census. So I thought that writing about this would be both timely and relevant.'
The novel looks at how Ceri copes with the change in her world, how the world copes with Ceri, and the change that comes when she decides to settle down once again in west Wales.
'In the past, Welsh novels have been accused of being old fashioned,' said Dana, 'but I do hope that Am Newid , amongst many other contemporary Welsh novels, prove that that isn't true anymore.'
Said author Lleucu Roberts, ' Am Newid is a compelling, easy to read novel and Dana Edwards has shown herself to be a capable author who knows how to weave a plot and develop characters.'
The novel will be launched at the Winter Fair in Builth Wells on Monday 27 November at 2pm at the Merched y Wawr stall at Clwyd Morgannwg Exhibition Hall with Tegwen Morris, Merched y Wawr director, who will be in conversarion with Dana.
'Its very appropriate to launch at the Merched y Wawr stall as the organisation is the backdrop to Ceri's story,' said Dana, 'Merched y Wawr has a reputation for being a very welcoming and inclusive organisation, but how will Ceri be welcomed?'
During the launch, Carol Nixon will talk about her experiences of living as a trans woman in Wales and singer Siân James will perform a few songs that celebrate diversity. There will be a rainbow LGBT+ cake and mulled wine to close the launch party.
Dana Edwards is from Aberystwyth. Am Newid is her third novel following The Other Half (Accent Press, 2014) and Welsh novel Pam ? (Y Lolfa, 2016).
Am Newid will be launched at the Merched y Wawr stall at Clwyd Morgannwg Exhibition Hall at the Winter Fair in Builth Wells on Monday 27 th November at 2pm with Dana Edwards, Tegwen Morris, Carol Nixon and Siân James.
Am Newid by Dana Edwards (£7.99, Y Lolfa) is available now.