THE STORY OF IOLO MORGANWG INSPIRES LOCAL AUTHOR

2017-11-20
By: AmeriCymru
Posted in: New Titles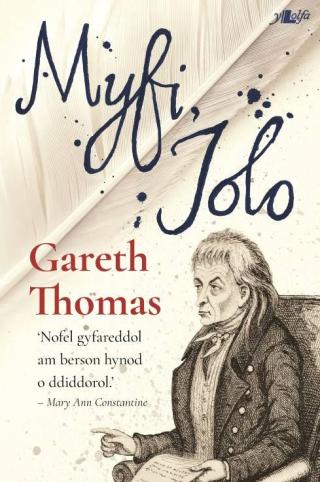 An author who moved to the Vale of Glamorgan has been inspired by the story of Iolo Morganwg so much that he wrote a novel about him.
Gareth Thomas moved to the Vale of Glamorgan six years ago following a career in England as an actor, teacher and director.
Like many others he had heard of Iolo Morganwg but knew little of his story or significance.
His imagination was fired by the attention given to 'Old Iolo' in the National Eisteddfod in Llandow and visits to the places in the Vale associated with the bard such as his memorial in the church in Flemingston, the Samson Pillar in Llantwit Major, St Mary Church where he was married, the examples of his work as a mason that can be seen across the Vale and Cowbridge and The Bear Hotel where Iolo performed much of his seditious verses and delivered passionate speeches on political issues.
'The more I learnt, the more I marvelled at his story' said Gareth Thomas, 'It's a tale that needs to be told.'
But Iolo proved to be an enigma. There were differing opinions amongst his friends on the subject of Iolo - some of whom admired him as a hero who helped form the national identity of Wales and others who saw him as a cheat and con-man. Having read the research of Gwyneth Lewis, Geraint Jenkins, Mary-Ann Constantine and others, Gareth came to the conclusion that here was a story with real contemporary significance.
The result is  Myfi Iol o , a new Welsh language historical novel which recounts Iolo's true story which is published this week.
The novel is set at the end of the 18 th century where Iolo is a young man with a host of talents and limitless energy. He is full of anger against the injustice he sees and is committed to the cause of freedom in Europe.
'Iolo's story has every element you would wish for in an historical novel: adventure, mystery, love, revolution, violence, drugs, passion, spies and betrayal' said Gareth.
The scene moves from Cowbride to the grand drawing rooms of Mayfair, from Gorsedd ceremonies on inhospitable hillsides to the luxurious bordellos of Covent Garden, from his cottage in Flemingston to a hearing before the Privy Council in Downing Street.
'Here was a man who inspired friendship but turned friends into enemies. Here was an incredibly talented man who ultimately failed to win a livelihood in any field.' said Gareth, 'Was Iolo a conscious trickster – or was he inspired by a bigger vision?'
The novel has already recieved substantial praise by the author Dr Mary-Ann Constantine calling it 'a fasincating novel about a fasinating person'.
The novel will be launched in the Georgian ballroom in the Bear Hotel in Cowbridge on November 23 at 7pm.
'It was in The Bear hotel in Cowbridge that Iolo Morganwg performed his poetry and spoke passionately about politics. So there's no better place to launch the novel!' added Gareth.
The launch will be led by Carys Whelen who will be interviewing the author and there will be readings from actors Eiry Palfrey (Gwaith/Cartref, Dinas) as 'Peggy' and Danny Grehan ( Harri Tudur, Casualty) as Iolo Morganwg.
Gareth Thomas was born to parents from Cwm Rhondda and studied drama in the Barry and London. He worked in England as an actor, teacher and director before learning Welsh aged fifty. His first novel, A Welsh Dawn , was published in 2014. He currently lives in Cowbridge.
Myfi, Iolo by Gareth Thomas (£9.99, Y Lolfa) is available now.