CELEBRATING THE BEST OF WELSH MYTHOLOGY

2017-10-31
By: AmeriCymru
Posted in: New Titles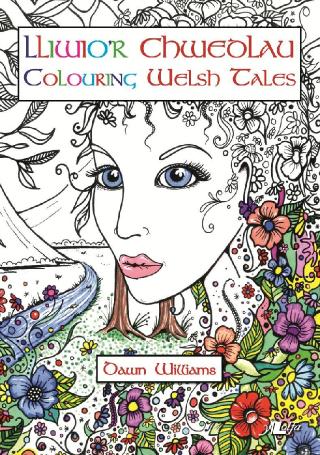 With this year designated the Year of Legends in Wales, an artist has gone on to celebrate the best of Welsh mythology by publishing a sequel to her bestselling colouring book.
Lliwio'r Chwedlau / Colouring Welsh Tales by artist Dawn Williams published this week includes 21 beautiful pictures of scenes from popular Welsh folk tales to colour in, including Gelert, Pwyll Pendefi g Dyfed, Branwen and Llyn y Fan Fach.
The book is a follow-up to the incredibly popular Lliwio Cymru / Colouring Wales, the first Welsh colouring book for adults published last year which sold over a thousand copies in its first run.
'Following the success of Colouring Wales we thought it would be an ideal time to publish a colouring book depicting scenes from some of Wales's most popular folk tales and well-known legends' said Meinir Edwards, an editor at Y Lolfa publishers.
'The book contains some beautiful, exciting and dramatic scenes from the ancient Mabinogion, Britain's earliest prose tales. Stories such as Blodeuwedd and Culhwch and Olwen were compiled in Middle Welsh in the 12th–13 th centuries from earlier oral traditions' said Meinir, 'The book also includes some historical figures such as Dwynwen , the patron saint of lovers, and the Red Bandits of Mawddwy , plus favourite childhood stories such as Twm Siôn Cati and The Lady of the Lake . The stories are our heritage, and they fire the imagination.'
'I'm so glad to have been given the opportunity to create a second Welsh colouring book based on the best of our mythology,' said Dawn, 'Welsh mythology is an integral part of our culture and history as the people of Wales and has formed the backbone of our literature. I hope this book will be a different way to tell these stories – and encourage people to relax as well.'
According to the Mental Health Foundation 59% of adults in Britain say they are under more stressed today than they were five years ago. Although colouring is an activity for children it is now being used as a form of alternative theraphy to help adults relieve stress and anxiety.
The professional artist Dawn Williams was born in Bangor and raised in Ynys Môn. She now lives in Llanrug and is married with three sons.
Lliwio'r Chwedlau / Colouring Welsh Tales by Dawn Williams (£4.99, Y Lolfa) is available now.