ART HAS BECOME 'TOO ELITIST' SAYS WELL KNOWN WELSH ARTIST

2017-10-31
By: AmeriCymru
Posted in: New Titles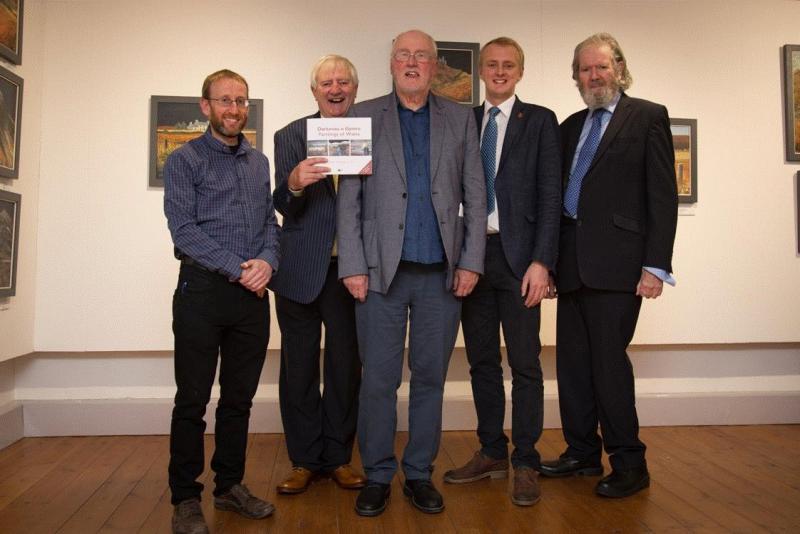 A well known Welsh artist has accused the art scene of being 'too elitist'.
The famous artist, Wynne Melville Jones, said that 'art needs to be for everyone and not just for a select few who are financially privileged'.
'Too often public galleries and private business concentrate more on people who are wealthy' said Wynne, 'But I strongly believe art should be a medium that enriches everybody's life'.
His comments follows the publishing of Darluniau o Gymru / Paintings of Wales this week.
This striking bilingual book shares some of Wynne Melville Jones's most well-known paintings, as well as telling the story behind the pictures.
Best known for his images of west Wales , the artist now paints landscapes from all over the country and some of his works have created interest far beyond. His painting of Soar-y-Mynydd chapel is owned by former US president Jimmy Carter, and his picture of 'Elvis Rock' at Eisteddfa Gurig, Ceredigion, is now on display in Graceland Tennessee.
Most recently his painting of Pantycelyn went on a tour around Wales including visiting the Senedd in Cardiff, as a response to the lack of celebration and recognition for influential national figure Williams Pantycelyn, three hundred years after his death.
The book was launched last Saturday at an exhibition of some of the works featured in the book at Oriel Rhiannon, Tregaron in the company of Ben Lake MP and Sulwyn Thomas with Bois y Fro and Merched Soar performing
'I sincerely hope the paintings in this volume will appeal to a variety of people and that it will bring fine art to a new audience' said Wynne,
'Many of my paintings include Welsh iconography. This is where I'm from and I feel pride in my Welshness, my heritage, and my language and culture. I feel passion and responsibility for all things Welsh' added Wynne.
'These paintings will enrich your lives – enjoy the book, the feast awaits you.' Added David Meredith, Chairman of The Sir Kyffin Williams Trust.
'Painting brings me great pleasure. I hope I can share this pleasure with others – that is all I need' said Wynne.
Best known for his pioneering work in bilingual communications Wynne Melville Jones ( Wyn Mel ) is a former art student, who has rediscovered his zest for painting and is establishing himself as one of the most prolific artists in Wales.
Darluniau o Gymru / Paintings of Wales by Wynne Melville Jones (£12.99, Y Lolfa) is available now.