Discover Wales Through It's Stories - And Ignite Your Imagination

2017-10-09
By: AmeriCymru
Posted in: Guest Articles
An Interview With Philip Thomas - Beyondstorytime
---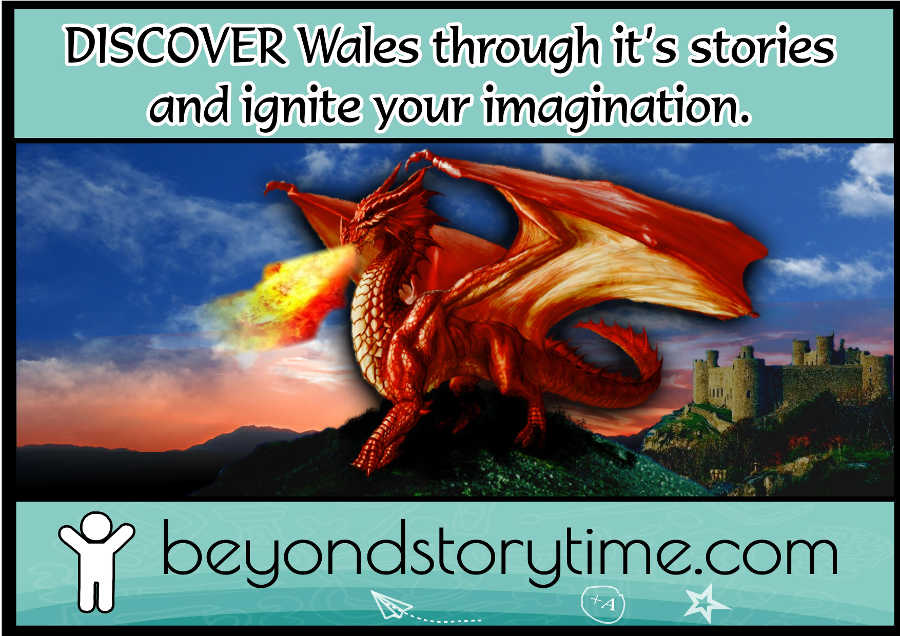 AmeriCymru: Hi Philip and many thanks for agreeing to this interview. Care to describe Beyond Storytime for our readers? What inspired you to create the site?
Philip: Beyond Storytime is a streaming service for stories – a sort of 'Spotify for stories', if you will. Some of the best storytellers have visited Beyond the Border International Storytelling Festival over the years, but not everyone is able to make the trip to Wales to hear them. We have created Beyond Storytime so anyone with a computer, laptop, tablet or smartphone can log in from wherever they are in the world and listen to stories the way they should be heard – told by the best storytellers!
Beyond Storytime is an online library of stories suitable for children of all ages that we hope will promote storytelling and the storytellers who have kindly donated these stories. Maybe hearing these stories will encourage some listeners to make the trip to Wales to experience the Beyond the Border International Storytelling Festival for themselves. We hope so.
AmeriCymru: What can you tell us about the Beyond the Border Wales International Storytelling Festival? How long has this event been held? When is the next one?
Philip: Beyond the Border is a wonderful and vibrant three-day festival of stories and music from Wales and across the world. Our mission is to bring the world to Wales and take Wales to the world. Our home is the stunning medieval castle of St Donats, overlooking the beautiful Glamorganshire coast.
The festival is a feast of storytelling, poetry, music, singing, theatre, circus, puppets and films for all ages, and much much more including:
World food stalls
Real ale bar
Bigger craft market
Workshops for all ages
Street theatre
Story walks
Open mic stages
Expect at BTB 2018:
Kidzone - dedicated area for performances and activities for young people and their families
Improved campsite with free camping
Full-time festival shuttle around the site
Plus lots more opportunities to take part
We like to think it is one of the best festivals in the world. If you want to find out more you can head to www.beyondtheborder.com and keep up to date with what is happening. 2018 is the 25 th anniversary of the very first Beyond the Border in 1993 and David Ambrose has been its Artistic Director throughout supported for many years by Co Founder and storytelling superstar Ben Haggerty. The next festival is planned for June 2018 (confirmed dates will be on the website).
The festival is run by a charity, set up to create, encourage and promote traditional storytelling for contemporary audiences. We want to bring storytelling to everyone. We rely on the generosity of people who care about storytelling, and the festival, to make our work happen. Beyond Storytime is one of the ways we raise funds to support our work.
AmeriCymru: Care to introduce some of the storytellers on the site?
Philip: It's difficult to choose. We have over twenty tellers involved in the project as of now.
David Ambrose has been at the forefront of the storytelling revival in Wales for more than 25 years, as a promoter, a performer, and as Artistic Director of Beyond the Border Wales International Storytelling Festival.
Tamar Eluned Williams won Young Storyteller of the Year in 2013 and has gone on to tour story clubs and festivals across the UK. In 2016 she was awarded the Esyllt Harker Commission for a new work to be featured at the next festival.
We have the cream of Welsh storytellers including: Guto Dafis , Megan Lloyd , Cath Little , Carl Gough and many more.
Kamini Ramachandran is a storyteller based in Singapore with a wide Asian repertoire of stories.
Judi Tarowsky is a storyteller from St Clairsville, Ohio. Her repertoire includes folk tales, ghost stories, and original historical narratives. She is the first American teller to join us.
Morgan Schatz-Blackrose is a storyteller living in Brisbane, Australia. She grew up in Wiradjuri Country at the foot of the Snowy Mountains, in New South Wales, Australia.
Bevin Magama comes from Zimbabwe and now lives in Cardiff. He brings the sights and sounds of his native Africa to our collection.
See what I mean? It's a long list of tellers from around the world! Check out the full story at http://www.beyondstorytime.com/about-our-storytellers/
AmeriCymru: What subscription plans are on offer?
Philip: There are a number of ways to find out what Beyond Storytime has to offer:
Listen to a FREE story! – Go to www.beyondstorytime.com and click on the special offer box. You can hear a full story for free with no obligation. We are sure you will want to know more so….
A Full Year's Subscription costs just £11.95 (currently that's about US$15 – just 28 cents a week! Payable by PayPal or credit card through PayPal)
A Gift Subscription – We have made it easy to buy a gift subscription for children of all ages (we have story listeners in their seventies and older). The perfect gift with Christmas coming soon.
3 Month Trial Subscription – If you want to 'dip a toe in the water' to see if Beyond Storytime is for you, take out a 3 month trial subscription for just £5 (currently about US$6.50). But be careful! Once you have tried Beyond Storytime you will want more!
AmeriCymru: What's next for Beyond Storytime?
Well, if your readers are quick enough they will be able to enjoy our latest project which will be available for subscribers only.
On 1 st December 2017 we are creating an Advent Calendar! 24 new stories, one for each day of advent, each with a Christmas or winter theme and much healthier than chocolate! Just the thing to get you and your family in the mood for the Christmas festivities.
And in 2018? Well, we already have stories ready to be added to the collection. We have just celebrated the first birthday of Beyond Storytime and plan for the collection to grow and grow as we head towards birthday number two and beyond!
AmeriCymru: Any final message for the readers and members of AmeriCymru?
Philip: Beyond Storytime has stories and storytellers from all over the world but, like the Beyond the Border International Storytelling Festival of which we are a part, we are proud of our Welsh roots. Most the tellers featured on the site have been featured at the Beyond the Border Festival and many are based here in Wales. We have begun to feature stories in the Welsh Language and some of the stories have their roots in Welsh history and tradition. If you have Welsh ancestry we think there is no better way to help your family make and keep contact with their Welsh heritage that through a subscription to Beyond Storytime.
If you would like to explore visiting the festival as an individual or maybe with a group then please contact us and we will be pleased to help if we can
If, as a business person or individual you feel you would like to support Beyond Storytime or the Beyond the Border International Storytelling Festival in other ways then we would, of course, be pleased to hear from you. All things are possible. Just email us at support@beyondstorytime.com
We hope you enjoy listening to Beyond Storytime and maybe we will see you at the festival next year.