Family-friendly Recipes From a Welsh Cook

2016-11-18
By: AmeriCymru
Posted in: Book News
A year's worth of delicious recipes…
---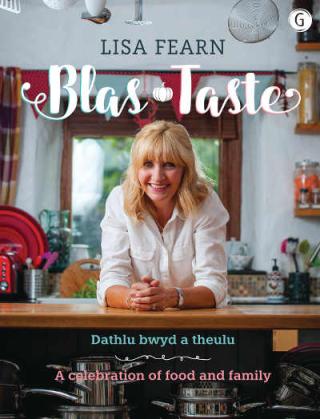 The cook Lisa Fearn will be launching her first recipe book Blas / Taste at Aberglasney Gardens on Wednesday, 23 November.
Blas / Taste contains over 90 delicious family-friendly recipes and is presented bilingually. The book also includes suggestions for activities to keep the children busy, creating home-made gifts, quick ideas and making the most of ingredients from the garden.
Lisa Fearn is a Carmarthen girl and a mother of five. She established a gardening and cookery school called The Pumpkin Patch in Allt y Gog Farm in Felin-wen, Carmarthenshire. By now, she has taught thousands of children to grow and cook their own food (she's taught a few parents too).
Lisa is a columnist with the Carmarthen Journal and a regular on Radio Wales and Radio Cymru. She is also a cook on the Prynhawn Da programme on S4C. Above all, Lisa has a great interest in the social power of food.
Lisa says "I love the outdoors, gardening and cooking. So, when our youngest reached school age, I took stock of what I knew and The Pumpkin Patch became a reality – a children's cookery and gardening school teaching them how to grow and cook their own food. Within months the school was fully booked, and I started sharing our family-friendly recipes with people.
"Blas • Taste is full of our favourite 'go to' recipes at Allt y Gog Farm. They are the recipes that I hope my children will use when they leave home – Mum's favourites. No fuss; easy meals and snacks that flavour the seasons and the year's celebrations with the family. So invite everybody round to taste!"
Blas/Taste is a perfect gift this Christmas and is now available from your local bookshop or directly from Gomer Press on ww.gomer.co.uk / 01559 363092.
Lisa Fearn will launch the book at Aberglasney Gardens on Wednesday, 23 November at 7pm.
Lisa will also be signing copies of the book at:
Peppercorn, Llandeilo on Friday, 18 November, 1.30pm
The Royal Welsh Winter Fair, Llanelwedd, 28 November, 11am on the Siop Inc stand and midday on the Merlin's Hill stand
Aberglasney Winter Fair, 2 December 2pm & 4 December, 2pm
The National Library of Wales, 8 December at 5pm.
Bibliographic details
Blas / Taste, Lisa Fearn, Photographs by Aled Llywelyn
ISBN 9781785621741, hardback, 248 pages
£14.99, Published by Gomer Press
---
Blwyddyn gron o ryseitiau blasus…
---
Bydd y cogydd Lisa Fearn yn lansio ei chyfrol goginio gyntaf, Blas / Taste yng ngerddi Aberglasney nos Fercher, 23 Tachwedd.
Mae Blas / Taste yn cynnwys dros 90 o ryseitiau dwyieithog sy'n tynnu dŵr i'r dannedd. Yn ogystal mae'n cynnwys awgrymiadau
am weithgareddau i gadw'r plant yn brysur, creu anrhegion cartref, syniadau sydyn yn y gegin a gwneud y mwyaf o'r cynnyrch sy'n ffres o'r ardd.
Merch o Gaerfyrddin yw Lisa Fearn ac mae'n fam i bump o blant. Sefydlodd ysgol arddio a choginio boblogaidd i blant, sef The
Pumpkin Patch ar Fferm Allt y Gog yn Felin-wen, Sir Gaerfyrddin.
Erbyn hyn, mae hi wedi dysgu miloedd o blant i dyfu a choginio eu bwyd eu hunain (ac wedi dysgu ambell riant hefyd!).
Mae Lisa'n golofnydd gyda'r Carmarthen Journal. Mae hi'n westai cyson ar Radio Cymru a Radio Wales, ac yn gogydd ar raglen Prynhawn Da, S4C, hefyd. Uwchlaw popeth, mae gan Lisa ddiddordeb mawr ym mhŵer cymdeithasol bwyd.
Meddai Lisa "Rwy'n dwlu ar y byd tu fas ac ar arddio a choginio. Felly, pan ddechreuodd y cyw melyn ola yn yr ysgol, cymerais stoc o'r hyn roeddwn i'n gyfarwydd ag e. Ac felly y daeth The Pumpkin Patch i fodolaeth – ysgol goginio a garddio i blant, yn eu dysgu sut i dyfu a choginio'u bwyd eu hunain. O fewn misoedd, roedd yr ysgol yn llawn, a dechreuais rannu ein ryseitiau teulu-gyfeillgar â phobl eraill."
"Mae Blas / Taste yn llawn o'n hoff ryseitiau ni yn Fferm Allt y Gog. Dyma'r ryseitiau rwy'n gobeithio y bydd fy mhlant yn eu defnyddio pan fyddan nhw'n gadael y nyth – ffefrynnau Mam."
"Dim ffws - prydau a byrbrydau hawdd sy'n rhoi blas ar bob dim yn ei dymor ac yn ddathliad o flwyddyn gron gyda'r teulu a ffrindiau. Rhowch wahoddiad i bawb ddod draw i gael blas ar bethau!"
Mae Blas / Taste yn anrheg Nadolig delfrydol ac ar gael yn eich siop lyfrau leol am £14.99 neu'n
uniongyrchol oddi wrth wasg Gomer ar www.gomer.co.uk / 01559 363092.
Bydd Lisa Fearn yn lansio'r gyfrol yng ngerddi Aberglasney nos Fercher, 23 Tachwedd am 7 o'r gloch.
Bydd hi hefyd yn llofnodi copïau o'r llyfr yn:
Siop Peppercorn, Llandeilo, 18 Tachwedd am 1.30 o'r gloch
Y Ffair Aeaf, Llanelwedd, 28 Tachwedd, 11 o'r gloch ar stondin Siop Inc a 12 ar stondin Bryn Myrddin
Ffair Aeaf Aberglasney, 2 Rhagfyr, 2 o'r gloch a 4 Rhagfyr, 2 o'r gloch
Y Llyfrgell Genedlaethol, 8 Rhagfyr am 5 o'r gloch.
Manylion llyfryddol
Blas / Taste, Lisa Fearn, Ffotograffau Aled Llywelyn
ISBN 9781785621741, clawr caled, 248 tudalen,
£14.99, Gwasg Gomer