AmeriCymru Prize For The Novella - First Prize Details

2016-11-12
By: AmeriCymru
Posted in: Competitions
A number of readers have asked us to clarify the first prize details for the AmeriCymru Prize For The Novella competition. They are listed below. The deadline for submissions is March 1st.
---
1000 GBP ( $1250 US approx) cash prize.
Publication (in ebook format) by Welsh Rarebytes of the winning entry  plus publication in excerpt form in the New Welsh Review Magazine.
We will fly you to Wales (at our expense) and accommodate you for up to one week so that you can attend the Prize ceremony on June 1st at the Hay Literary Festival .
A lunch meeting with a leading London literary editor (either in London or Hay)
---
For more details see below and here:- www.newwelshwritingawards.com
You do NOT have to be a member of AmeriCymru to enter this competition BUT you are more than welcome to join. If you wish to do so please go here:- Join AmeriCymru
...
...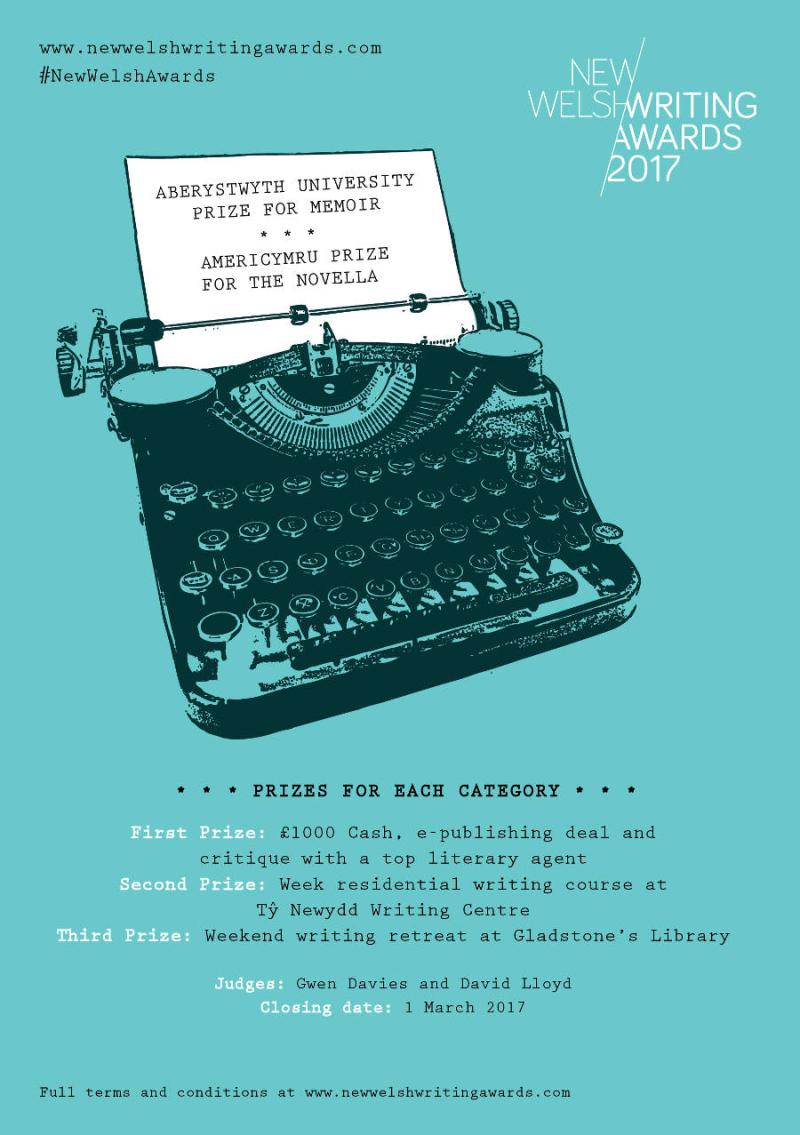 The New Welsh Writing Awards 2017, run by New Welsh Review in association with Aberystwyth University and AmeriCymru, opens for entries on 26 September with two new categories, the Aberystwyth University Prize for Memoir and AmeriCymru Prize for the Novella.
Now in its third year, the Awards were set up to champion the best short-form writing in English and has previously run non-fiction categories with the WWF Cymru Prize for Writing on Nature, won by Eluned Gramich in 2015 and the University of South Wales Prize for Travel Writing, won by Mandy Sutter in June 2016.
This year sees the Awards open up to fiction and memoir, welcoming sponsorship from Aberystwyth University, the core sponsor and host of New Welsh Review, and US online magazine and social network AmeriCymru. The Awards are run in partnership with Curtis Brown, Gladstone's Library and Tŷ Newydd Writing Centre.
New Welsh Review editor Gwen Davies will judge both categories with Welsh-American writer David Lloyd co-judging the Novella category. David is the author of nine books including poetry collections and novels, and directs the Creative Writing Program at Le Moyne College in Syracuse, NY.
Each category winner will receive £1,000 cash, e-publication by New Welsh Review on their New Welsh Rarebyte imprint and a positive critique by leading literary agent Cathryn Summerhayes at Curtis Brown. Second prize for each category is a weeklong residential course at Tŷ Newydd Writing Centre in Gwynedd, north Wales and third prize is a weekend stay at Gladstone's Library in Flintshire, north Wales. All six winners will also receive a one-year subscription to New Welsh Review. In addition New Welsh Review will consider the highly commended and shortlisted nominees for publication in a forthcoming edition of its creative magazine New Welsh Reader with an associated standard fee.
The Awards are open to all writers based in the UK and Ireland plus those who have been educated in Wales. The AmeriCymru Prize for the Novella is also open to writers based in the US and Canada. Entries close at midnight on 1 March 2017. Full details, including terms and conditions, can be found online at www.newwelshwritingawards.com .
The longlist will be announced online on 3 April 2017, with the shortlist announced at an event at Aberystwyth University on 4 May 2017 and the winner at an event at Hay Festival on 1 June 2017.
Gwen Davies , editor of New Welsh Review says: 'We are seeking evocative, succinct and authentic short book-length manuscripts in English. For the novella category they will be between 8,000 and 30,000 words. For the memoir, between 5,000 and 30,000. If your top drawer hides a novella with the punch of Animal Farm or the poignancy and dialect of Mihangel Morgan's Pan Oeddwn yn Fachgen ; or the bite, and visceral local feel of memoirs such as Mary Karr's The Liars' Club or the sheer cheek of Charles Nicholl's The Fruit Palace , we want to hear from you.'
Co-judge David Lloyd says 'I am delighted to serve as co-judge for the AmeriCymru Prize for the Novella. Ever since writing a novella for my first book of fiction, I have loved the form, which combines the intensity of the short story with the expansiveness of the novel. It can be devoured in one sitting or put down and picked up for leisurely reading. Anyone who has read James Joyce's 'The Dead', Joseph Conrad's Heart of Darkness , Carson McCullers' The Ballad of the Sad Café , or Kate Chopin's The Awakening will know the pleasures of this genre in the hands of masters. I also very much value the international scope of this contest, which I hope will draw out authors from diverse backgrounds who write – or who are now inspired to try – the novella.'
Louise Marshall , Head of English and Creative Writing at Aberystwyth University, said: 'We are delighted to be working with New Welsh Review to find the best writing talent in Wales and beyond. Memoirs are a fascinating and often surprising literary form and, just as these Awards have already celebrated Mandy Sutter's and Eluned Gramich's beautifully crafted and enthralling works, we are very much looking forward to discovering equally talented writers in the future.'
Ceri Shaw, co-founder of AmeriCymru, added, 'AmerCymru is honored to be offered this opportunity to partner with the New Welsh Review and Aberystwyth University. We founded AmeriCymru to increase awareness of Wales and Welsh heritage and to bring Wales and its arts, including literature, to the attention of more people around the world. This competition provides voice and opportunity to new and upcoming writers, and we are excited to be able to contribute to this effort.'
---

Please Retweet