All for Freedom: A true story of escape from the Nazis

2016-11-10
By: AmeriCymru
Posted in: New Titles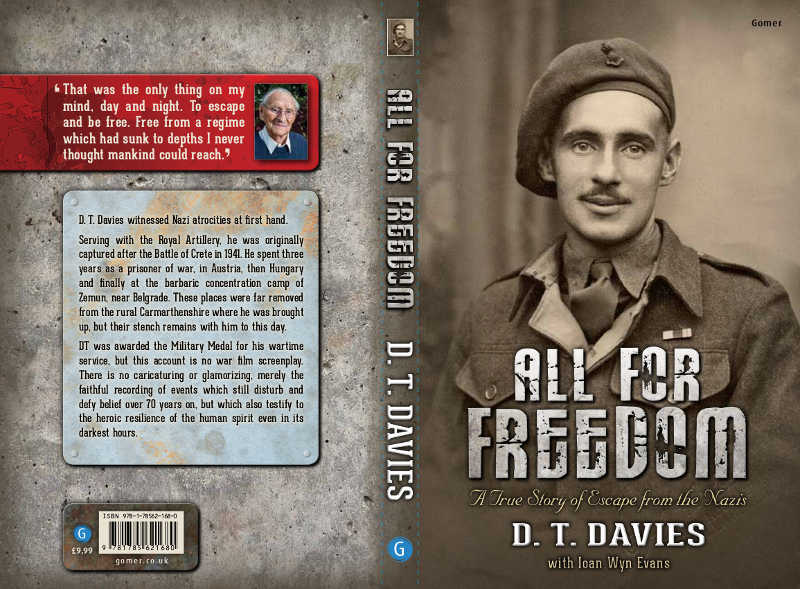 A remarkable story of military courage….
As Wales prepares to remember those who lost their lives in wars across the world a 98 year-old veteran from Carmarthenshire
publishes a book detailing his incredible experiences as a prisoner of war.
In All for Freedom D.T. Davies from Dryslwyn, near Llandeilo, provides an emotional account of some of the harrowing scenes he witnessed as a prisoner at Nazi camps across Europe.
D.T. Davies was captured at the Battle of Crete at the end of May 1941. He was among hundreds of troops who were herded on to
cramped wagon trains in Greece and taken on a three-day journey, with very little food or water, to the infamous Stalag 18A Nazi prison camp at Wolfsberg, in southern Austria.
He spent three years as a prisoner of war, in Austria, then Hungary and finally at the barbaric concentration camp of Zemun, near Belgrade. He describes Zemun as "quite simply hell on earth."
These places were far removed from the rural Carmarthenshire where he was brought up, but their stench remains with him to this day.
"He witnessed dark deeds. But, all the while, one thing kept him going – the urge to escape. His is an amazing and uplifting story. It is the tale of one man's fight for a basic human right – freedom – against a backdrop of unimaginable cruelty and suffering. For his bravery, he was awarded the Military Medal," says Ioan Wyn Evans, television producer and co-author of the book.
Over 70 years after the end of the war, DT Davies recounts his incredible experiences in All for Freedom: A True Story of Escape from the Nazis , published by Gomer Press.
"Whatever your views on war, D.T. Davies's courage, determination and humility should be highlighted and respected. This is the story of a man who truly deserves to be called a 'hero'," says Ioan Wyn.
After returning home from the war he didn't talk about his time as a POW for years on end, not even to his family. But he says "When I reached my 90s, my sons insisted I put my experiences on paper for the sake of my two grandsons and five granddaughters."
D.T. Davies says "For me, the most important thing is that we remember. Remember those who lost their lives, from every nation across the world; and to remember their sacrifice. I think everyone needs to bear that in mind, people of all ages and backgrounds, but especially the young. Because without the sacrifices of others, where would they be today? Whatever your views on war, it's imperative that we remember those who didn't come home, and my biggest hope is that we will never see anything like it again. Ever."