'Anywhere Out Of The World' by Alan Bilton - A Review

2016-10-06
By: AmeriCymru
Posted in: Book Reviews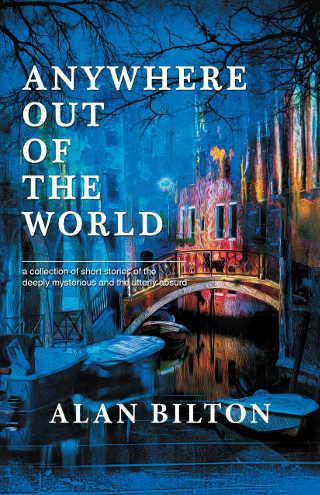 ...
...
...
Alan Bilton is the author of two novels, The Known and Unknown Sea (2014), variously compared to Charlie and the Chocolate Factory, the 1902 movie, A Trip to the Moon, and Dante's Inferno, and The Sleepwalkers' Ball (2009) which one critic described as "Franz Kafka meets Mary Poppins".
...
...
---
Alan Bilton never disappoints and he never fails to fascinate. His latest work, an anthology of short stories titled 'Anywhere Out Of The World' is no exception. Billed as 'a collection of short stories of the deeply mysterious and the utterly absurd', these grimly comical tales will transport you from Venice to Walla Walla, Washington and simultaneously to places with no known geographical co ordinates.
In 'The Honeymoon Suite' a young couple arrive at a luxury hotel in Venice only to become separated and lost in a labyrinth of twisting corridors and interconnected stairways. In this tale of mystery and alternate endings one of the honeymooners is left musing:-
"Who was to say what was the end and what was the beginning? Perhaps life didn't travel from A to Z but constantly traded and changed; from here it was Venice which seemed like a dream and the island of tombs which chimed the one true hour."
Superbly constructed and broodingly atmospheric throughout, 'The Honeymoon Suite' is one of the longer tales in this collection as is the title story.
Mr Urbino is a postman attempting to deliver a letter to a non existent address. He is also an amateur artist. His attempts to locate the address and its tenant result in a series of bizarre encounters and ultimately to an unexpected journey or 'escape'. His predicament at the end of this tale invites speculation. As the author put it in a recent interview:- "Has the artist in the title story escaped from the everyday through his art, or stumbled into some kind of metaphysical trap?"
Anywhere Out Of The World is also the title of a poem by Charles Baudelaire. It can be read online here and provides considerable insight into the thematic material of this collection.
Many of the shorter stories in this collection are equally intriguing. In 'The Bridge To Mitte Kuskil' a Tsarist auditor makes a journey to inspect progress at a bridge construction site. What he finds is not at all what he expected and the ultimate fate of his 'report' is not at all what the reader might expect.
In 'Flea Theatre' a womans husband disappears and she begins to receive mysterious parcels each one containing a dead stuffed flea dressed in human clothing. Her attempts to locate her missing husband leave her feeling 'lost and uneasy, a trespasser in somebody else's book.'
Literary references/comparisons? In reading this collection I am constantly reminded of Kazuo Ishiguro's 'The Unconsoled', Steve Erickson and Wales' very own Rhys Hughes. All powerful recommendations in my opinion. 
This book is unreservedly recommended to anyone with a taste for the bizarre or an interest in exploring the boundaries (and beyond) of contemporary fiction.
---
Review by Ceri Shaw