Travels of a Welsh Preacher in the U.S.A.

2014-02-27
By: AmeriCymru
Posted in: welsh american history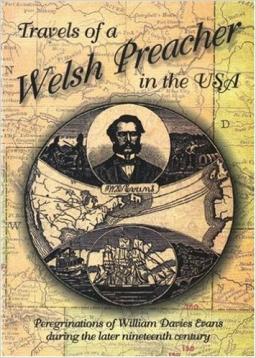 Peregrinations of William Davies Evans During the Later Nineteenth Century
Welsh author Margaret Morgan Jones publishes her great-uncles account of his travels in the USA in 1880. AmeriCymru spoke to Margaret about the book and her future plans.

Buy Travels of A Welsh Preacher in the U.S.A. here





---
AmeriCymru: Hi Margaret your new book Travels of a Welsh Preacher in the U.S.A is a translation from an 1883 Welsh language original Dros Gyfanfor a Chyfandir. Can you tell us how you became involved with this project?
Margaret:   I became involved with the project of translating Dros Gyfanfor a Chyfandir (Over Ocean and Continent) by Reverend W.D. Evans (my great-uncle) after the author's direct descendants had traced me down on their visits from the U.S.A. to Wales. Because the book was written in Welsh, Evans' descendants had no idea what the book contained. On one visit, they put me on the spot and asked me to translate this page and that page, so I told them that I would translate the whole book for them.  At first, it was only an undertaking for the 'Evans' family in the United States, but when two friends of mine – Professor Ivor Wilks and Professor Nancy Lawler, read extracts from my translation, they advised me to have it published in book format. I went along with their recommendation and Myrddin ap Dafydd of the publishing company, Gwasg Carreg Gwalch, North Wales was happy to accept my work for publication. I was advised to change the title in order to better reflect its content.
AmeriCymru:  What was the purpose of William Davies Evans trip to the States in 1880?
Margaret:   My great-uncle, William Davies Evans,  was born in a cottage in Talsarn, West Wales, on February 23, 1842. When William was 10 years old, his parents and their family emigrated to the U.S.A. After completing his education in Ohio, William returned to Wales in 1872 with the intention of a short stay, but his diary kept filling up with preaching appointments, so he stayed in his homeland for 15 years. In the year 1876, he married my grandfather's sister, Jane Jones, Penwernhir, Pontrhydfendigaid.  In 1880, he decided to sail to the U.S.A. to gather material for two books he was planning to write.
AmeriCymru:  How widely did he travel within the U.S.?
Margaret:   After arriving in New York, Evans travelled the breadth of the country – from New York to San Francisco. He was sponsored by certain railroad companies during this venture. He walked up to the summit of Pike's Peak, Colorado and down again, but spent a few days in bed after this!
AmeriCymru:  Can you tell us anything about William Davies Evans later history?
Margaret:   William attended Willoughby School after arriving in Ohio when he was 10 years old. It is assumed that he was educated at home when he lived in Talsarn because he wrote that it was in this school he sat behind a desk for the first time. In 1868 he went on to further education at Delaware University College and in 1870 at The Theological Institute in Oberlin, Ohio. In 1871, he took charge of churches in Youngstown, Weathersfield and Churchill before returning to Wales in 1872. On August 13, 1874, he and another 12 ordinands were ordained as fully fledged ministers of religion at Rhydfendigaid Methodist Chapel, Pontrhydfendigaid. Reverend Howell Powell, New York, was one of the ministers who officiated at this service. In 1883, the book Dros Gyfanfor a Chyfandir was printed by The Cambrian News at Aberystwyth. His other manuscript, Hanes Taleithiau America a'r Cymry Ynddynt   (The History of the United States of America and the Welsh Living in Them) was never printed because he became depressed because sales of Dros Gyfanfor a Chyfandir were disappointing. The reason for this was: he had serialised the content, letter by letter, in the paper Baner Ac Amserau Cymru (Banner and Times of Wales).  In 1886, he uprooted his family from Wales and emigrated permanently to the U.S.A. The following year, he came up with the idea of embarking on a weekly newspaper. He was sponsored by friends in Long Creek, Iowa and Emporia, Kansas and spent almost a year travelling, at his own expense, to persuade people to subscribe to this venture before the launch of 'Columbia' on July 4, 1888. He was editor of this paper for 3 years. Afterwards he and his family, moved to Kansas City, where he became a recluse for some time. The lack of Dros Gyfanfor a Chyfandir's sales was the main reason. However, he picked himself up and according to H. Richards, Otter, Iowa (Y Drych [The Mirror] April 9, 1896) he regained his passion for preaching with more enthusiasm than ever.  When he became unwell, he and his wife retired to Tacoma, Washington. William Davies Evans died on December 16, 1907. Respecting his wishes, his funeral was modest with no flowers and he did not want anyone to write a biography of him.
During the American Civil War, William and his brother, Lewis, were called up to serve with the army of the North. William's occupation was as a draughtsman. As part of his duty, he once had to go as far south as Chattanooga, on the banks of the Tennessee river. He and Lewis spent an anxious time on Point Lookout, just outside Chattanooga, during this period. All is revealed in the book 'Travels of a Welsh Preacher in the USA'.
AmeriCymru: W.D. Evans had a sense of humour. Care to share some of the lighter moments from the book?
Margaret:    Whilst waiting for a train on a transfer in Nebraska W. D. Evans holds a conversation with a young lad from the 'boot-blacks league'. Evans agrees to a 'shine', and the boy questions him intensely about the western towns he had visited. Evans in turn responds by asking the boy questions about himself.  The boy tells him that he does not pay a fare for travelling on the train; that he travels on a small seat between the wheels, under the train.  Evans asks: 'what if you collided with a cow or horse?' The boy replies: 'I would be better off than the poor animal' and so forth.  All very amusing.   
When Evans was in the region of Ashland, Wisconsin, he became unwell and was directed to a respectable and comfortable house. A fellow-lodger was very interested in him after discovering that he had a Welshman as a companion. This man had not met a Welshman for 10 years and took great care of Evans and called on a doctor to see to him. This man asked Evans if he had heard of Twm Chaen Bwlet.  The reply was 'no.' 'Never heard of Twm Chaen Bwlet!' 'Have you heard of Tom Sayers?' 'Yes,' Evans replies.  Apparently Twm Chaen Bwlet trained Tom Sayers to be a boxer.  The questions and answers go on and on.  Apparently Twm Chaen Bwlet was this man's brother.  All very interesting and amusing.
Another tale is: when a panel of 12 women were sworn in as jurors in a court of law in Laramie. The case before the jurors concerned one of the ruffians of the West. A divine guidance was asked for before returning the verdict. While the women were sitting on the jury, their maids were in their homes singing:
                Nice little baby, don't get in a fury
                Cause mamma is gone to sit on the jury.
According to W.D. Evans!
AmeriCymru:  Where can the book be purchased online?
Margaret:   (i)     www.gwales.com    Click on 'Books from Wales'   Search: 'Travels of a Welsh Preacher in the U.S.A.'  Click – No 9 down the list.  Read Reviews.
     (ii)   Myrddin@carreg-gwalch.com
AmeriCymru:  Any final message for the members and readers of AmeriCymru?
Margaret:   I hope that readers of 'Travels of a Welsh Preacher in the U.S.A.' will find the book interesting. Landscapes are vividly described throughout and it is full of accounts of Evans' long journey and the people he met and their livelihoods. It also contains 41 pictures.
Regarding the lost manuscript of 'Hanes Taleithiau Unedig America a'r Cymry Ynddynt' (The History of the United States of America and the Welsh Living in Them).  I discovered 40 of my great-uncle's Letters to the Press at The National Library of Wales, Aberystwyth. They are all numbered and entitled 'From Aberystwyth to San Francisco'.  In these Letters, I found material that would have been included in the lost book, had it been printed. I have copied, selected and translated, from Welsh into English, this information.  It is now in book format,  has been accepted by Gwasg Carreg Gwalch and will be released under the title 'From Aberystwyth to San Francisco' before Christmas – next November hopefully. The book contains a vivid picture of the lives of emigrants from Wales and other European countries to the United States at the end of the 19 th century.  Different to many books written about this subject, the content was written by someone who experienced life first hand in Wales and America at this time.  Dr David Lloyd, Director Writing Program, Le Moyne College, Syracuse, N.Y. has written a very interesting Preface to the book.