Dark September - An Interview With Author Brendan Gerad O'Brien

2016-06-29
By: AmeriCymru
Posted in: Author Interviews
Back to Welsh Literature page >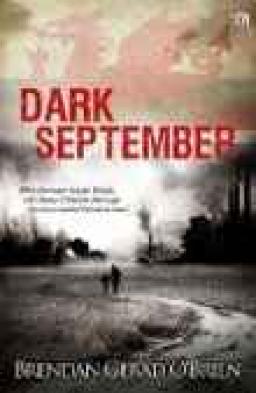 Brendan Gerad O'Brien. was born in Tralee, on the west coast of Ireland and now lives in Wales with his wife Jennifer and daughters Shelly and Sarah. As a child he spent his summer holidays in Listowel, Co Kerry, where his uncle Moss Scanlon had a Harnessmaker's shop. Dark September is his first thriller. AmeriCymru spoke to Brendan about his writing and future plans.
...

---
AmeriCymru: Hi Brendan and many thanks for agreeing to this interview. How would you describe 'Dark September'?

Brendan: Dark September is a fast paced alternate history thriller set in Wales during WW2. It touches on the desperation and raw fear of ordinary people trying to survive against odds that are definitely not in their favour.
In the story Germany invades the UK. Soldiers pour ashore from warships in the Severn Channel, determined to secure the steelworks and the coal mines of South Wales.
Irishman Danny O'Shea is on his way to work in Newport Docks. His house is bombed and his wife is killed. His young son Adam, who nearly drowned when he was a baby, has severe learning difficulties. Terrified of what the Nazis will do to him, O'Shea resolves to take him to neutral Ireland.
Penniless and desperate, they head for Fishguard. But on an isolated Welsh road they witness an attack on a German convoy carrying the blueprints for an awesome new weapon that was discovered in a secret laboratory near Brecon.
German Captain Eric Weiss, responsible for the blueprint's safe transfer to Berlin, knows that his job - even his life - depends on him getting it back.
But, following a major disagreement amongst the insurgents, the blueprint disappears. Then O'Shea goes to the aid of a dying woman - and both the Germans and the insurgents believe she's told him where the blueprints are.
Suddenly O'Shea is separated from his son and catapulted into a world of betrayal and brutal double-cross. Pursued by both the Germans and the insurgents, his only concern is to find Adam and get him to safety.
One reviewer did think that the violence was too sudden and disturbing, but it only reflects the horror of the times and is not deliberately gratuitous.
AmeriCymru: How did you come to write the book and what is the story behind the new edition?
Brendan: The germ of the story has been in my head since the time I was in the Navy and we did exercises in the Brecon Beacons. I wondered what it would really be like to be running for your life through such inhospitable terrain with the bad guys determined to do you a serious injury if they caught you. But why would my character be running from anyone? What year should it be set in?
Later on I saw some disturbing footage of Nazis guards disposing of people with special need, and I felt tremendous sympathy for their families. How would I have react if I was in that position and Germany invaded the UK? Where would I take my child? Being Irish I felt it would be natural to gravitate to Ireland, which was neutral. And the chances were I'd still have some family there to go to.
Of course, once I'd started writing the story it took on a life of its own. Characters reacted in ways I never intended. People I created as decent characters turned into monsters half way through a chapter, even a sentence. It was exciting and disturbing all at the same time, and I enjoyed every moment of writing it.
I was concerned about making the leading nasty persons - two sisters - direct descendants of a treasured Welsh historical character. Initially they were beautiful, kind and loving girls but they were corrupted by both love and riches. But so far I haven't had any negative feedback about it. I would appreciate the views of my Welsh readers on that.
The original book was self-published with Smashwords.com but it has now been taken up by http://www.tirgearrpublishing.com

AmeriCymru: What can you tell us about your background as a writer? When did you first put pen to paper?
Brendan: When I won my first writing competition I was so excited I ran all the way home. I was about eight years old. The Fun Fair was coming to Tralee - our little town on the West coast of Ireland - and apart from Duffy's Circus which came every September, this was the highlight of our year. Our English teacher asked us to write an essay about it, and I won the only prize - a book of ten tickets for the fair.
There were eight kids in our family so everyone got a ride on something. Even The Mammy herself had a go on the dodgems.
So writing was in my blood from a very young age. I loved essays and English literature, but we were a very close family - physically as well as emotionally - so there wasn't much free space in our little house in Railway Terrace for me to sneak off to and indulge in my hobby.
My grand-uncle Moss Scanlon was a harness maker and he had a small shop in Lower William Street, Listowel - a rural town in Kerry that was just a bus ride from Tralee - where we spent some wonderful summer holidays. Down the lane opposite the shop was the River Feale, and Moss did some serious fishing there, standing out in the middle of the river in waders that came up to his neck while us kids swam in the cool brown water or just chilled out on the grass watching him struggle with a pike or a trout.
The shop had a wonderful magic about it - a magnet for all sorts of colourful characters who'd wander in for a chat and a bit of jovial banter. One wonderful storyteller who often popped in was John B Keane, and it was a great thrill to actually meet him. I asked him once where he got his ideas from, and he told me that everyone has a story to tell, so be patient and just listen to them.
And I was there, sitting on the counter in the shop, when John B's very first story was read out live on Radio Eireann. I can still remember the buzz of excitement and the sheer pride of the people of Listowel. And the seeds of storytelling were sown in my soul.
Another source of raw encouragement was Bryan MacMahon, one of Listowel's finest writers and a schoolmaster to boot, who was a very easy person to talk to.
Anyway, I left school at fourteen and went to work in hotels in Killarney, and I quickly got caught up in the excitement and colourful buzz of the tourist industry - remember, this was in the 60s when the Beatles were creating a heady revolution and engulfing the youth with hopes and dreams of a wonderful future - so I felt no great urgency to write. I dreamed of being a writer, of course. I wanted to be a writer - but somehow life just got in the way.
When I joined the Royal Navy at eighteen I was sent to the Far East, and I spent the first three years between Singapore and Hong Kong, and again I was having so much fun I didn't get to write anything, although there were loads of stories bursting to get out.
It was only when I got married and the children came along that I made any serious attempt to put pen to paper, and the result was Dark September, an alternative history thriller set in wartime Britain.
I loved writing it - I always wrote in longhand in a school notebook - but I hated having to type it. After working a ten-hour day, I'd be clattering away into the early hours of the morning on an old Olivetti typewriter and getting on everyone's nerves. Then I'd scream in frustration when I'd discover that hours of hard work were ruined by some horrendous typo error, and I'd have to start all over again.
Amazingly, I found an agent almost immediately, but she insisted on some major changes so I spent a year re-writing it.
Unfortunately my agent died suddenly and the agency closed. It took ages to find another agent, but he too demanded even more changes. It became too much for Jennifer and the kids, so my manuscript hibernated in the attic for a few years.
Then Jennifer bought me a computer for Christmas - with Spellcheck! This time finding an agent has proved an impossibility - they only want to represent people who're famous for just being famous - so I self-published it with Smashwords.com, though I still longed to have it accepted by a mainstream publisher.
Now I'm delighted to say the book has been accepted by Tirgearr Publishing - http://www.tirgearrpublishing.com - an Irish company, and I'm delighted with the result and all the hard work they've put into it to make it a great success.
AmeriCymru: You also write short stories. Do you have any plans for a new anthology?
Brendan: I'm always troweling through the old stories looking for inspiration, and so far I have about six that would be good enough. But I'd need a few more before I could put an anthology together.
AmeriCymru: Care to tell us a little about your collection of Irish short stories, 'Dreamin Dreams'?
Brendan: While Dark September was languishing in limbo I discovered that writing short stories is amazingly therapeutic. I get a great buzz from taking an idea and developing it, often watching it evolve into something completely different from how it started out. And I realized too that great ideas are all around us. Little gems are waiting to be harvested everywhere we look. I found myself listening to what people are saying, and the way they say it.
For instance, the Irish are famous all over the world for their colourful and exaggerated expressions, always using a dozen words when one would have done, so I build on that and set all my stories in Ireland. The names are changed, of course, because I don't earn enough to sustain a major lawsuit. I've written hundreds of stories, most of which are still stuffed in drawers somewhere, but I did manage to get more than twenty of them published over the years, in anthologies, e-zines and magazines as well as web sites.
Dreamin' Dreams - published as an eBook with Smashwords.com, and in paperback by Lulu.com - contains twenty of my published stories, of which I'm very proud. They're all based on real people who passed through my life at some time or other, or events that actually happened to me. Enhanced, of course, and sometimes exaggerated out of all proportion.
The title comes from something my father said years ago when I got poor grades at school. 'What do you expect?' he said to my mother. 'He never does any studying. He just sits there, dreamin' dreams.'
The image on the cover is the statue in The Green, Tralee's town park, and it represents the characters in the song The Rose of Tralee. It's a tremendously impressive statue, and in a beautiful setting too.
Anyway, if you do get the chance to read Dreamin' Dreams, I hope you enjoy it as much as I enjoyed writing it.
AmeriCymru: Where can people buy your work online? Do you have a website?
Brendan: bgobrien.com is my website.
Dark September can be found through Tirgearr Publishing and read on all e-readers.
http://www.tirgearrpublishing.com
Dreamin' Dreams can be found through Smashwords.com, and all e-book retailers.
And in paperback from Lulu.com

AmeriCymru: What are you working on at the moment? Any new novels in the pipeline?
Brendan: I'm about two chapters away from finishing my latest novel, which is also an alternate history thriller.
Set in 1941, Ireland is sinking under the hordes of refugees swarming there to escape the war in Europe. Danny O'Shea is a Local Security Force volunteer - an auxiliary policeman, in other words.
A man is shot dead in a crowded pub and no one sees or hears anything. Then a young woman is found dead in the town park the very next day.
But when a child disappears from a hospital the suspense is ratcheted up several notches …and the Gardaí need all the help they can get from the LSF. But can O'Shea step up to the mark?


AmeriCymru: Any final message for the members and readers of AmeriCymru?
Brendan: Thanks for taking the time to read this - I hope you enjoyed it as much as I did doing it. Remember AmeriCymru is a great place to hang out and chat with people who share a common interest - all things Welsh - so enjoy it and spread the word.