An Interview With David Lloyd - WCE Short Story Competition Winner 2015

2016-02-21
By: AmeriCymru
Posted in: Author Interviews
---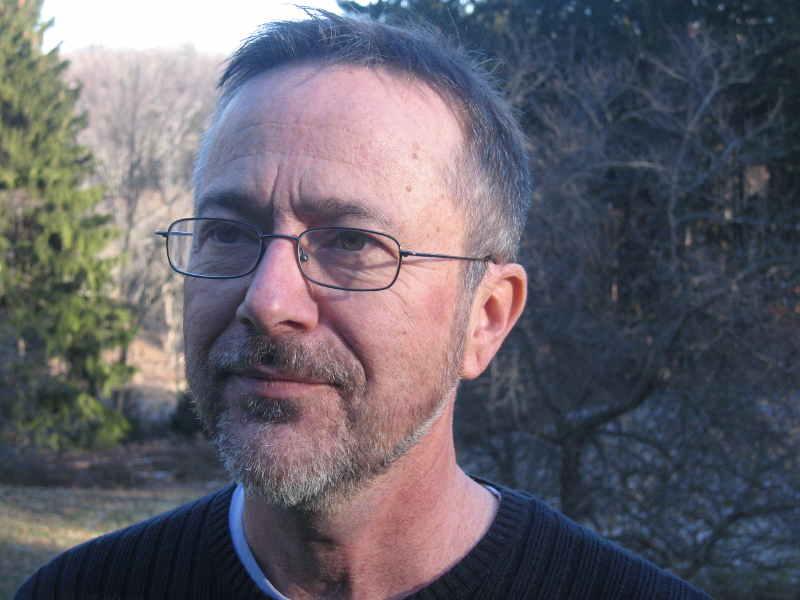 David Lloyd
---
AmeriCymru: Hi David and many thanks for agreeing to this interview. I think it would be fair to say that you are an American writer with an intimate connection to Wales. Care to tell us a little about your Welsh background?

David: My father was born and grew up in Corris, near Machynlleth, and my mother in Pontrhydyfen, near Port Talbot - Welsh speaking, chapel-centered villages in those days, with Corris being all about slate and Pontrhydyfen depending on coal mining. They met in Aberystwyth, where my mother was a university student and my father a visiting minister. After marriage, my father served as minister in Ferndale (where my eldest brother was born) and then at the Heathfield Rd. Welsh Chapel in Liverpool (where my sister was born). When Moriah Presbyterian Church in Utica, New York put out a call for a Welsh-speaking minister, my father wanted to try it out, and brought the family over in 1949, intending to stay only a few years. My other brother and I were born in the US, and the family stayed on. So I grew up in the Welsh American community in Utica, which was very active in those days. At the time he retired, my father was the last minister in the area to preach and hold services in Welsh.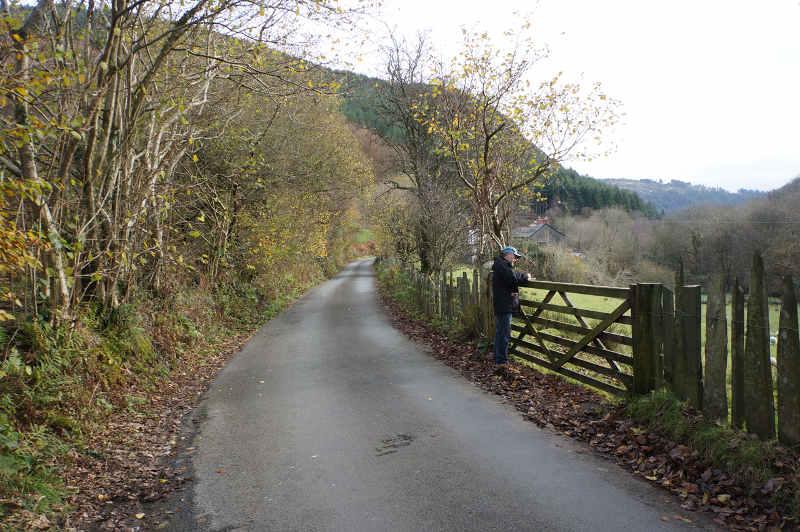 David Lloyd on a road near Corris, where his father was born.
---
AmeriCymru: You recently won the West Coast Eisteddfod Online Short Story Competition with your story Dreaming of Home . What can you tell us about this story?

David: "Dreaming of Home" is from a story collection titled The Moving of the Water, with all stories set in the Welsh American community of Utica during the 1960s. In this story, an immigrant from Wales named Old Llew (short for Llewelyn but also "lion" in Welsh) returns to his apartment after a day of drinking. He watches a TV news report on fighting in Vietnam, falls asleep, and dreams. And what he dreams about is his own battle experience in WWI. Of course WWI affected Wales terribly, with the loss of young men devastating communities. In his dream, Llew relives a bloody attack in the trenches, is visited by his father (because it's a dream after all), and asks to be taken away from the trenches, back home. "But you are home," his father tells him. "Dreaming of Home" and other stories in The Moving of the Water explore the ambiguous nature of "home" for someone like Llew. Is home where you came from, or where you currently live? Is your true home the land of your first language and your formative years? Or is your home a product of the defining experiences of your life, such as fighting in a WWI trench or in Vietnam? I don't want my stories to provide answers - I want to dramatize and get readers thinking about certain questions.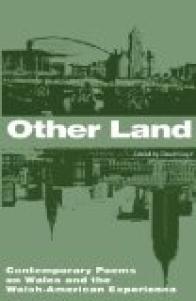 AmeriCymru: How would you characterise the concept of "hiraeth"? Is it more than "homesickness"?
David: "Hiraeth" is a complex word, made more complex by being sometimes used in a sentimental way. I think "hiraeth" is about a profound longing - for the security of the past, for the remembered (and mis-remembered) past, for places that are etched in memory. It's a longing for "home,"  however that home might be conceived. So yes, it's much more than homesickness - an existential longing that all humans experience.
AmeriCymru: You edited the 2009 Parthian collection Other Land . That collection "examines Wales and being Welsh-American through divergent poetics and perspectives." How would you describe your perspective?

David: I know that my identity has been shaped by the values, accents, stories, and memories of my Welsh parents - their distinct ways of being in the world. My identity has also been shaped by the American values, accents, landscapes around me, not to mention TV, music, films, books, education. I was raised on both "Calon Lân" and "Blue Suede Shoes," you might say. I am fascinated by the hybrid or blended nature of identity - of the identities of all Americans, even those descended from pilgrims on the Mayflower, even Native Americans. My perspective is that I don't want to write or read about the trappings of being Welsh - hymn-singing, coal mining, leeks, and so on. I want to write and read about the deeper workings in people's lives that make them who they are.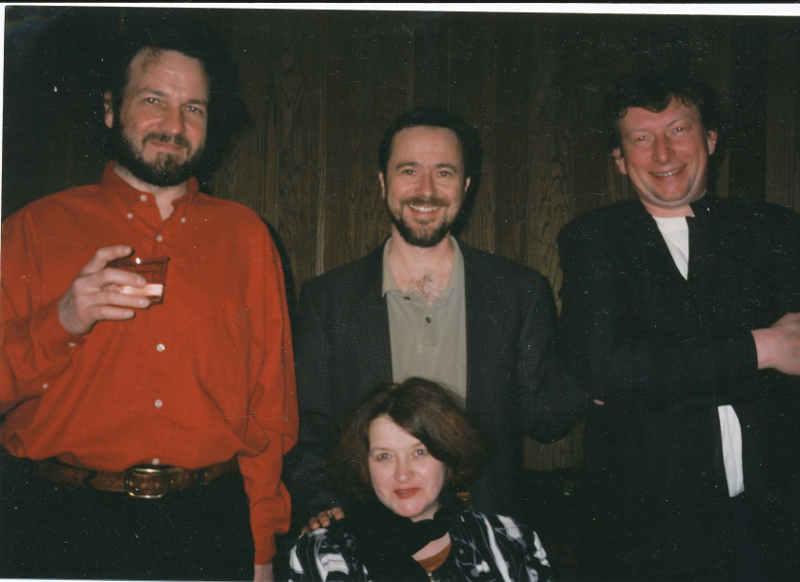 David Lloyd (center) with (from left) Welsh poets Nigel Jenkins, Menna Elfin, Iwan Llwyd
---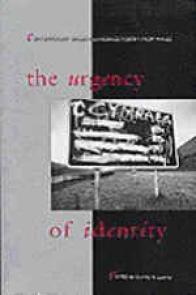 AmeriCymru: In your 1994 anthology The Urgency of Identity you featured many of the most important English-language Welsh poets of the 80's and 90's. Do you believe that "English-language Welsh poets create a divided art"?
David: I wouldn't use the term "divided" in describing writings by English-language Welsh poets, though I do recognize the strains and tensions they experience, working in a bilingual nation where English has been dominant only for last hundred or so years. I think the best English-language Welsh poets are publishing some of the most original and important verse written anywhere, using English to express their unEnglish identities. I love Robert Minhinnick's dense, energized language and political commitment. I'm interested in every new book John Barnie publishes, because he's pushing edges in multiple genres. And then there's exciting work produced from Welsh-language writers (and musicians and artists) - poet and musician Twm Morys is an example. Iwan Bala's art has been ground-breaking for Wales - in his drawings he uses Welsh and English words, recognizing the fraught bilingual reality. He's engaged with "remapping" Wales and Welsh culture through his art.
AmeriCymru: Please tell us a little about your other work. In particular your novels and short stories.
David: I published my first book of fiction, Boys: Stories and a Novella, with Syracuse University Press in 2004.  That work (like my new manuscript, The Moving of the Water) is a linked series of stories taking place in my hometown of Utica. Twelve stories collectively titled "On Monday"  happen on the same day (a Monday, as you might guess), in February of 1966. Main characters in some stories reappear as minor characters in other stories. As a collection the stories explore ways in which American culture shapes (and mis-shapes) its children.  The novella, "Boys Only," features a character named Chris from a Welsh background, and one of my favorite scenes is between him and his Welsh-speaking Taid.
In 2013 I published a novel, Over the Line, again set in upstate New York. This story takes place during a week in the life of Justin, a teenager in a town buckling under the pressures of unemployment, endemic crime, and rising drug use. It's something of a mystery story, as Justin gets closer and closer to the unknown source of methamphetamine in his community. I'm interested not only in how society affects an individual's development but also in the concept of heroism - as an ideal, an illusion, and a reality.
The most recent of my three poetry collections is Warriors , published by Salt Publications in the UK but available in the US via Amazon and the Salt web site. I review books occasionally and write literary criticism, such as articles on R. S. Thomas and, recently, Brenda Chamberlain.

AmeriCymru: What's next for David Lloyd? Any new projects in the pipeline?
David: I'm working on two projects: finishing a new poetry collection, tentatively titled The Body's Compass, and undertaking final edits for my story collection, The Moving of the Water, which I hope soon to send to publishers to consider. I've been publishing some of those stories. You can find one titled "Home" in the on-line Welsh journal Lampeter Review and one titled "The Key" in the US journal Stone Canoe .
AmeriCymru: Any final message for the members and readers of AmeriCymru?
David: The story of Welsh-American life has been well documented by historians - and that excellent work is ongoing. Contemporary poets have been exploring the experience of being Welsh and American - including those in my Other Land anthology, such as Jon Dressel, William Greenway, and Margaret Lloyd. But I would love to see more Welsh American writers drawing on their cultural experience and identity - poems, stories, memoirs, cross-genre works: there's a rich vein of experience yet to be mined.