Coleg Sir Gâr art students, Pont Books, debut author and Machynlleth bookshop work together

2015-12-01
By: AmeriCymru
Posted in: Books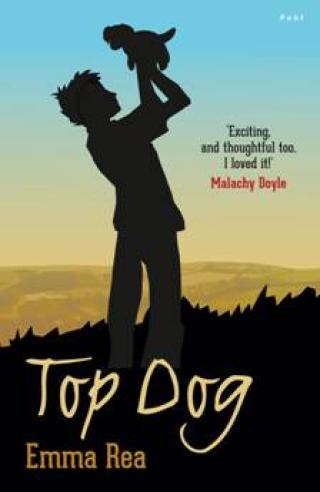 The artwork of students from Coleg Sir Gâr will be displayed in the Penrallt Bookshop in Machynlleth to celebrate the launch of a book for readers aged 9-12, Top Dog, by first-time author Emma Rea.  Pont Books gave students on the Digital Illustration B.A. course at Coleg Sir Gâr, Carmarthen a challenge – to design a cover which would capture something of the novel's friendships and quarrels, the bikes and countryside, a young dog and a mysterious newcomer.  The project was so successful that Liam Cole's design, of a boy holding up a puppy at the end of a summer's day, was chosen by Pont Books editor, Cathryn Gwynn, and author Emma Rea as the final cover.  At the very start of the process, Liam Cole said "I'm totally excited by this work, because illustrating children's books is what I really want to do in the future."

Emma Rea said 'It was wonderful to see such accomplished representations of my story. I liked several of them very much – but I thought Liam's captured the spirit of the story.' Emma lived near Machynlleth for five years; her two boys went to Llanidloes Primary School and her daughter was born in Dolgellau. 'Mid-Wales is an exciting place for young children, with its rivers, hills and woodlands. I think a certain amount of freedom encourages initiative in children and I hoped to portray this in my story. Watching them make bowls from clay found in the river, and creating bike tracks around trees inspired me to write a story in which excitement is found in the real world, in what children can make and do by themselves.'

Top Dog , published by Pont Books will be launched at Penrallt Bookshop, Machynlleth at 6pm on the 28 th of May. The book tells the story of Dylan, who has high hopes of building a challenging and exciting bike track around his father's fields. When a new boy, Floyd, arrives in the village Dylan's plans start to go awry. As Floyd encroaches further and further into Dylan's life, Dylan begins to notice the new boy's strange behaviour and sets out to investigate.

Cathryn Gwynn of Pont Books said "We are very pleased to work in co-operation with Coleg Sir Gâr in offering new and talented students an opportunity to develop creative ideas and skills linked to children's books. Pont is also delighted to welcome Emma Rea as one of its new summer authors of 2014. Read Top Dog and enjoy!"

Diane Bailey of Penrallt Bookshop said 'With Pen'rallt Gallery Bookshop's third birthday this month, we begin a 'new year' with a focus on good writing for young readers in both Welsh and English; Emma's book, TOP DOG, published by Pont Books, an imprint of Gomer, set in the locality and packed with excitement, provides a perfect curtain raiser. If we're to enjoy quality book cover art, new artists must be supported and encouraged, so we're thrilled to have the opportunity to display the work of these accomplished student designers.'

Top Dog will be available from all good bookshops and online retailers.

For more information, please visit www.gomer.co.uk