By AmeriCymru, 2015-11-20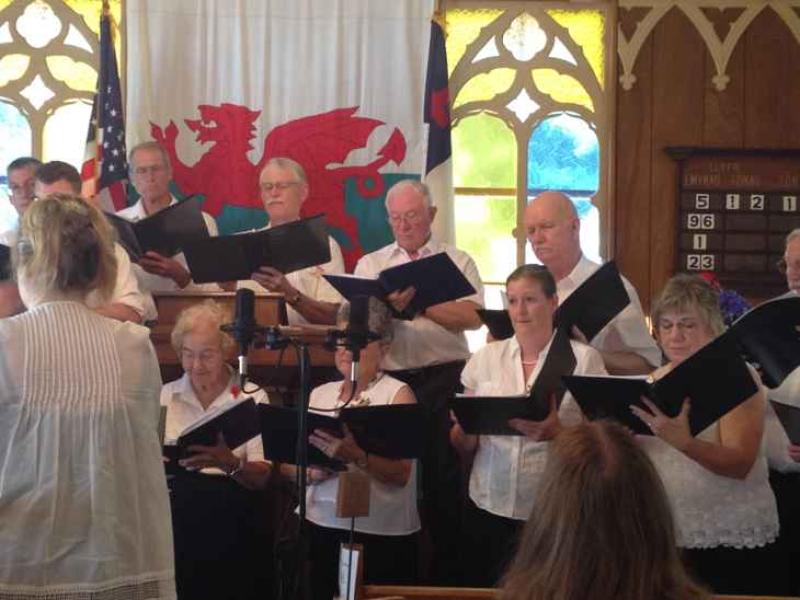 ---
Call-and-response is the rhythm of this world. Songbirds call out to one another in the trees; warm weather invites the blossoming of roses; a mother coos in response to her baby's gurgles. And, for the most part, hymns are a response to the call of God on the human heart.
During the Welsh revivals that ebbed and flowed through the centuries, men and women heard the invitation to draw close to the Spirit. Their response was to compose text and tune. Itinerant preachers called miners, farmers, and apprentices to the chapel for prayer and worship. Crowds thronged to sing with heart and soul.
As "revival" means "restoration of life," so each wave of revival brought refreshment and "living water" to parched corners of Wales. Today's Gymanfa Ganus reach into the storehouses for the fruit that came from those seasons of harvest to celebrate hymns once a year. Gymanfas connect us to a rich and fertile past.
Occasionally a Gymanfa will offer something new. Hymns of yesterday mingled with hymns of today in this year's 80 th annual Gymanfa Ganu in Beavercreek, Oregon. Held on June 28 th , 2015 in Bryn Seion Welsh Church (built in 1884, it is the last active Welsh church on the West Coast of the U.S.A.), this year's two afternoon gatherings included hymns birthed centuries ago and those recently penned, to the delight of visitors from Wales, Canada, Alaska, and surrounding states.
The chairman of the Gymanfa Ganu, Tad Davis, welcomed all. Geneva Cook was at the organ. Nerys Jones (born in Llanfair Caereinion, sang with the Seattle Opera and the English National Opera, and studied in the Guildhall School of Music and Drama and the Royal Scottish Academy of Music and Drama) directed us with a voice of beauty and power. She briefly taught us the tonic sol-fa method of sight-reading, including hand motions.
The Festival Chorus of the Welsh Society of Portland came forward to sing four original pieces, directed by Dr. Jamie Lynn Webster (PhD in Musicology and Ethnomusicology from University of Oregon) and accompanied by accomplished musician, Mary Reese. Dr. Webster had asked Christopher Wicks (University of Montreal and Marylhurst College) to submit a new arrangement of "Calon Lân"; a complete version was emailed to her by the next morning! The second original was a new arrangement of "Lisa Lân" by choir member Jeff Lewis. The final new pieces were hymns written by (my father) Dr. Idris Evans: "Grow With God" ("Tyrd Gyda Duw") and "Catch the Spirit" ("Dal Yr Ysbryd"), arranged for choir by Jeff Lewis.
John Owen, visiting from Boise, Idaho, sang a solo with feeling and strength, inspiring an enthusiastic standing ovation. We then raised the rafters with beloved standbys like "Diadem," "Rachie," "Blaenwern," and "Cwm Rhondda." The Rev. Greg Tatman gave the benediction, after which, a Te Bach ("little tea") offered guests a sumptuous array of home-baked goodies, a now much-loved tradition at Bryn Seion Gymanfas.
As inspiring as the new musical contributions to this Oregon Gymanfa were, the Rev. John Clinton Evans lamented to the audience that the Welsh churches he visits are practically empty these days. So what will Gymanfas in Wales and around the globe look like in the future? Will there be another revival to bring new songs to Wales and to those with Welsh roots?
As we sang, I looked at my 20-year-old son, Evan (named after one of the leaders of the 1905 Revival), sitting with me to support his Taid (grandfather). My son's generation and his counterparts in Wales will probably not create new four-part hymns. However, as the Spirit calls to the young, they will respond with their own style and their own expressions of love. They might compose the next favorite worship song in Welsh for electric guitar, drums, and keyboard. They may draft new arrangements to accompany old Welsh lyrics. It is possible they will meet in updated venues like school halls instead of chapels.
What will future Gymanfas look like? When new life comes, attendees will "[bring] out of [their] storeroom new treasures as well as old" (Matthew 13:52). The young and the seasoned will raise their voices side-by-side. Gymanfas will be a call-and-response that engages the past, the present, and even the future, a call-and-response that reflects the natural rhythm of the world.
Jacqueline Rhianon Gonnerman