The Welsh Dragon Choir and the Welsh Society of Oregon present Spring Festival Online 2020

2020-05-19
By: AmeriCymru
Posted in: News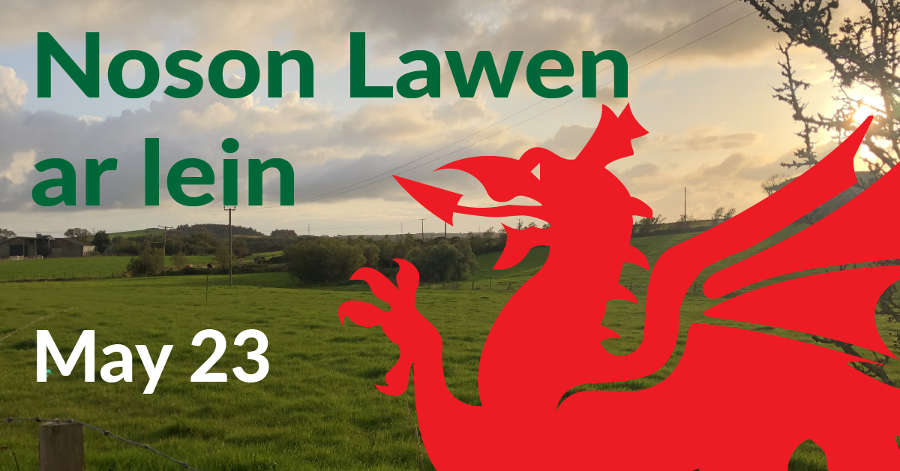 The Welsh Society board members hope everyone is staying safe and able to enjoy some beauty in their gardens or in nature these days.

In the midst of changing times and sheltering in place, the Welsh Society of Oregon maintains its commitment to share Welsh Language and Culture with our community.  As such, we have re-formatted some of our spring offerings as an on-line festival.  Below you will see participation events for all ages, for kids and for our Facebook community.  We hope that you will be able to join us on May 23rd for one or both of our Noson Lawen events that day, and that you will be able to check in on the talents and creativity contributed to our  Facebook page  during our month-long festivities there.

You can participate either via computer or smart phone, or even just by calling in.

If you have any trouble navigating these events online, don't hesitate to send an email to  oregonwelsh@gmail.com , or give us a ring at  (503) 908-5630 .
A Noson Lawen Online, May 23, 2020, 7pm PDT
An interactive event with songs led in Welsh and English, hosted in English by the Welsh Dragon Choir and featuring special guests Nerys Jones, Eryl Aynesley, Andréa Wild, and others.  RSVP to  OregonWelsh@gmail.com  for event link and details.
A Little Noson Lawen Online, May 23, 2020, 1pm PDT
An interactive event of songs, jokes, and stories for young people and their caregivers, led in English by Dragon director Jamie Webster and friends, and featuring special guest, rising Welsh singing star Bronwen Lewis, with a chance for participants to share their songs and jokes as well.  RSVP to  OregonWelsh@gmail.com  for event link and details.
May Festival of Welsh Culture-Online! May 1-31, 2020  
(Fun prizes awarded for festival highlights)
Our celebration of Welsh culture isn't limited to Saturday, May 23!  Join us for a month of fun and cultural sharing under lockdown as members of the Welsh Society of Oregon and friends share their talents, creativity, capers, and antics on social media.  Please join us in submitting your own quarantine-time contributions to this community activity. Awards for festival highlights announced May 31.
Who Can Participate?:   You! Our community in Portland, the state of Oregon, friends along the Pacific Coast, and any friends of Welsh culture in the USA and around the world.
What are some welcome submissions?
traditional songs/tunes with voice and/or instruments

virtual ensembles 

sharing stories, humor, or reminiscences

recreating Welsh folktales/folklore with dolls/toys/stuffed animals

copying Welsh art and folklore with household items 

Coloring contest

See examples and coloring pdfs on our web site  www.oregonwelsh.org

Or, your own creative ways to share Welsh culture online!
How to Participate: