Welsh Society of Portland Christmas Concert 2014

2014-12-02
By: AmeriCymru
Posted in: Christmas
A Christmas in Wales - ( click to download the flier )
---
7 - 8:30 pm, Dec 20, 2014
Kenilworth Presbyterian Church, 4028 SE 34th Ave at Gladstone St in Portland 
The Festival Chorus of the Welsh Society of Portland present their annual Christmas Concert "A Christmas in Wales" featuring traditional Welsh carols, songs, and other seasonal music. Featured special guests include the Celtic Fusion band Beltaine , harpist Tracey Rose Brown , as well as chorus member soloists and chamber ensembles. A sing- along of popular carols (including a "Deck the Halls" like you've never heard it before!) will round out the program.
The Festival Chorus draws on the rich traditions of choral singing in Wales, long known as "the land of song." They sing in both Welsh and English and were originally founded to perform at the annual hymn-singing festival (or Gymanfa Ganu as it's known in Welsh)  held at Bryn Seion Welsh Church. The Chorus now performs at events year 'round. They are led by Dr. Jamie Lynn Webster, who also directs the Chautauqua Community Chorus and the Portland Revel's ViVoce Ensemble.
Beltaine is the Northwest's premier Celtic Fusion band featuring hammered dulcimer, guitar, accordion, and marimbula. They offer a unique blend of musical styles inspired from Celtic, folk, rock, classical, jazz, and blues sources.
Wales has a rich and vibrant history going back to the pre-Roman Celts. The Welsh Society of Portland celebrates and perpetuates Welsh heritage, culture and music in Oregon. The WSOP is a 501(c)3 non-profit organization.   
---
CONCERT - MORE DETAILS/DOWNLOAD THE FLIER HERE
---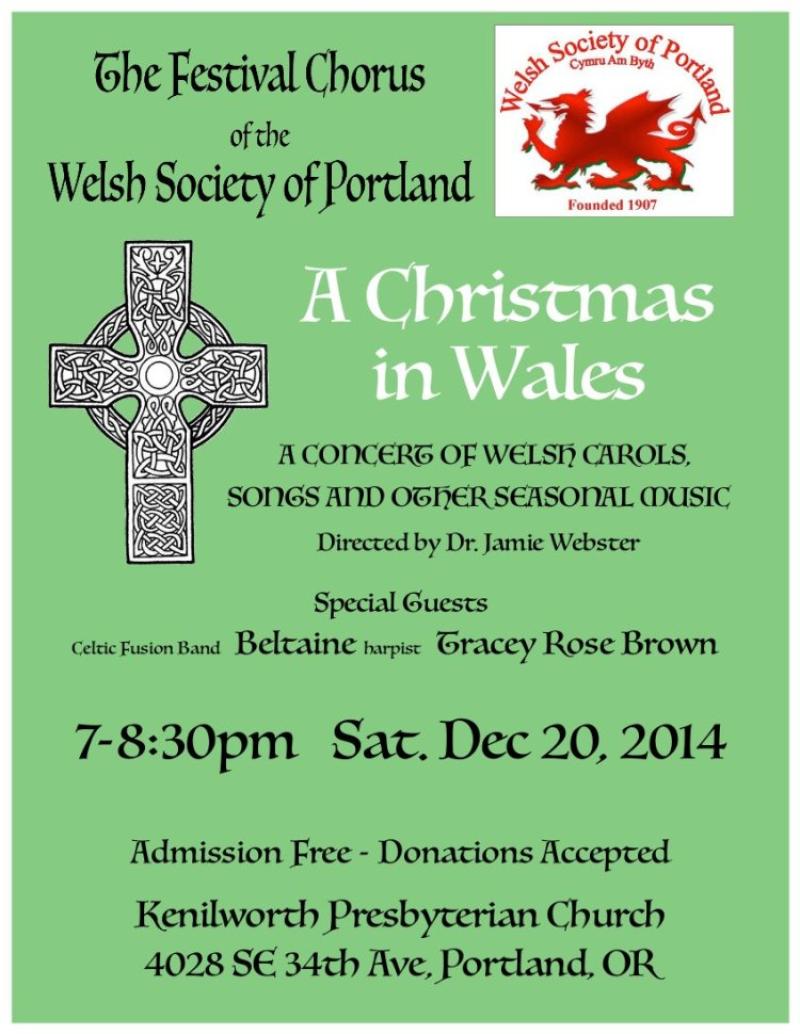 .....