Henry Morgan - 'Captain Morgan and the Pirate Treasure"

2015-11-26
By: AmeriCymru
Posted in: Books
  Pirate adventure published to celebrate author's centenary
---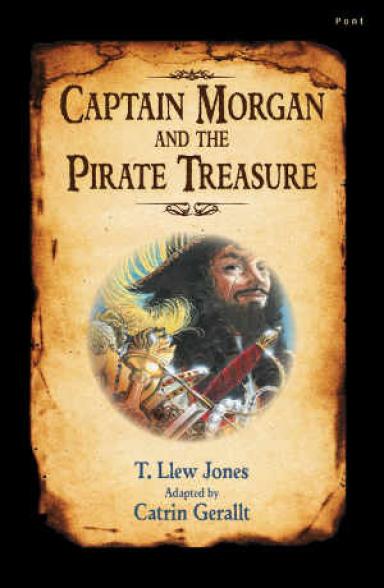 This month marks the centenary of Wales' most popular Welsh-language writer for children. T. Llew Jones, born in 1915 near Llandysul in West Wales, wrote swashbuckling adventure books for young readers, many inspired by real life characters such as pirates Black Bart, Captain Henry Morgan and highwayman, Twm Siôn Cati.
To celebrate the centenary of his birth in October 2015, Pont Books, the English language children's books imprint of T. Llew Jones' publishers, Gomer Press, are publishing Captain Morgan and the Pirate Treasure , a new translation of the author's best-selling adventure, Trysor y Môr-ladron . 
Loved by generations of Welsh children, the novel was inspired by notorious 17th Century buccaneer, Sir Henry Morgan, who made a fortune robbing Spanish galleons in the Caribbean before becoming Governor of Jamaica.
Translated and adapted from the Welsh by writer and broadcaster, Catrin Gerallt, Captain Morgan and the Pirate Treasure is a fast- moving adventure featuring murder, mayhem and fights to the death on the high seas. The novel has become a Welsh language classic, telling the story of young serving boy, Ieuan, who follows local landowner Sir Henry Morgan to the Caribbean. Together with a group of hard-bitten but loyal pirates, they embark on a perilous voyage to recover Captain Morgan's stolen treasure;  

He moved the blade closer to Ieuan's eyes.
'Are you going to answer me?' 
Suddenly, the knife was at Ieuan's chest and he closed his eyes, waiting for the death blow…  


Despite being popular with generations of Welsh children, few of Jones' novels have been translated into English. The new translation of Captain Morgan and the Pirate Treasure gives English speakers a chance to enter the captivating world of this master storyteller.
Jones' novels of piracy, lost treasure and gipsy caravans were huge successes in the 1960s and 70s and are consistently ranked among the most popular Welsh language books for children. His young fans were, and still are, legion. A lifelong teacher and headteacher, he was always delighted to meet his readers and to share his tips for storytelling. He treasured children's correspondence and towards the end of his life, was particularly amused by a letter from a young reader saying that his novels were far better than those of JK Rowling.


Captain Morgan and the Pirate Treasure is available from all good bookshops and online retailers.
For more information, please visit www.gomer.co.uk  


---
About T. Llew Jones:
Before becoming a full-time writer, T. Llew Jones (1915-2009) was a primary school teacher in Ceredigion for 35 years, first at Tregroes Primary School and then at Ysgol Coedybryn near Llandysul where he became headmaster. He first came to prominence as a poet, winning the chair at the National Eisteddfod in 1958 and then again in 1959. He continued to write poetry for adults and children but was best known as a writer of adventure and detective stories for children. He published over 50 books in total for adults and children and some were also adapted for television and shown all over the world. In 1991 he was awarded the Mary Vaughan Jones Award, given for outstanding contributions to children's literature in Wales and in March 2005, aged nearly 90, he won the chair in Cymdeithas Ceredigion's annual Eisteddfod.
---
About Catrin Gerallt:
Author and broadcaster. Catrin was Assistant Editor for Current Affairs at BBC Wales and Executive Producer of "One Show" on BBC 1.  She has published short stories in both Welsh and English, in print and for Radios 3, 4 and BBC World Service.
She lives in Cardiff and now works as a writer and Independent Producer and has produced a series of special features on Welsh writers including an adaptation of Dylan Thomas' "A Child's Christmas in Wales" starring actor Matthew Rhys and a feature on Dannie Abse's novel, "Ash on a Young Man's Sleeve" read by Richard Harrington.
She is currently working on a feature on T. Llew Jones for BBC Radio Wales (to be broadcast Weds, Oct 14th) where Hinterland actress, Hannah Daniel, reads from translations of Jones' dramatic tales of mystery and adventure.
Catrin is also working on her first novel.