Celebrating the golden era of Welsh rugby

2015-11-26
By: AmeriCymru
Posted in: Books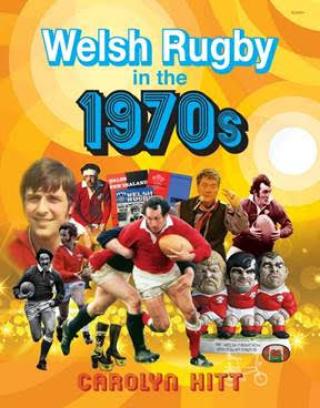 Still disappointed with the result on Saturday? Not to worry, we have the perfect antidote to cheer you up – in the form of 1970s rugby…
When we talk about rugby in the 1970s, what we actually mean is Welsh rugby in the 1970s.
Published by Gomer Press,  Welsh Rugby in the 1970s by Carolyn Hitt has a fabulous retro annual feel to it and takes us headlong back to a glorious decade of rugby.
The 1970s was a decade of stark contrasts in Wales. While six Triple Crowns and three Grands Slams made for a fantastic decade on the rugby field, it was also a difficult time in Wales economically, politically and culturally.
Carolyn Hitt describes it perfectly, 'It was the best of times. It was the worst of times… As so many certainties of life in the industrialised valley communities were unravelling, success on the field of play remained as a constant and reassuring thread…'
It was, of course, a decade which made international superstars of Gareth Edwards, Barry John, Gerald Davies, Phil Bennett, Mervyn Davies and JPR. It was the decade which gave us the Pontypool front row – and Max Boyce, of course.
The book is unashamedly a nostalgia-fest and like those much loved annuals of the 1970s, it features all the best bits about Grand Slams and Groggs, Lions and Barbarians, tours and scores and will appeal to those who are able to say 'I was there' (and those who wish they were!)
Carolyn Hitt, Western Mail columnist, author and broadcaster, grew up in the 1970s and when she was asked in primary school to 'draw a picture which means Wales to you', she drew Mervyn Davies!
Welsh Rugby in the 1970s will be launched at the Kuku Bar, Park Plaza, Cardiff on Thursday, 22 nd of October, 7pm.
Welsh Rugby in the 1970s is published by Gomer Press and is available from all good bookshops and online retailers
For more information, please visit www.gomer.co.uk
---
About Carolyn Hitt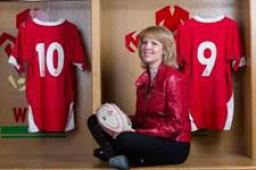 Former Welsh Feature Writer of the Year, Carolyn Hitt has been a regular columnist for the
Western Mail
since 1992. She has also written and presented television and radio series on the arts, popular culture, consumer issues, history and sport for BBC Radio 4, BBC Wales and ITV Wales.
In 2001 she became the first woman to win the Welsh Sports Journalist of the Year prize and went on to win the award for the whole of the UK in the British regional press awards. In 2011 she became the first woman to win the Welsh Sports Hall of Fame Journalist of the Year Award. In 2012 she published her first book – Wales Play In Red – covering Welsh rugby in the noughties.
As a television and radio producer she has worked with some of Wales's most well-known personalities and is a co-founder of the award-winning television and radio independent production company Parasol Media Ltd.
In November, Carolyn – who is an Ambassador for Velindre Cancer Centre - will be joining Rhod Gilbert and a 50-strong team on their Patagonia Trek to raise money for this charity.